Combine emails with real-time chat support
Connect LiveChat with HelpDesk to get a powerful customer service platform. Handle all your chats, emails, and ticket form messages in one place.
With this integration, HelpDesk is embedded in the LiveChat app. That means you don't need to switch between your chat software and help desk system. You can manage your entire communication with customers in one application.
LiveChat and HelpDesk are based on the same design system so they work together like one app. You can use similar features for handling your chats and tickets.
If you don't have a LiveChat account yet, you can create one at www.livechat.com.
How to integrate HelpDesk with LiveChat
Use the shortcuts with the recommended marketplace apps on the main dashboard as soon as you enter LiveChat. You'll surely find HelpDesk among them.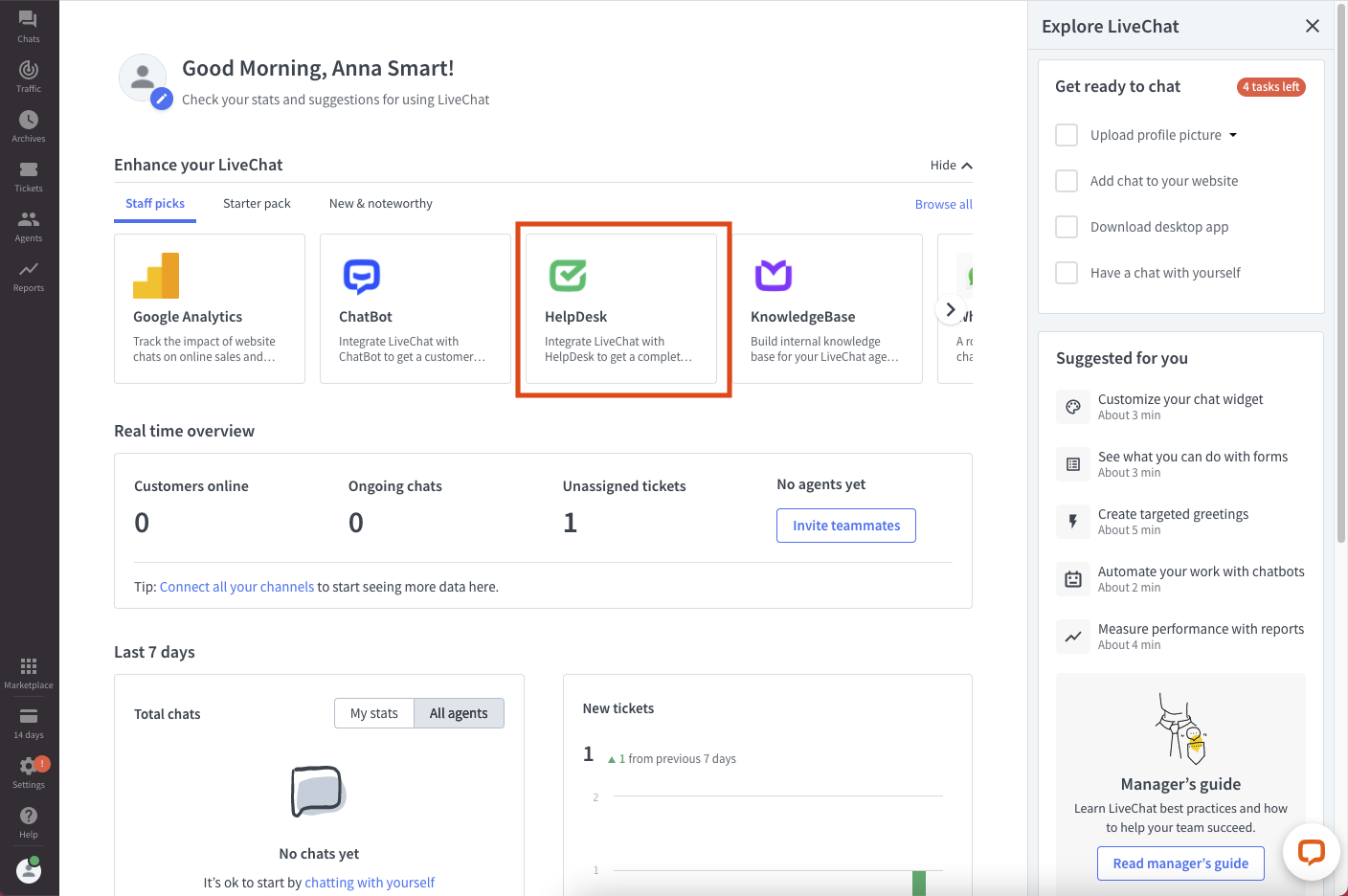 You can also go to the LiveChat Marketplace, choose HelpDesk, and click on the "Install" button.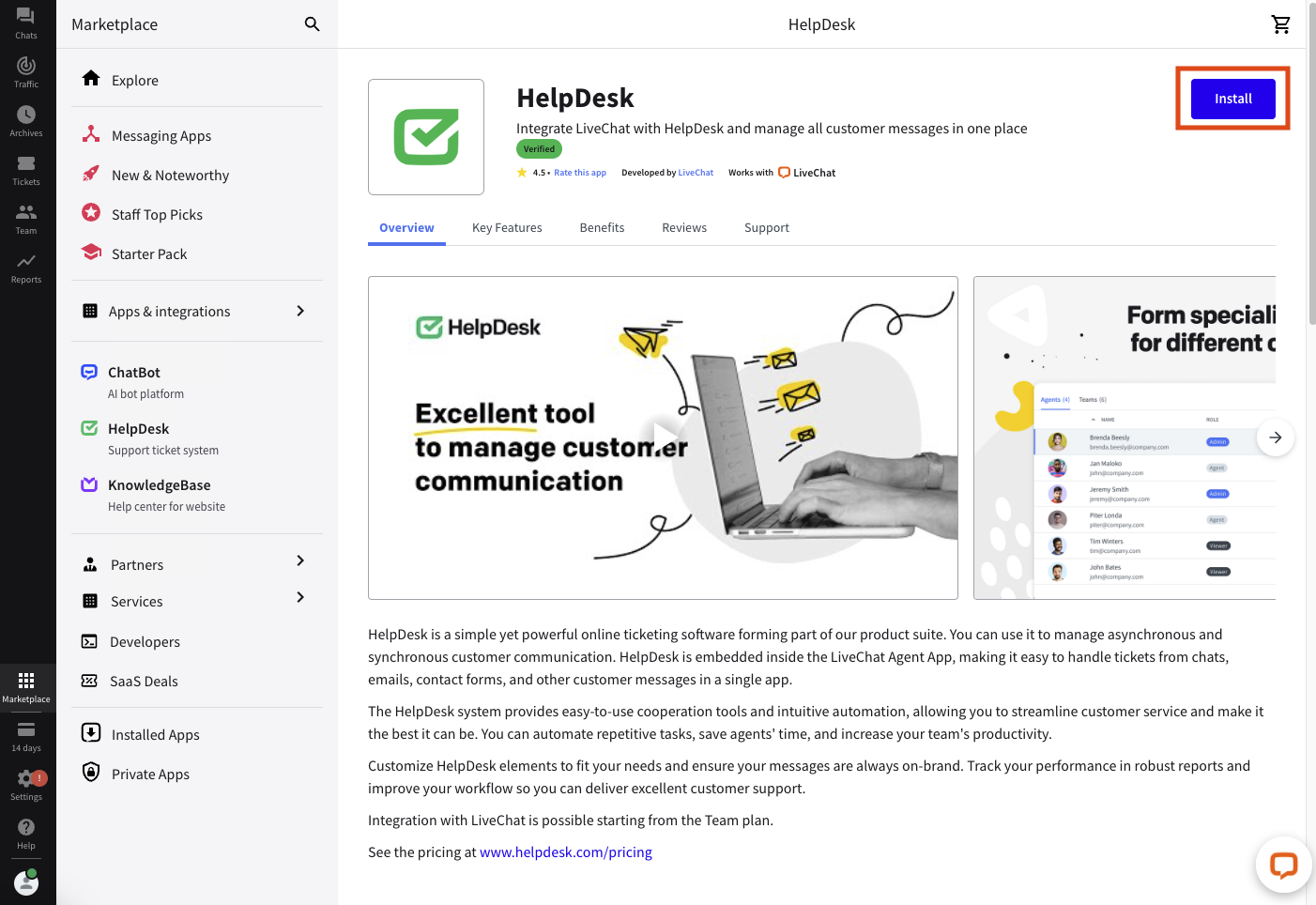 After installing and connecting your HelpDesk account, you can continue your work in the app.
If you've created a new Helpdesk account, you have to set up forwarding so that all your messages go to HelpDesk.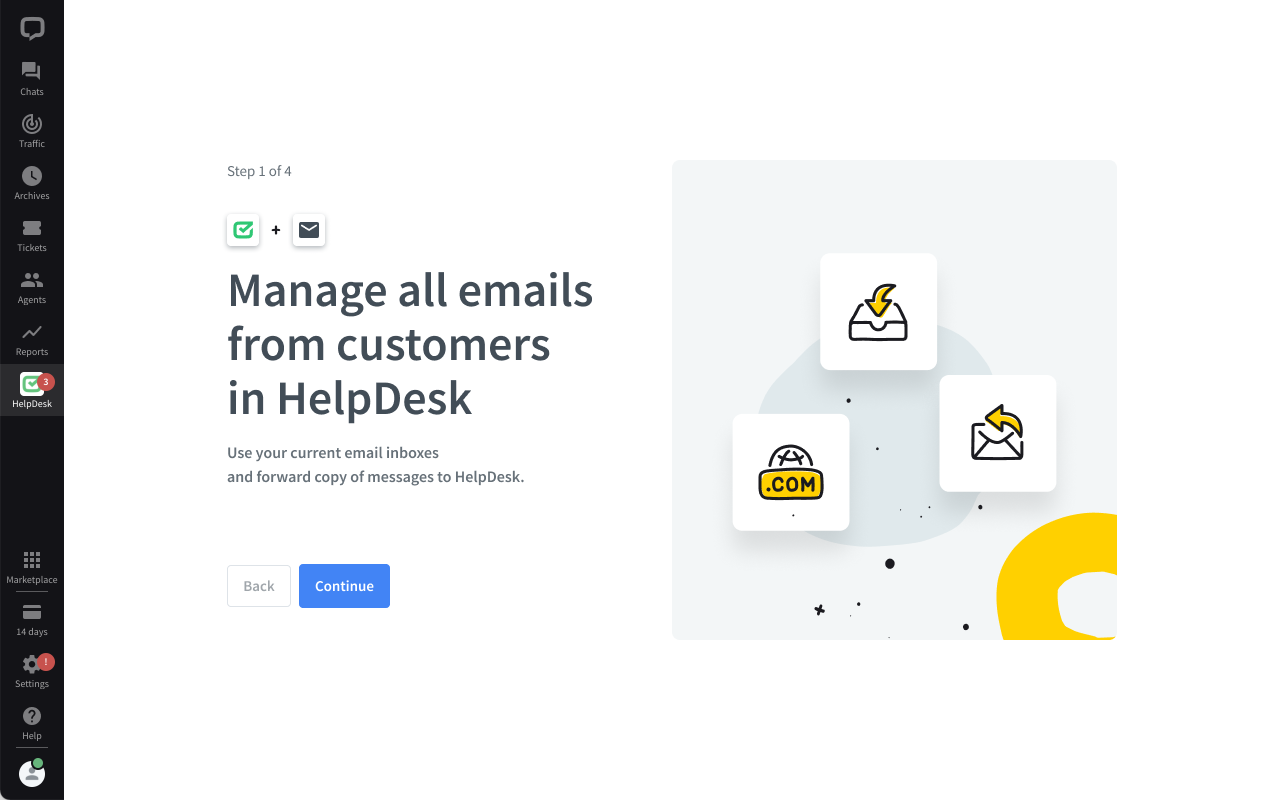 Go through a quick HelpDesk product onboarding, so you can properly set up your new account.
After that, you can access HelpDesk tickets in your LiveChat app.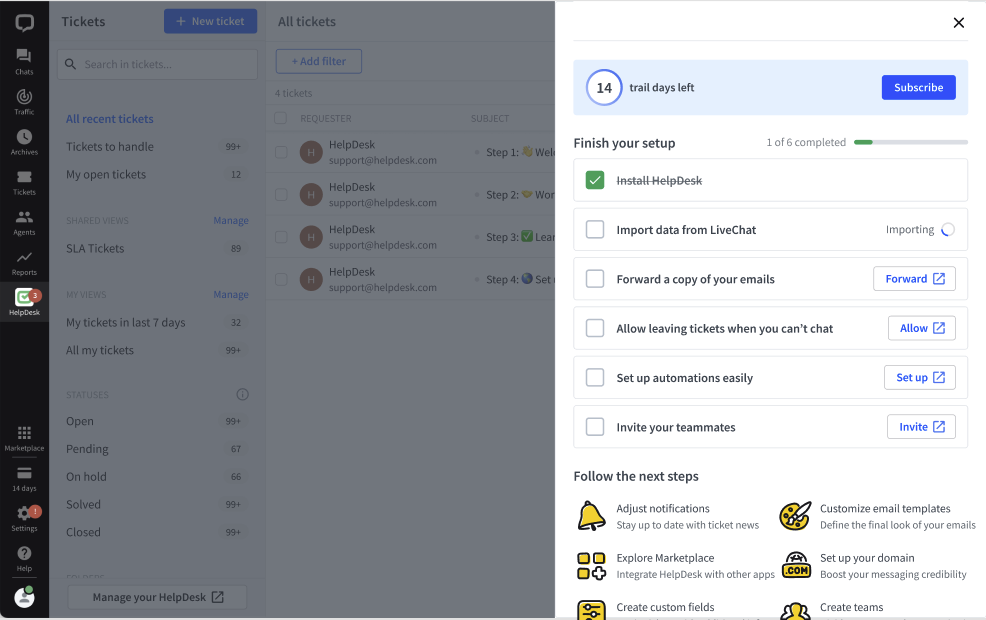 The HelpDesk and LiveChat integration allows you to create tickets during a chat.
To use the integration to the fullest, use the ticket form to forward customer messages to HelpDesk. This step is optional but necessary to turn LiveChat and HelpDesk into a multichannel customer support platform.
Once HelpDesk is integrated with LiveChat, you can also access the LiveChat mobile app, where you'll receive push notifications with HelpDesk ticket updates. This is a great way to stay up to date with new HelpDesk messages when you're on the go. Learn more about push notifications in the LiveChat mobile app.
Possible integration issues
There are potential setbacks when integrating LiveChat and HelpDesk, such as:
Accounts are created with different email addresses or when different people had created both accounts (there are different organization owners). When the HelpDesk account was created by a different organization owner than the LiveChat account, they cannot be integrated properly.
Solution
Contact our support heroes at support@helpdesk.com. Ask them to change the organization owner of the new HelpDesk account to the same organization owner as LiveChat in order to unify them.
When the organization owner of both the HelpDesk and LiveChat accounts is the same but operates more than one HelpDesk account. In this situation, it can be challenging to integrate the HelpDesk account with LiveChat properly. As a result, you can encounter an error or accidentally create a new but unwanted HelpDesk account.
Solution
Contact our support heroes at support@helpdesk.com. They'll guide you through the whole integration process and set the same organization owner in both products.
How to set up a LiveChat ticket form to get tickets to HelpDesk
If you set up a LiveChat ticket form, then you'll see all the ticket form messages from your customers on the main HelpDesk dashboard.
First, ensure that your Availability settings are set to get HelpDesk tickets and that customers can only start chatting when agents accept them.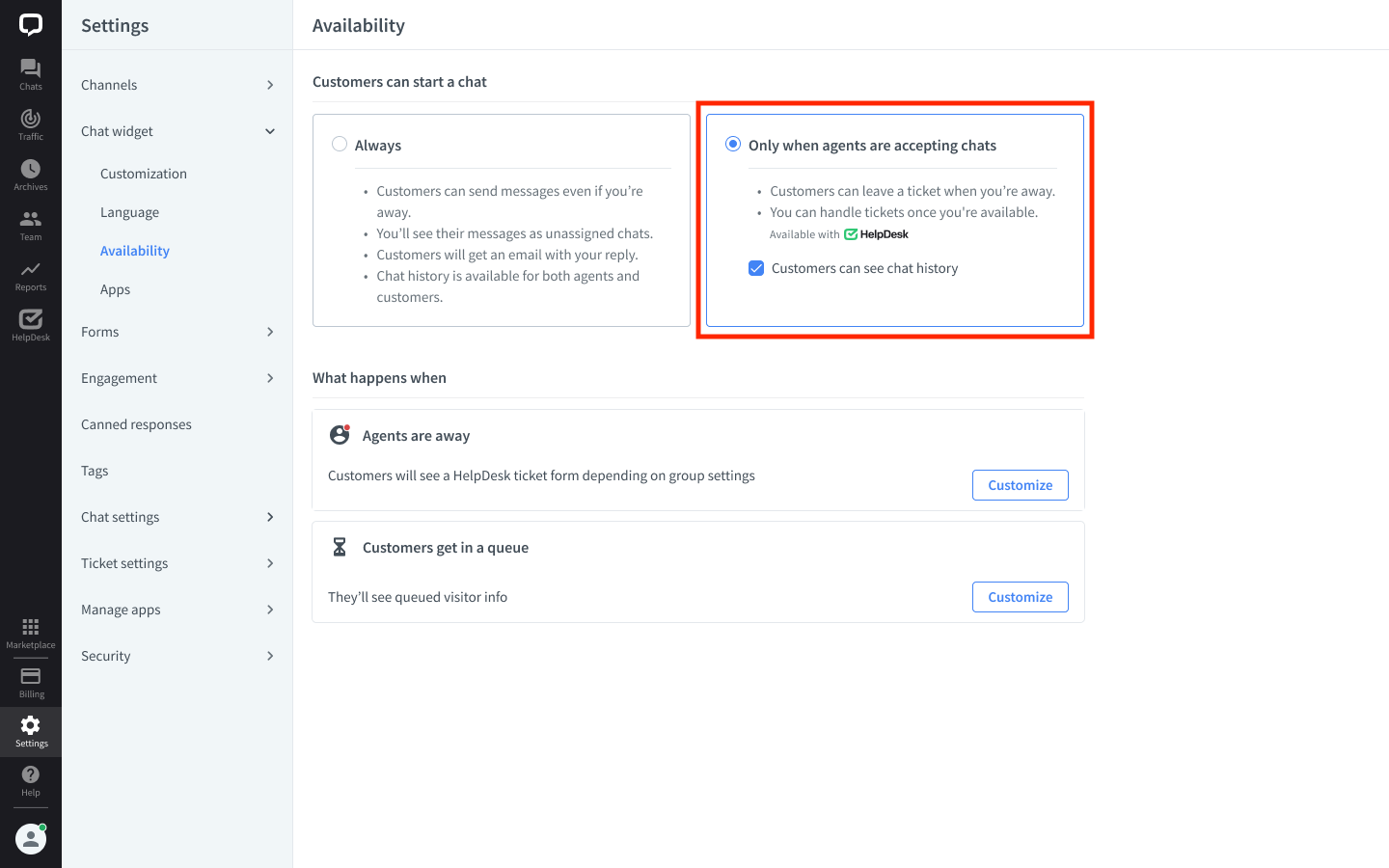 Next, go to the LiveChat app and click on "Settings."
Then, choose the "Forms" and "Ticket form" settings.
Switch on the "Show Ticket Forms" option and customize the ticket form according to your needs.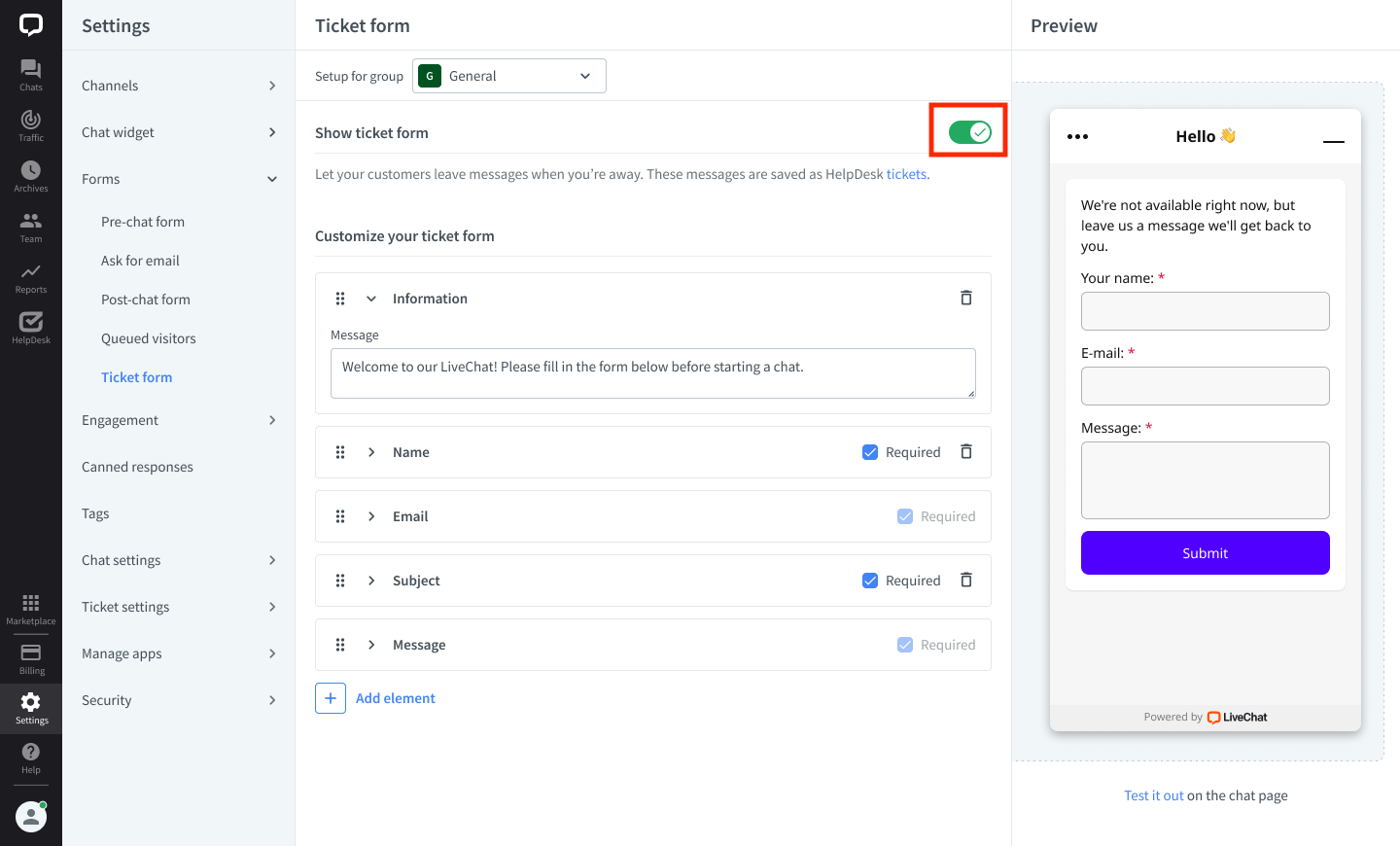 Now the configuration is fully ready, and the ticket form messages will be sent directly to your HelpDesk.
You must have a HelpDesk subscription for the ticket form to be active.
You must have a HelpDesk subscription for the ticket form to be active.
How to set up forwarding from your current email provider to HelpDesk
You can also forward emails from your current email address to HelpDesk.
Set up forwarding for the most popular email providers with these step-by-step guides. If you want to forward the email directly from your server, or you use a different email provider, contact our 24/7 support team on chat and let us help you with the setup.