Why is customer service so important?
Running a business is very exciting. When your product or service becomes popular and attracts new customers, you need to be ready for numerous customer support requests. And that's just the beginning of the story. 
Simply put, customer service focuses on addressing customers' questions and meeting their needs. Since customer service also plays an important role in customer experience, you need to build a responsible and helpful customer service team to efficiently approach this matter.
When you create a customer service team, you can't hire just anyone. You need to carefully select people with the right skills and qualities so they don't let your customers down. Companies are losing money because of poor customer support. A good example is U.S. businesses that have lost more than $62 billion because of customer support that didn't satisfy their customers. These are the facts.
If your customer is in need, they expect an immediate reaction. According to Microsoft's research, 95% of respondents say that quick and relevant customer support is important to them, and it determines whether they'll be loyal to a company.
What's more, data shows that customer retention is less expensive than customer acquisition. Acquisition begins with the first contact with a potential new customer. After they make their first purchase, the retention strategy begins. Acquiring a new customer can cost five times more than retaining an existing one. That's why you need to deliver your best customer support when a customer contacts you with any issue. Delight your customers and be helpful so they will trust you and continue to be your customer.
Top customer support skills and abilities
Your every action toward customers represents your brand image, mission, and values, and adds up to an overall impression. It's up to you and your team to get it right or wrong. Before you interact with customers, make sure your agents are qualified to give the right care. In this part of the lesson, Joe from The Chat Shop will tell you more about the top skills for customer service.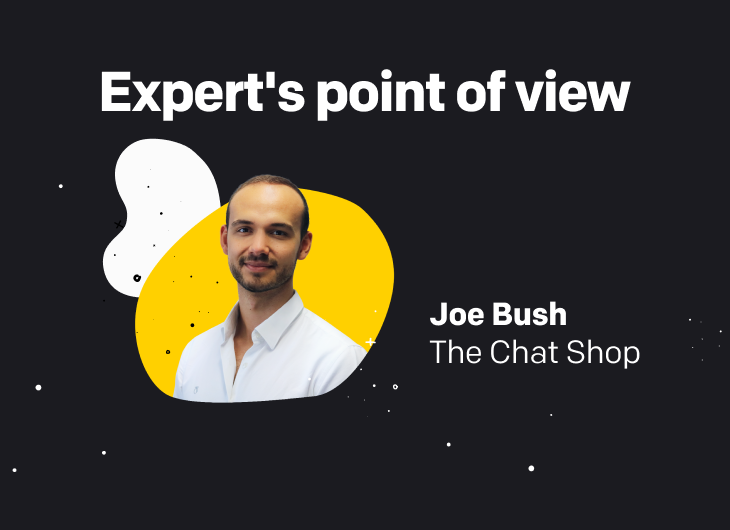 You can have the best product, the most attractive price, and the most captivating mission, but if the service you deliver to customers is poor, you'll lose customers and revenue. Customer experience has become the battleground that brands need to win on in order to grow and succeed. It's easy to get so focused on metrics like response times and average chat duration. However, it's the entire experience that you deliver to customers that keep them coming back and buying from your brand.
Our friends at Bain found that 80% of companies thought they delivered a "superior experience," but only 8% of customers agreed. The good news is that it's not impossible to turn things around and provide a great customer experience. Delivering great customer service doesn't happen overnight though. It requires a commitment to change and a team of rockstar support professionals.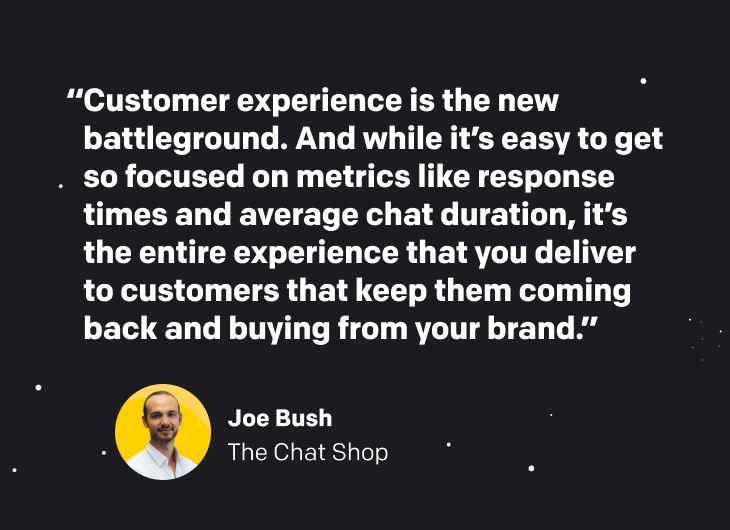 What are the cornerstones of great customer service?
Excellent customer service has four essential elements. It's convenient, personalized, proactive, and those delivering it need to be empowered. Nailing those four qualities will have the biggest impact on the experience you provide to your customers.
1. Convenience
Customers want to reach your brand on the channels most convenient to them, and they don't want to have to jump through hurdles to speak with someone. That means no more Interactive Voice Response systems or terrible hold music.
You can make your customer service more convenient by opting for messaging channels like live chats, phone calls, and emails, and by offering multichannel support through SMS, Facebook Messenger, and the other platforms customers are on.
2. Personalization
Every customer wants to feel special. Personalizing your customer service experience, empathy, attentiveness, and tailored solutions will let customers know that you're there for them. It will also show them that your brand values their business.
3. Being proactive
Don't wait for customers to come to you with an issue. If your site is experiencing downtime, or if you haven't heard from a customer in a while, you can proactively reach out and see what's going on. They won't always be happy, but they'll definitely appreciate your proactive approach.
4. Empowerment
Customer support reps must be empowered to help in the best way possible. It's one thing to want to deliver better customer service and another to put those words into action. Customer service teams need the resources and autonomy to help people. Otherwise, they'll simply be a human face putting a robotic customer policy into action.
What are good customer service skills?
An excellent place to start when it comes to delivering effective customer service is equipping your rockstar support team with the right skills. We've recruited over 180 support agents and delivering over two million chats for brands like Yell.com, SES, BFI, and Curzon. That's why we've come to realize that these are the eight top customer service skills every customer service team needs to delight customers and win the battle of customer experience.
1. Empathy
Successfully building rapport with customers is key to providing good service. Whether customers reach out about a problem or complaint, your team's job is to make them feel heard, respected, and understood.
2. Attentiveness
Customer service teams should be engaged and attentive when solving customers' problems. If a customer can sense that you're "checking out" or following a script instead of listening to their issues, they'll likely give up and head to your competitors for help.
3. Clear communication
The ability to communicate clearly is crucial when supporting customers. You should be able to solve customer problems efficiently and clearly. If you're worried that there might be confusion during an interaction, take extra time to ensure your customers get your point. After all, you can't help customers if you can't clearly communicate your responses in a way they'll understand.
4. Product knowledge
While it seems obvious, knowledge of the product is a crucial element that you can't ignore. To truly help customers, your team must be able to give accurate and up-to-date information about your product or service.
5. Grit and self-control
Let's face it, nine times out of ten, customers won't be in the best mood when reaching out with a support issue. Self-control is difficult enough to master on your own, let alone teach to a team. However, it's incredibly important to interact with customers in a positive way and to remember that their frustrations are aimed at the situation rather than at you.
6. Adaptability
No two customer interactions are the same. You're dealing with people, not robots after all. Being able to adapt and be quick on your feet comes in handy when you're solving a new or unfamiliar problem.
7. Persuasion
You don't need to be the "Wolf of Wall Street," but having some sales skills is useful when delivering customer service. This is especially true when it comes to handling objections or retaining customers. You need to sell the solution to the problem and, in a way, sell your attitude so that the customer listens carefully to your instructions and respects you.
8. The ability to take ownership
The easiest way for a customer service team to avoid frustrated customers is to take ownership of the situation. While the problem probably wasn't caused by you or anyone on your team, you're the one who needs to solve it. You should avoid transferring or escalating an issue, if possible, and work towards a solution with empathy.
You can add the right tool to the mix of character traits and skills listed above and you'll be set up for success. Try HelpDesk for 14 days for free and deliver exceptional customer service every day.
Now, would you like to be a support hero and assist your customers in their journey but don't know if it's for you? I've pulled together all the skills and abilities into one customer support representative persona. Also, I've organized them into four categories related to communication, teamwork and cooperation, work management, and understanding the business and its challenges. Take a quick look at the customer service skills list to see if you have what it takes to become a support agent.
CUSTOMER SUPPORT REPRESENTATIVE PERSONA

COMMUNICATION

TEAMWORK

- Has excellent oral and written communication skills.

- Presents information in a concise and factual manner.

- Has a proactive attitude. Listens, questions, and summarizes customer's messages.

- Spontaneously interacts with the customer in real time.

- Has self-control even when customers don't.

- Possesses high emotional intelligence that is reflected in messages.

- A true team player. Engages other agents to provide the best support.

- Actively listens, shares experiences, and nurtures the development of other agents.

- Pays attention to details, and learns from every interaction.

- Assigns the appropriate agent to the specific type of request.

- Cares about the well-being of other agents. Monitors the system daily, and is always on standby for their shift.

WORK MANAGEMENT

BUSINESS AWARENESS

- Has good self-awareness and a real understanding of the mission.

- Effectively manages time and tasks to maximize performance.

- Prioritizes and structures available data to streamline processes.

- Takes responsibility for support issues.

- Escalates issue to close the customer case quickly.

- Troubleshoots effectively. Finds key pain points, and delivers the right solutions.

- Flexible and able to adapt their approach to new situations.

- Has a firm understanding of the product or service.

- Takes care of the customer database and keeps it up to date.

- Follows news about the company, product, or service.

- Ensures that available support materials are kept updated.

- Resilient and ready to deal with the changing market, company, and customer situations.
Below you'll find an infographic with the customer service skills list. You can download it or share it with your HR department if you're currently looking for support agents to join your team. It'll help you in choosing the right person.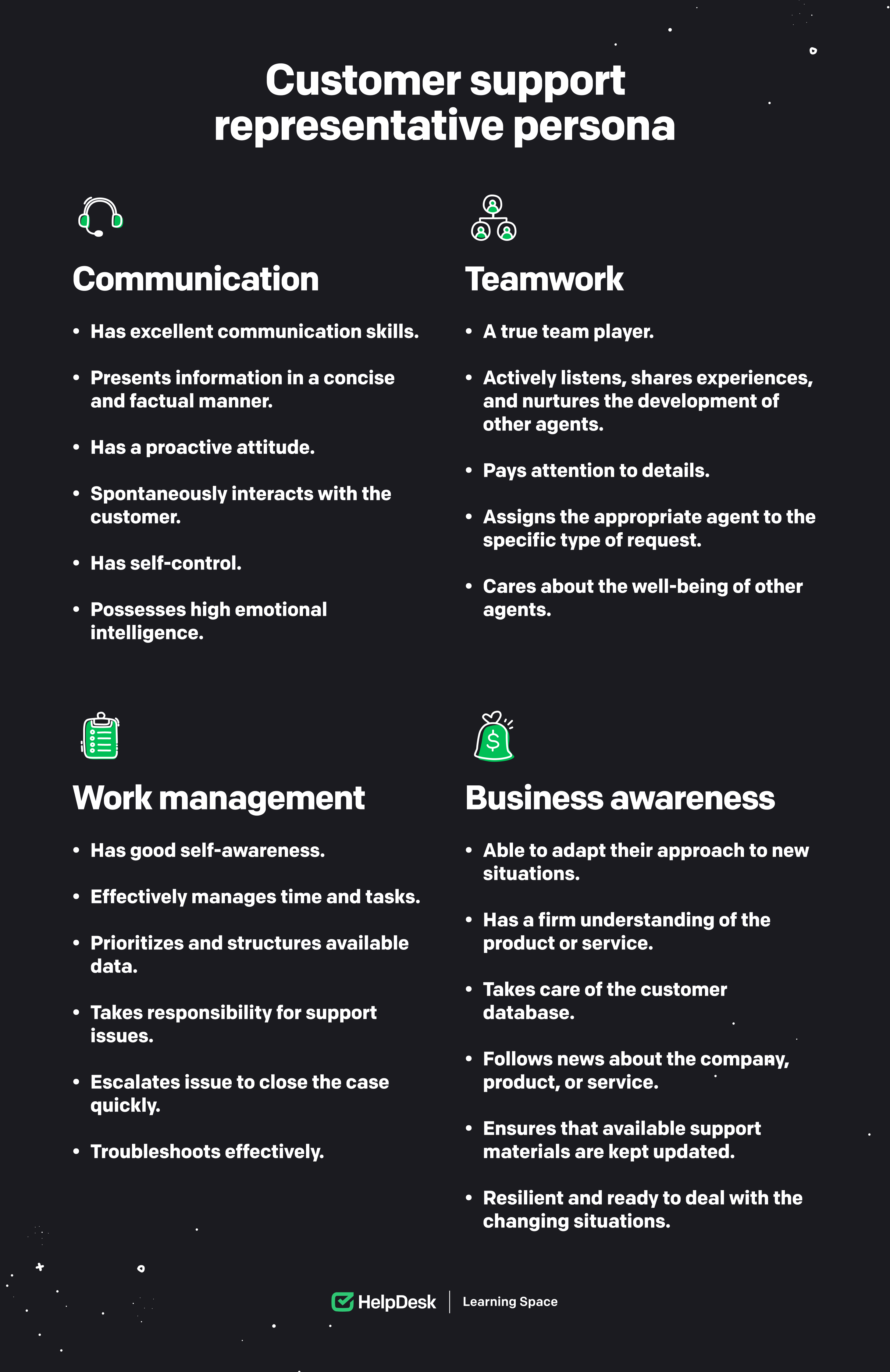 The difference between first and second line support
If you deal with extended products or services, I recommend assigning agents to lines. This is a common practice in customer support and technical assistance. First and second line support differ in the breadth and depth of responsibility. Let's explore this topic with Michelle from Zapier.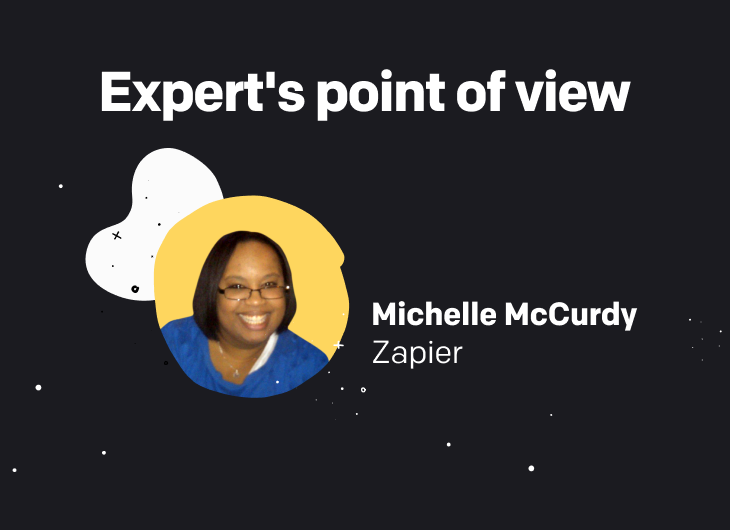 The first line of support is typically focused on knowledge that spans a wide range of issues and questions. In contrast, the second line of support is more specialized and handles more complex technical requests that require deeper engagement with the customer. Take a look at the table below to learn more about the differences between the first and second support lines.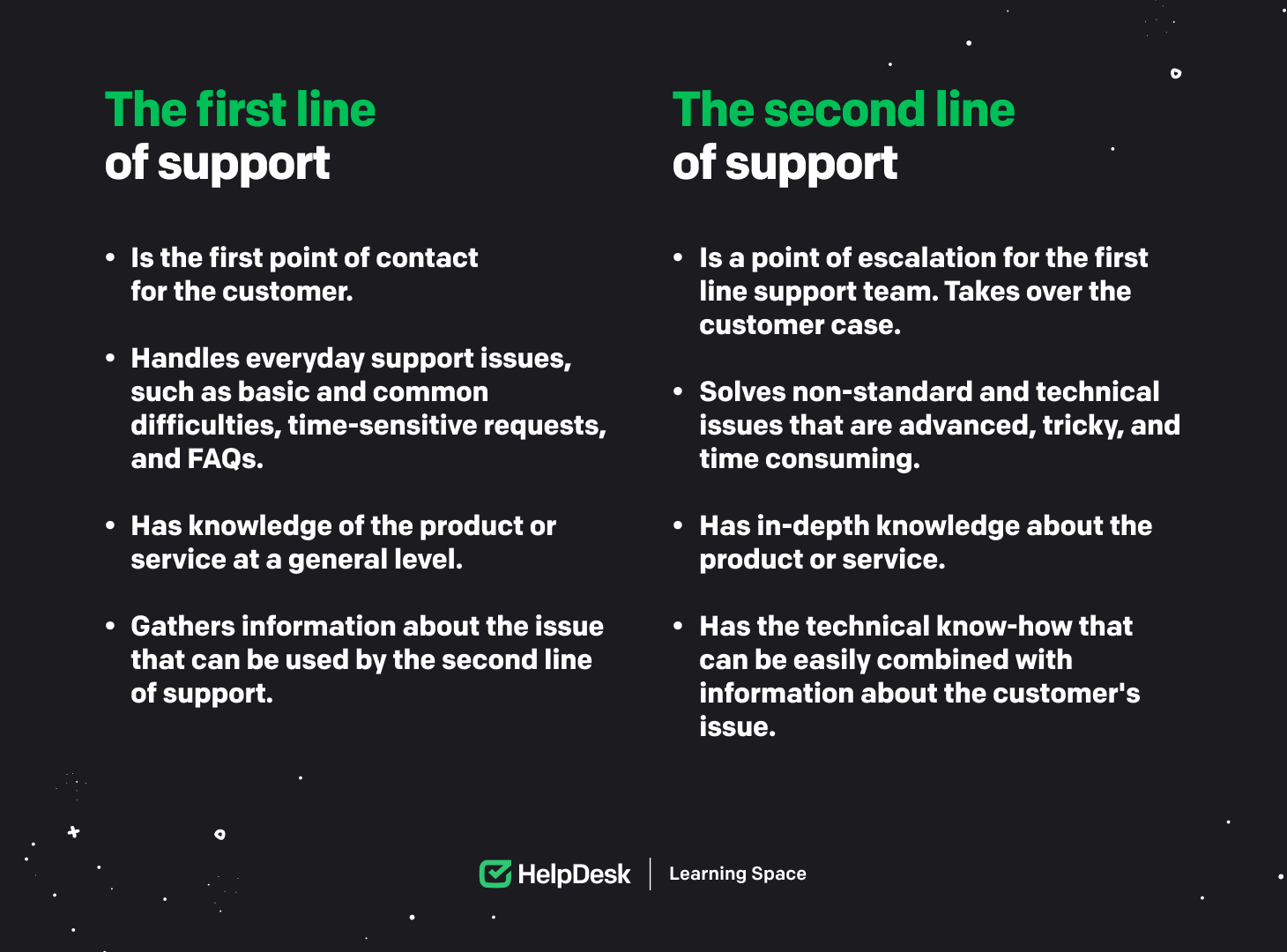 While both lines are imperative to a successful customer experience, it's important to divide these segments to build your support model's efficiency. It ensures that your organization can scale while continuing to offer development opportunities for your current team. In short, it's important to give new agents the ability to learn about the product and customer base in the first line of support. After that, they can build a deeper technical understanding.
I'd like to note here that all companies support customers in different ways, and no one approach or support model is better than another. However, there are certain industry practices that, when implemented, give you an edge in the customer experience space.
Skills of the first and second line support agents
Companies have different values and perspectives on what they consider to be the essential skills for customer service agents. From my experience, the one thing that can't be taught is empathy. Finding agents who can communicate, support, and teach from a place of empathy are the most successful in their support career, regardless of the line they work on. With empathy as a foundation, other skills are able to shine and help you establish an impeccable experience.
Since the first line of support is more general, I'd focus on the following skills:
A default to being helpful. The knowledge of the first line support agents often proves to be a lifesaver in basic customer cases.

Positive attitude. A first line support agent can't show anger or frustration when faced with a difficult case.

Inquisitive. First line support agents are naturally curious about getting to the bottom of things. A good way to test this is to give them access to a test account and help documentation, and then have them perform a demo in the interview. You'll get a better understanding based on how well they prepare and present the information.
For the more complex and advanced technical approach in the second line of support, in my experience, the most crucial skills are:
Patience. Second line support agents must remain calm and be completely understanding with each customer.

Proper time management. Second line support agents need to balance response time with the level of investigation required.

A drive to better understand the product. Second line support agents can do this through learning and development opportunities, and by working to solve problems for both internal and external customers.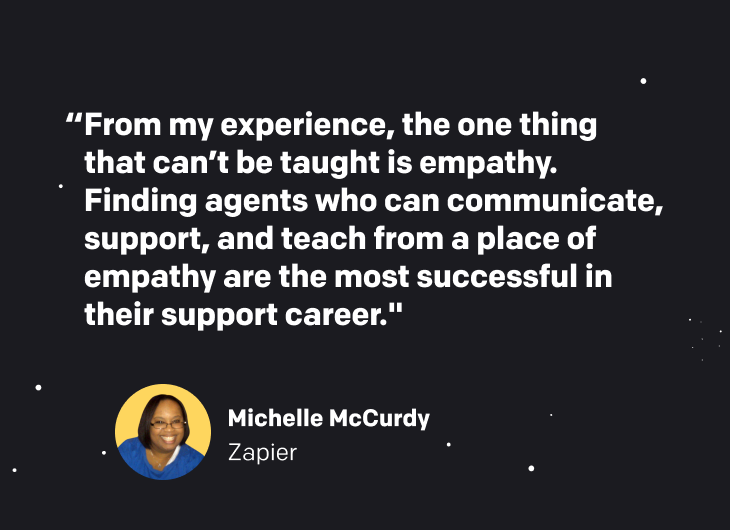 I'd be remiss if I didn't mention that both groups should be unflappable. A strange word to use, I'm aware, but the ability to keep their cool during a customer interaction is imperative. A lot of things get thrown at support teams during a shift. I can think of a few that still make my ears burn. The most important thing is to approach each situation with a level head and focus on the task at hand. Solve the problem to the best of your ability, and communicate as much as possible.
Subscribe and get a guide!
Get a guide now and fresh insights into online communication every two weeks.
Resources to help you become a better support hero
I hope you recognize in yourself some of the abilities or skills mentioned in this lesson. The question is, how can you improve your customer service skills? If you want to expand your knowledge and become an expert, you need to ensure that you get a daily dose of information from the customer service industry. For this purpose, I'm sharing with you some links to valuable resources to build your support skills and knowledge:
Do you feel like you have the basics covered? Take your customer support to the next level and join HelpDesk. Test this ticketing system for 14 days at no cost. Organize your work and improve your performance.
Summary
This lesson was all about the character traits and skills for customer support agents. Hopefully, after this lesson, you'll notice natural and acquired skills that you can use to provide excellent customer service as a first or second line support member. The most important takeaways are:
A customer service agent's role requires a range of soft and hard skills. Now you know the skills that you can bring to the job.

Customer service's role is a difficult one. Not everyone can be part of this type of team unless they've been trained and discover the right attributes to do so.

You met the persona of the perfect customer support representative. If you have some of these characteristics, good for you. You're heading in the right direction.

You learned the differences between the first and second lines of support. You know what challenges each line agent has, and you can find a place for yourself on the right team.

You gained access to a list with specific resources to further develop your interest in customer support.
In the next lesson
Plan Your Support Team's Work Like a Pro
You're now familiar with scheduling customer service work backward and forward. So, it's time for the practical part, and that's assigning tickets to customers. In the next lesson, you'll focus on your customer service strategy's main pillar. That's managing customer tickets. You'll learn about three effective strategies for assigning tickets to support agents.
Go to lesson 2
Subscription with a gift!
Join the mailing list to get a special ebook on email communication.