What you're about to see isn't another list that you just glance through and then close the tab. On this list, you'll find customer support tools that you can implement right away in your business, and what's more, some of them you can try for free. Read on to find out about customer service tools for lightning-fast support.
1. Automated help desk
In the previous lesson on the three ticket assignment strategies, I explained what a ticket is and what actions you can take with it. You can do all these fantastic ticketing activities in help desk ticketing software. Meet Inga, Head of HelpDesk, who will tell you more about ticket management and automating your workflow with this tool.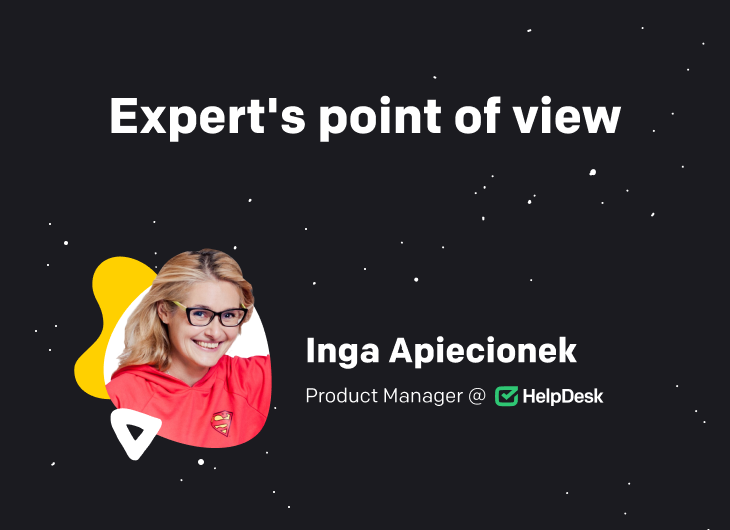 When creating HelpDesk, we looked at customer service agents' needs and asked about the things that give them headaches. We learned that the most painful situation is when customer requests appear in different places out of the blue. For example, customer emails drop into separate inboxes, social media chats pop up in built-in messengers, and completed website forms fall into a database. All of this makes it difficult to manage them properly.
Besides, support agents that we surveyed told us that many tasks are repeated over and over again. They have to solve them manually, and, as you can guess, that's really time-consuming. If only there was a magic tool that would make all these pain points go away. Luckily, it exists. Here are the top things you can do in help desk software:
Have one shared dashboard with all your customer messages as manageable tickets. Messages drop into the help desk system from multiple communication channels, so you don't have to switch between them.

Give your tickets a clear priority. In HelpDesk, you have a choice of four ticket priorities so you know the urgency and resolution order. You can properly allocate your time and energy.

Set status for tickets. Statuses show you the communication flow and the ticket resolution progress.

Add descriptive tags to categorize and characterize customer cases.

Create custom and shared views from filtered tickets. You can always have the most critical tickets on hand as soon as you enter the software.

Assign the customer ticket to the responsible person and team. An essential part of effective teamwork is to know your duties and have them clearly listed.

Handle requests quickly with easy-to-configure automated workflows. You can delegate some repetitive tasks and spend the time you save on complex and challenging cases.

Use canned responses, which are pre-built message templates you can use when talking to the customer. You don't have to type the text. With just one click, you're all set to send your response.

Track your performance with robust reporting and filtering. You can have an overview of your performance at any time.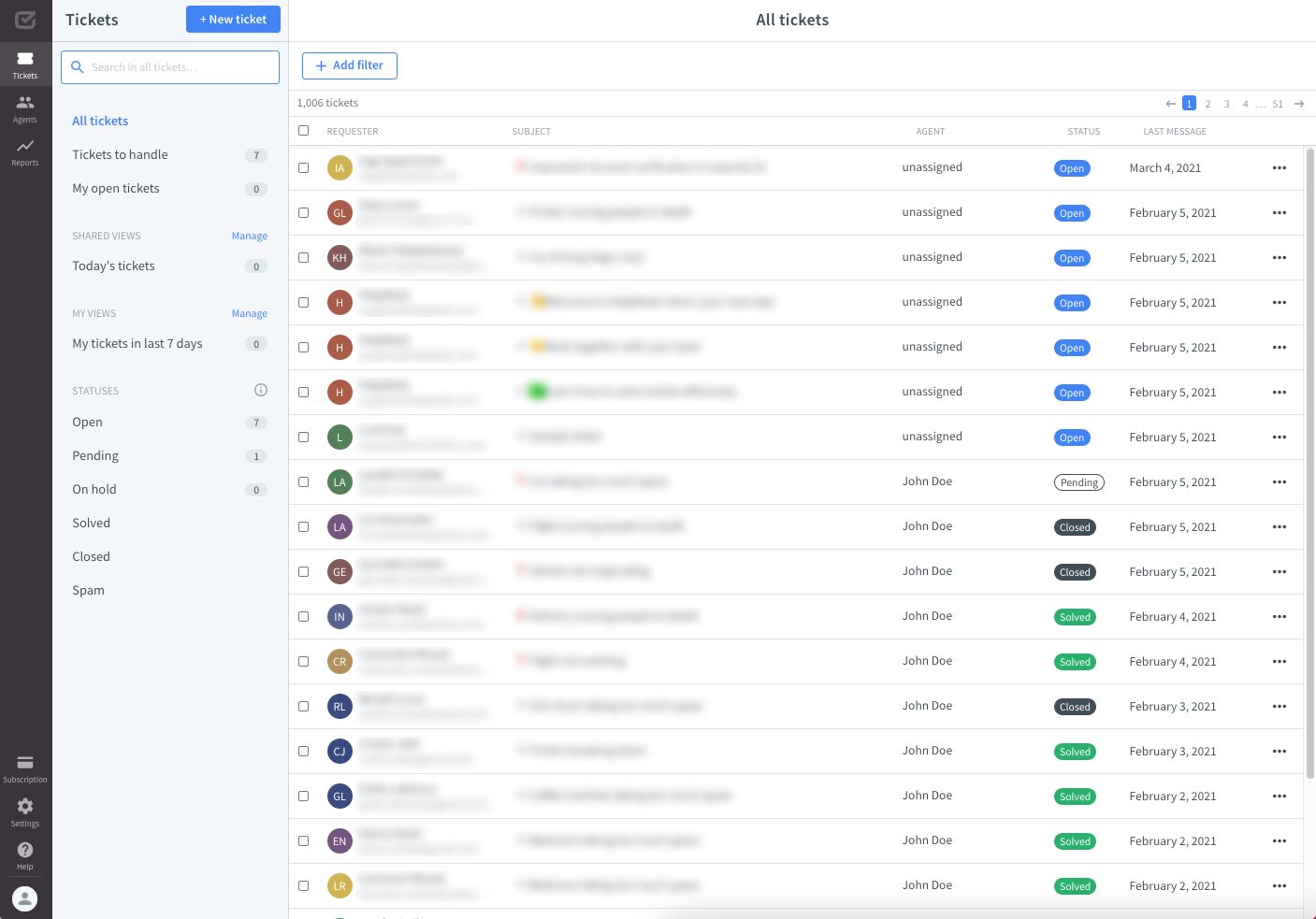 The good news is that you don't have to make a final decision right away when you choose help desk software. You can sign up for a free 14-day HelpDesk trial and see for yourself if this system is right for you.
2. Live chat
Having live chat on your website means that on-site visitors can send questions and receive answers in real time. Messages and attachments are exchanged between the company and the customer in the blink of an eye. That's why, if you integrate live chat into your website, you can capture more leads and close more sales. Grzegorz, Head of Support, will explain how customer service chat software can engage customers on your website and turn them into fans of your brand.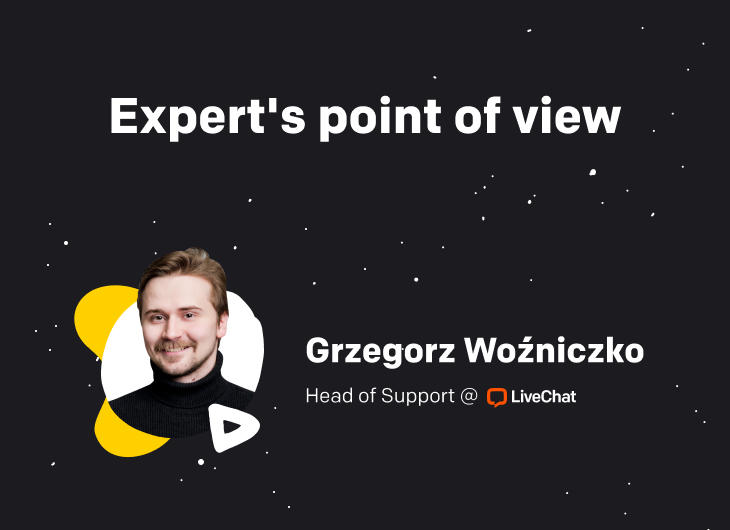 Live chat is a huge help in supporting our customers in real time. The live, human approach is invaluable if you need to solve some problems or answer questions immediately. It serves as one of the main parts of our 24/7 support environment and integrates very well with ticketing software, such as HelpDesk. If you're wondering how to handle easy cases with a straight-up answer more efficiently, look no further. Live chat is the go-to app for such situations.
As someone involved in customer support, I can tell you that chatting with customers doesn't have to be a nightmare. In fact, quite the opposite! It can be very beneficial for your business and customer relationships if you're equipped with the right live chat solution. Let's take LiveChat as an example. It has many useful features that can greatly improve your customer service. They're divided into several categories related to chat, engagement, customization, reporting, and security so that your needs are covered comprehensively.
LiveChat is an excellent addition to your toolset because it allows your customers to hop in a quick chat, ask their questions, and get some answers immediately. According to our data, 75% of all our support cases can be solved via chat. But in a situation where email escalation is necessary, LiveChat syncs up with HelpDesk perfectly and allows for automatically passing customers' data to tickets, setting up proper automated workflows, and displaying tickets in the Visitor Details section for each chat. So, you can really have every conversation in one place.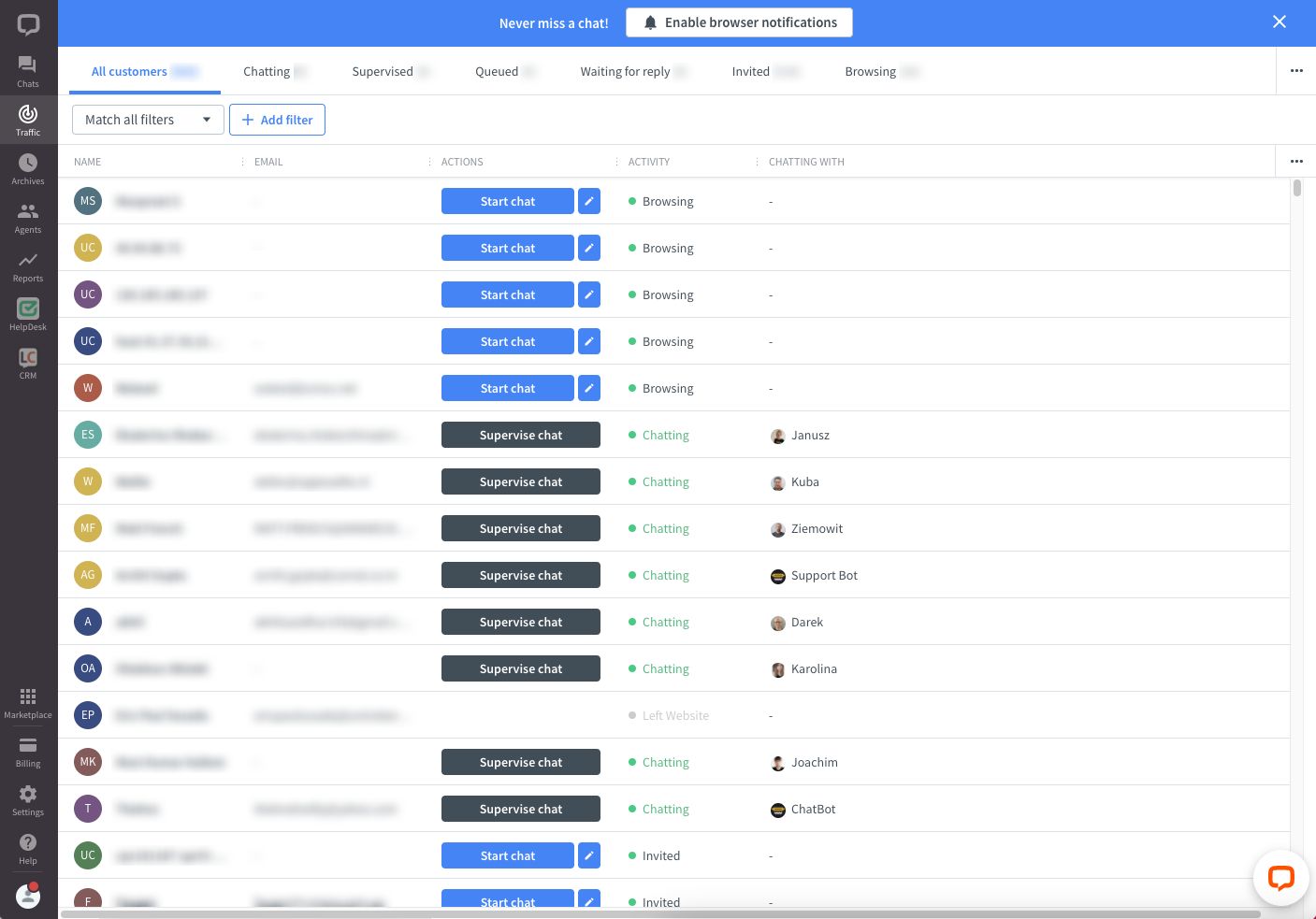 Do you want to chat in real time with your customers? Sign up for a free 14-day LiveChat trial and start a conversation.
3. Web call
Another customer service tool that is sure to speed up your customer service is web calling. Web calls combined with live chat are a real boost to customer interaction. Let's see what Vaiva from SnapCall has to say about the customer experience when using web calling.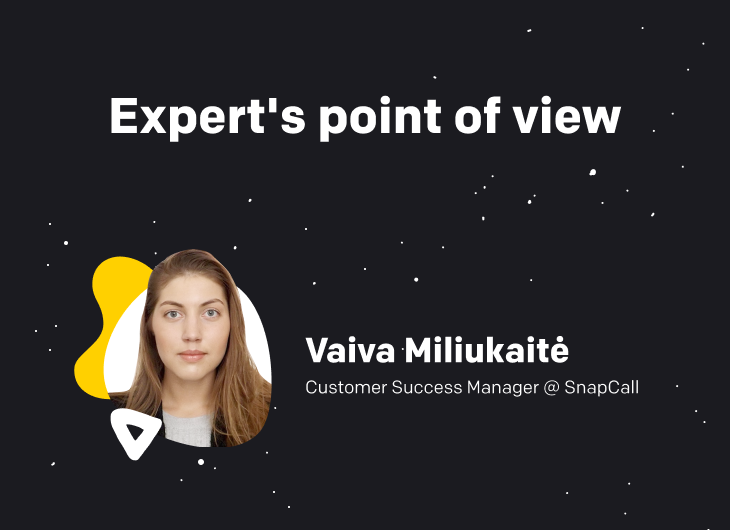 Chat is definitely one of the most efficient communication tools in ordinary customer service situations. However, in cases where a question can't be answered or an issue can't be solved within a couple of messages, switching to a web call can help save a lot of time. The possibility to get on a call right inside the chat has eliminated the detachment between written and voice communication.
Some companies using the integration have provided a calling service before. However, the process used to be very incoherent. If a customer was on a chat and decided they wanted to get on a call with an agent, they had to leave the chat, find the right phone number, and tell their story all over again to a new person. The SnapCall integration with LiveChat provides a fluent omnichannel experience. That means agents and customers can choose a channel that best fits their needs while staying on the same chat window.
Teams using our solution for LiveChat reported that switching to a call in complex support situations decreased average handle time (AHT) by roughly 30%. This is because jumping on a call allows an agent to get the customer's full attention and solve the issue right away. As a result, agents can efficiently handle more customer queries without spending too much time on complex cases.
Another essential customer service metric that web calls have helped improve is first contact resolution (FCR). Since customers usually aim to get all their answers at once while on a live call with an agent, most of our users have noticed a 15% increase in the number of customer inquiries resolved with the first call.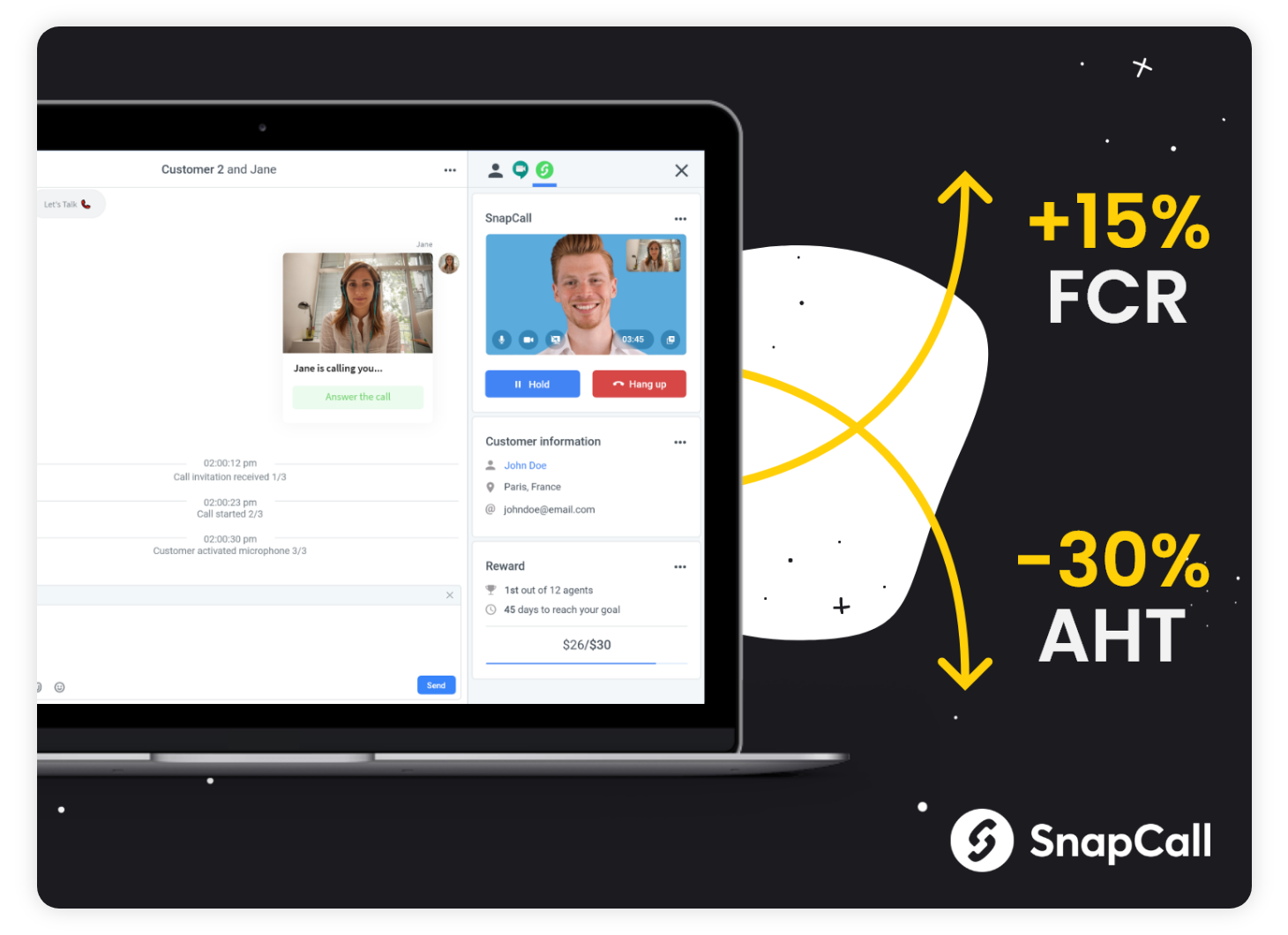 When are web calls most useful?
While analyzing how businesses use the SnapCall integration for LiveChat, I noticed that web calls were the most useful in these cases:
Explaining difficult matters. Web calls are beneficial when introducing new features and product updates or taking customers through a complicated setup. Clarifying all the details by messaging back and forth makes an agent lose a lot of time in these types of cases. Meanwhile, switching to an audio or video call, or even enabling screen sharing, allows agents to conveniently and quickly explain the situation.

Sharing confidential information. I've found that customers feel much safer sharing personal data, such as their first and last name, address, and payment information, while on a call.

Serving a specific customer segment. I'm talking about VIP customers and loyal or new users who have just started their adventure with a product or service. They usually expect extra care from the brand. Allowing these customers to choose from various communication channels depending on the subject they're interested in has proven to be a way to create an exclusive customer experience.
If you've experienced any of the above challenges, you should consider web calls. Learn more about the best practices for calling inside a chat and clarify even the most confusing issue with your customer in seconds.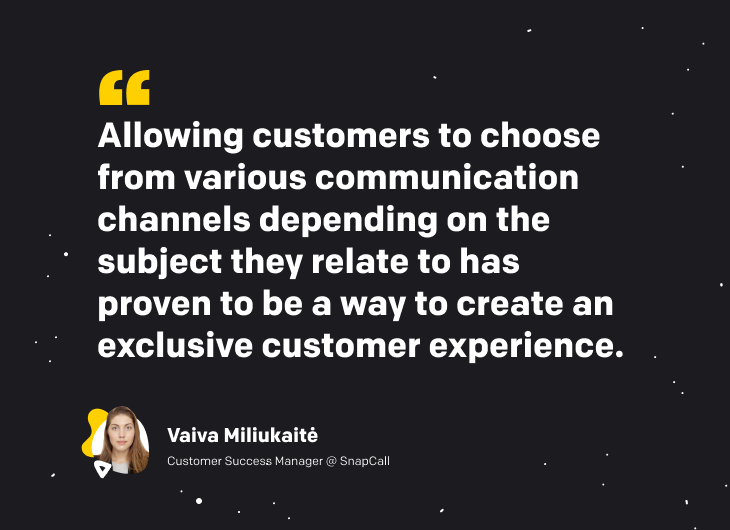 Types of customers choosing web calls
Since calling inside a chat is a novel feature, customers don't know how it works at first. Because of this, it takes curiosity and a willingness to try something new to jump on a call with an agent for the first time.
While using our LiveChat integration, companies have noticed that tech-savvy customers are usually more comfortable with web calls because they're used to calling family members and friends through social media apps. It's usually the younger audience that is the most comfortable, but that's not always the case. Also, it depends on the situation and why the customer wanted to get in touch with the customer service representative in the first place.
Web calls appear to be a preferred method of communication when a customer is having trouble finding helpful information themselves. It could also be because they don't understand the solution provided by the agent over the chat. There's a huge desire to talk to another human being and get all the answers in real time in these cases.
The same goes for customers purchasing high-value products or services. They want to have all the necessary information before making a payment. Also, people tend to see a business as more trustworthy when they can have an actual conversation with someone from the company.
4. Chatbot
Chatbots are the next amazing customer service tool. Customers expect brands to respond to their issues immediately. So, chatbots help companies meet these expectations, especially in difficult times when communication is limited and most of the business and customer interactions are done online. Meet Daria, Content Specialist at ChatBot. She'll tell you more about the idea of having this little intelligent friend on board.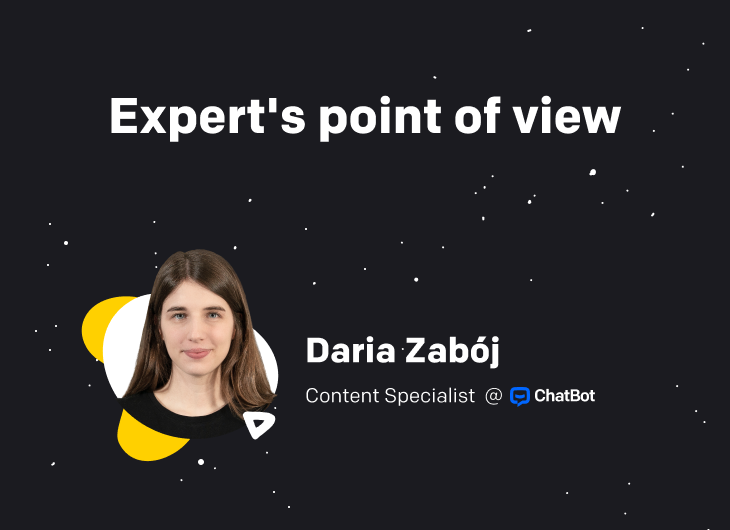 By using chatbots, brands can diversify their customer-engagement strategy and attract customers proactively across communication channels. According to ChatBot data, our custom chatbot has handled 313,406 chats, accounting for 35% of all traffic, in the last three years. Simply put, this means that one ChatBot Story manages the work of 10 support agents. Adding to that, they help businesses improve their customer experience, which is now a key brand differentiator. Here are the top things that a chatbot can do for you:
Chatbots can work as the first line of customer support and answer popular customer questions 24/7.

They can automate booking appointments, and that helps businesses manage onsite customer visits with more efficiency.

Customer service chatbots let you scale up your support services without increasing employee headcount.

With chatbots, you can connect with potential leads in real time and pass new contacts to your CRM automatically. They help companies collect and automate many of their business activities. For example, chatbots can collect leads on Facebook Messenger, educate website visitors about products and offers, or take food orders.

When required, chatbots can transfer a customer to a human agent to ensure they receive adequate support.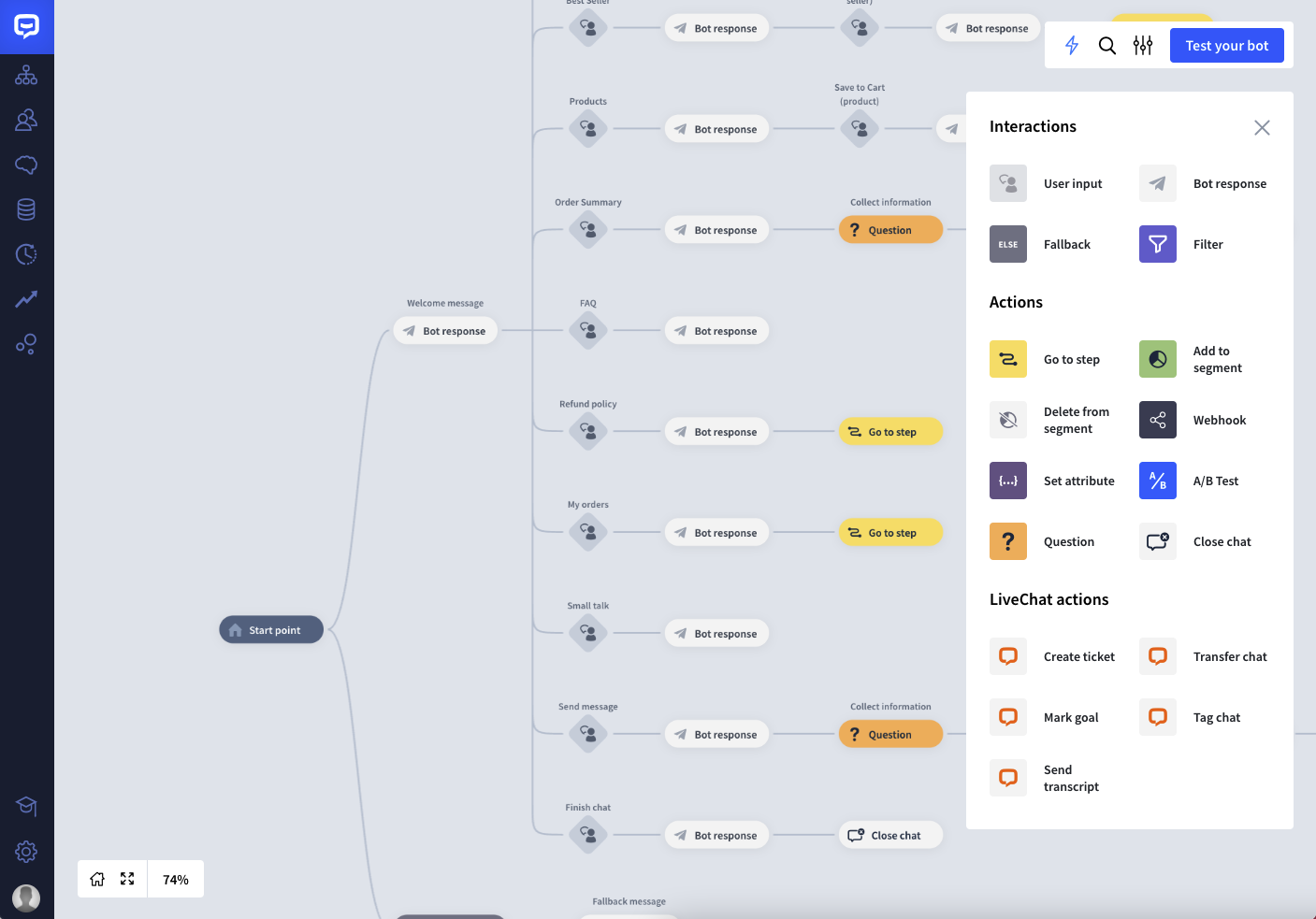 You can sign up for a free 7-day ChatBot trial and see what benefits it can bring to your business. Implementing a chatbot into your customer service strategy can improve your customer experience and, consequently, customer satisfaction.
5. Internal knowledge base
Your time-strapped customers won't wait hours for you to reply in today's ever more busy world. Before they use the "Contact Us" page, some will start looking for information on their own using Google or another search engine. You can make it easier for them and provide an internal search engine with articles and other resources about your company. What you need here is an effective and easy-to-use knowledge base that instantly delivers exact information in an organized way. Let's see what Jędrzej, Co-founder of KnowledgeBase, says about how customers and support teams can use this solution.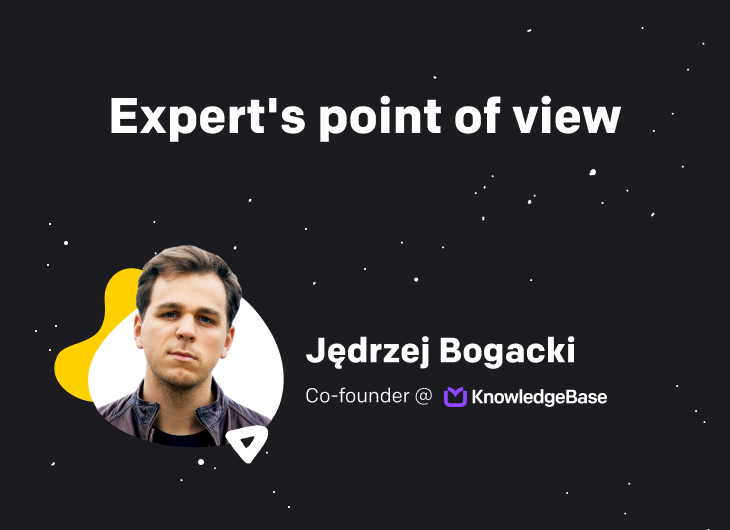 A knowledge base is a super powerful tool to have at your fingertips when dealing with customer service. It can help your customers resolve their issues quicker by providing detailed answers to their frequently asked questions as well as tutorials, video explainers, or help center articles. The best part is that, since your customers can self-serve, the costs associated with the extra workload for live customer service agents are reduced.
You can use a knowledge base to help:
Your customers. Some of them want to find answers on their own, and if you have a knowledge base solution, you can provide self-service 24/7. Your site visitors will get the answers they need, even if your support team isn't nearby.

Your customer support team. Customer support agents can use the knowledge base to quickly search for answers to customers' questions. That means no more learning all the answers by heart.
Most of the companies using a knowledge base see an increase in chat satisfaction. The agents can focus on real issues instead of working on repeated questions. It can also help you agents walk through more complex instructions with a customer right next to the chat.
Private articles are a great feature for keeping confidential info for every agent in one place. Debugging instructions, promo codes, or contact info are easily accessible to any agent during the chat and can be used when needed. If anything changes, only one place needs to be updated to keep everyone informed.
Keeping all this information in one place can also have more benefits. Onboarding new employees is much quicker when most of the knowledge is available in one place. A new employee can be tasked with reading the articles, and soon after that, they'll be able to jump right away to tickets and chats.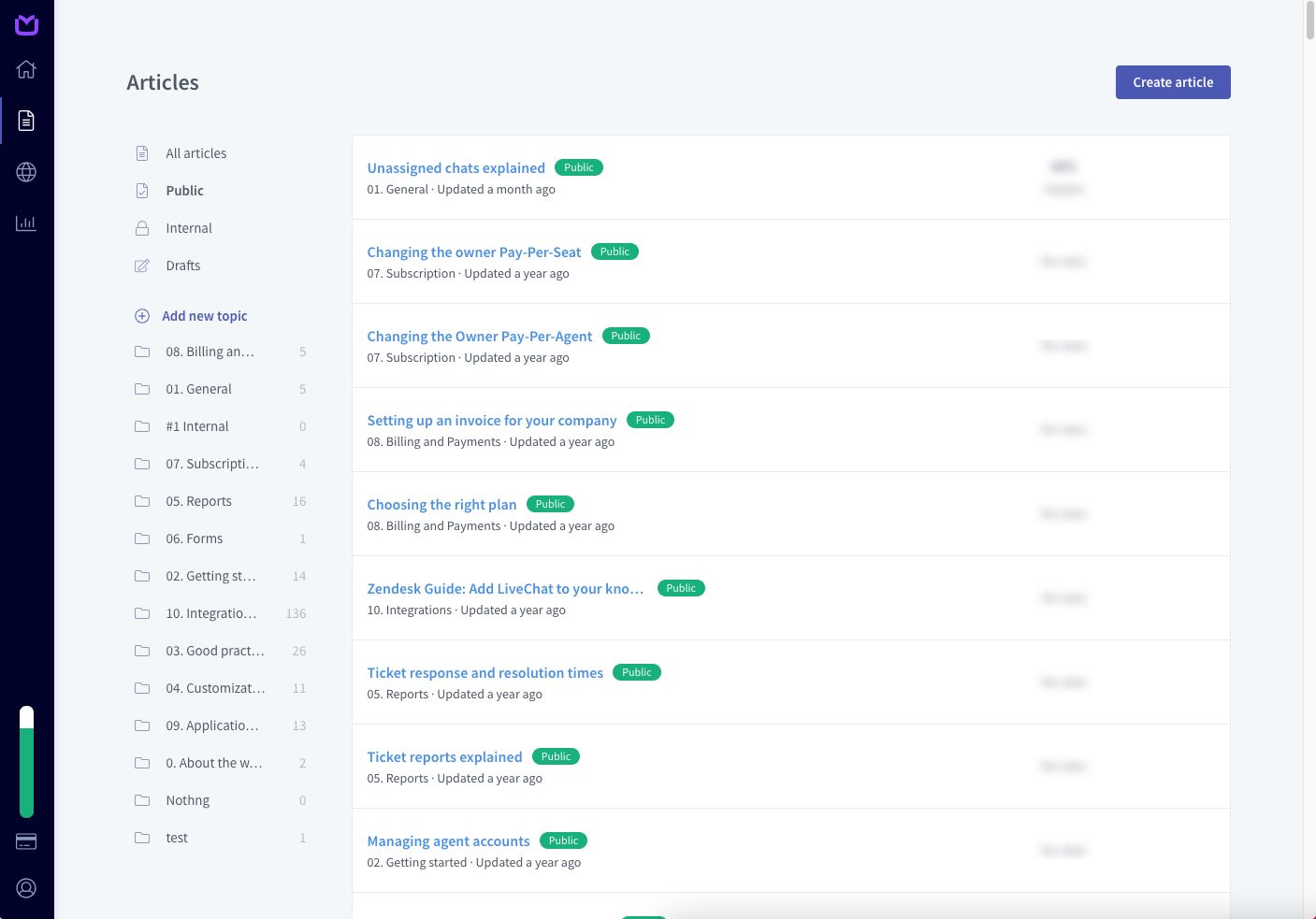 If you want to try this self-service solution for 14 days for free, sign up for the KnowledgeBase free trial.
6. Self-service portals
Some of your customers want to be self-sufficient, take care of their own business, and control the processes they're involved in. If you're going to give your customers some freedom and independence from your support team, a brilliant idea is to provide them with a customer portal. With a dedicated customer service portal, your customers have free access to their personal or transactional data. They can:
Track orders and the stages of delivery.

See the full purchase history, including products that are no longer available.

Save favorite products and add them to their wish list.

Request personalized assistance, when needed, through simple forms.
In Statista's research, 88% of U.S. respondents said they expect brands or organizations to have a self-service support portal. This proves that transparent portals are considered extremely helpful to customers. No wonder, since they can solve issues on their own whenever it's convenient for them.
7. SMS text support
SMS customer service is the virtual support provided by a company to a customer through text messages. Almost everyone has access to a phone, and checking for new notifications or messages creates a thrill. This excitement results in 95% of text messages from companies being read within three minutes of receiving them. Also, customers are four times more likely to respond to a text message than call back after receiving a voicemail. Texting can really create a sense of urgency and push the customer to take action.
You can choose from various channels and platforms to start sending text messages to your customers, including SMS, instant messaging, direct messaging via social media, and other commercial messaging products. According to the Global Mobile Messaging 2020 report, WhatsApp leads in most markets except the U.S., where Messenger is the most popular app. WeChat dominates in China, while Line and Kakao Talk are favored in Japan and South Korea. In Russia, Telegram leads the way and is a quickly growing player. The conclusion is that you should stick to your audience's needs and habits to choose the right messaging tool.
With SMS customer service, you can deliver a personalized and conversational experience in real time. You can create customized text messages and use wording that is familiar to your recipients. Also, you can save money by sending automated texts and scaling your messages. The data speaks for itself. Forrester's study shows that the average customer service phone call costs about $16, while the average cost of a text message is between $1 and $5 per interaction.
Text messages are more concise and easier to digest. They can be a great conversation starter and can then be escalated to phone calls or emails. In SMS customer service software, you should look for features that allow you to schedule messages and use templates and personalization tags to reach more people quicker and in a more tailored way.
An online community is a digital place intended for customers. It gives them a chance to get answers to their mind-boggling concerns directly from your company's experts or other users. Your customers get a platform to talk to each other and give opinions, hacks, tips, and even praise.
So, your customers can create their profiles and then start a thread to ask questions or share their experience about your product or service. When someone replies to their thread, they get a notification and can jump into the conversation.
A community forum is a valuable resource for your customer service team. You gain access to information that your customers have kept to themselves until they use the forum. In a sense, you have insight into their minds and can fix your shortcomings. You can use the questions your customers ask on forums to create FAQs, improve help center articles, provide constructive feedback to your customer service team, and optimize your workflow. Besides, the community forum guarantees you some level of analytics. You can examine topic frequency, conversation sentiment, and even customer demographic and transactional data.
Other benefits of having a community are keeping it on-brand and making it one of the elements of your identity. Also, they're easy to navigate and searchable. Your customers can find any topic in seconds along with a list of answers.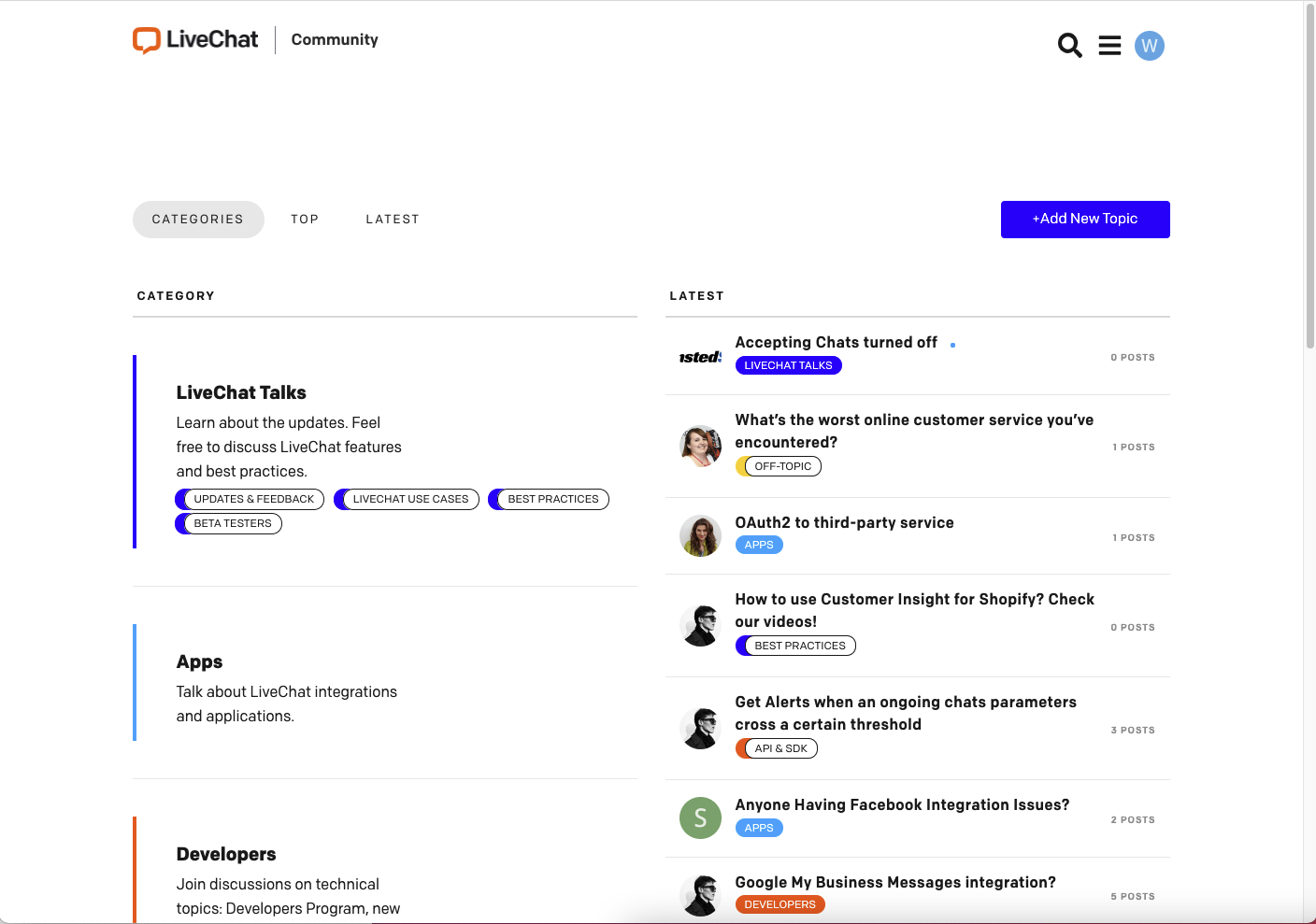 Best of all, you can actively engage in the conversation and moderate the discussion to go in the right direction, so it won't compromise your brand. Check out the LiveChat Community to get inspired.
Join the list and get a guide!
Subscribe now and get your awesome Business Email Writing guide.
Summary
As a final thought, customer service actions can be improved with tailored customer service software. Take advantage of the free sign-ups and trial periods to try the customer service tools I briefly described earlier. Let's summarize this lesson in a few words:
Do good research and benchmark the available solutions. Use software review platforms, such as Capterra or G2, to find out the pros and cons, and refer to authentic, up-to-date opinions from real users about customer service tools.

Choose the right tools for you and your team. Interview your teammates and ask them about their needs. Find your weak spots and pick the right software to work around them.

Decide what category of tools you need. Do you have a problem with keeping your communications organized or perhaps with the response speed? In this lesson, I've outlined several types of customer service tools to help you address these issues. Remember, you don't need all of them to provide exceptional support.

Before you make a final decision, ask for a trial version of the customer service tool you're interested in. This way, you'll be able to test it out before you invest in it and start paying money.
In the next lesson
How to Communicate Bad News to Your Customers
After many fruitful customer service efforts, it's time to gather feedback. You're certainly curious to know how your customers perceive you. In the next lesson, you'll learn how to collect customer feedback and measure customer satisfaction. Find out how to provide proactive assistance and track frustration signals.
Go to lesson 5
Subscription with a gift!
Join the mailing list to get a special ebook on email communication.