This lesson will be perfect for those who feel they're losing control when handling tickets. Losing control means that tickets are hung up in the ticketing system. When you get down to the last one, 10 more show up. It's easy to be frustrated because, after all, you can't take care of them all at once even though you wish you could.
Many factors come into play when deciding in which order you should handle customer service tickets. You can focus on the topic, customer type, request difficulty level, SLA details, and more. The first step is the hardest. Let's see how to reduce the number of customer tickets and assign them fairly and in line with an agent's skills.
What is a customer service ticket?
Before you get into ticket assignment strategies, let's agree on a common definition of a customer service ticket that I'll use many times in this article.
A support ticket is a term used to describe the interaction between a customer and a customer service representative. The support ticket is created in the ticketing software when a customer has an issue and asks the company for help. Every word the customer includes in the message is turned into a virtual query so that the support team can read and respond to it. When an agent solves the ticket, they can close it and call it a success.
Tickets can come from various communication channels starting with live chat, social media, email, and a forum, and ending with a contact form or the customer support portal you have on your company's website. A new ticket in your system is the beginning of a conversation with your customer. Every conversation gets its own unique ticket number. The ticket number makes it easier to manage information, track the customer's history, and search for cases in your database.
The customer service ticket and ticket number are the most commonly used phrases between customer service reps. These are technical phrases that apply to almost any customer service technology or tool. If you give the customer conversation a ticket number, you turn real people's problems into online and evidence-based requests. So, you number customers and their questions, not to offend or dehumanize them, but to serve them properly.
Subscribe and get a guide!
Join the mailing list and get a practical guide to email communication.
How do you handle support tickets?
The customer service ticket is an essential element of any customer service job. You can use it to create, update, and, hopefully, solve your customers' questions or concerns. At this point, you need to make sure that all of the tickets always land in one place, preferably in ticketing software that allows you to:
Keep the conversation going. Ticketing software enables conversations between people looking for solutions and people who can help them.

Manage the work of your customer service team and split responsibilities between the first and second support lines.

Automate your repetitive tasks and save time on more complex customer cases. Ticketing software can be a huge timer saver.

Keep customer information organized and up to date.

Give the best customer experience. With ticketing software, you always respond on time and your messages look beautiful and personal.
You already know from this brief description that you need ticket management software to manage your tickets. There's no doubt about it. So, let's get to the actual handling of support tickets, and let me explain the whole process in a nutshell. Here's an eight-step roadmap to properly handle customer cases.
1. Get details on the case
Carefully read the content of the message the customer wrote to you. See what wording they used to describe the problem or ask a question. Is it neutral or perhaps negative? Once you know this, it'll be easier to move on to your action plan's next steps.
Also, if you serve the B2B market, see if the recipient's email address can give you detailed information about the company and industry. This will make it easier for you to understand the problem. You can also focus on which communication channel the ticket came from and decide which channel is worth supporting first based on its popularity.
2. Set status
Setting the correct ticket status is critical. If you set an improper status, it'll have a negative impact on the customer experience. If you don't set any status, it can result in an inefficient ticket handling process. The ticket can go unanswered, or agents can duplicate their efforts. There's nothing worse than wasting valuable time. Keep your tickets up to date and visible to the customer service team to ensure your tickets move along in the queue. There are six main statuses that you can use during your process of solving customers' tickets:
Open
When a new ticket is created in the ticketing system, it gets an "Open" status. Tickets with an "Open" status should be answered as soon as possible. This status means that no agent has yet addressed the customer's case, and they're still waiting for your response. Respond to the customer to let them know that you're on your way to take care of their case.
Pending
When you respond to an open ticket, its status will automatically change to "Pending." Tickets get a "Pending" status whenever you're waiting for a response from a customer or additional input or information so that you can proceed. If the customer responds, the ticket will go back to "Open" status.
On hold
A ticket with an "On hold" status is a case that cannot be completed right away. This means that the customer service agent needs to consult with someone on the team or another department about the issue. Select the "On hold" status to ensure you get back to the customer when you have the answer and the best solution.
Solved
Mark a ticket as "Solved" when you're 100% sure that you've provided the customer with the necessary answers and left them satisfied with the outcome of the conversation. After that, move on because many other cases need to end up with this status in your ticketing software.
Closed
There can be times when someone sends you a collaboration proposal or a message with information that isn't a question or challenge for your team. You can briefly reply to such requests, and then mark them as "Closed." This way, the issue has been resolved, and you won't send an automated feedback request again.
Spam
The "Spam" status is reserved for malicious or other unnecessary messages you don't need to deal with.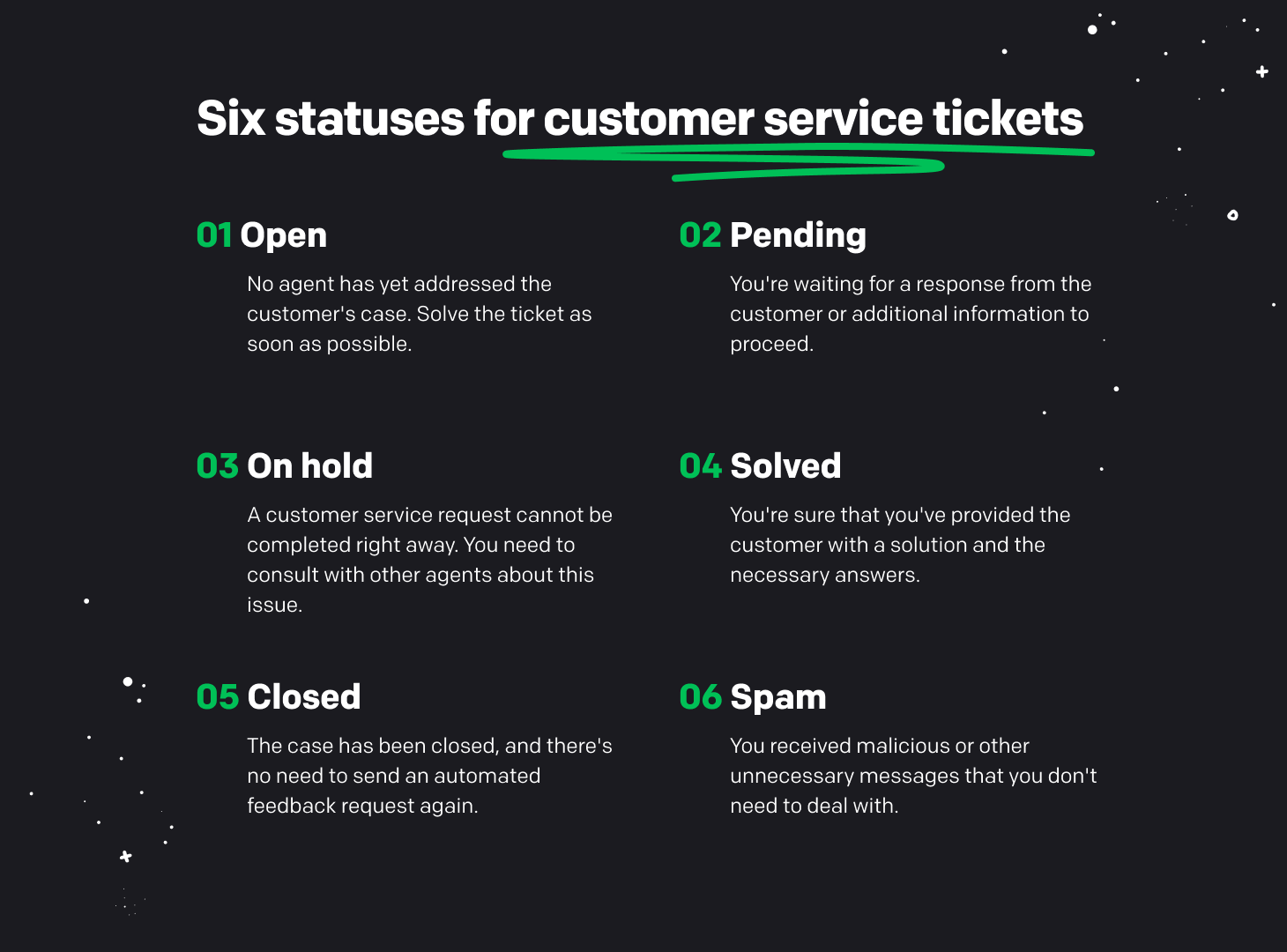 3. Set the priority
Ticket priority levels are terms used by the support team to determine how quickly an agent should handle a customer service ticket. Priority levels drive the urgency for customer service teams, and they're tied to the next steps in escalating the case.
There are four levels of priority in ticketing software:
You need to define the priority level so that your team knows what priority to give to a ticket by just looking at the content of the message, the type of customer asking the question, or any other attribute. Also, by prioritizing tickets, you can decide on the response and resolution time for a particular ticket.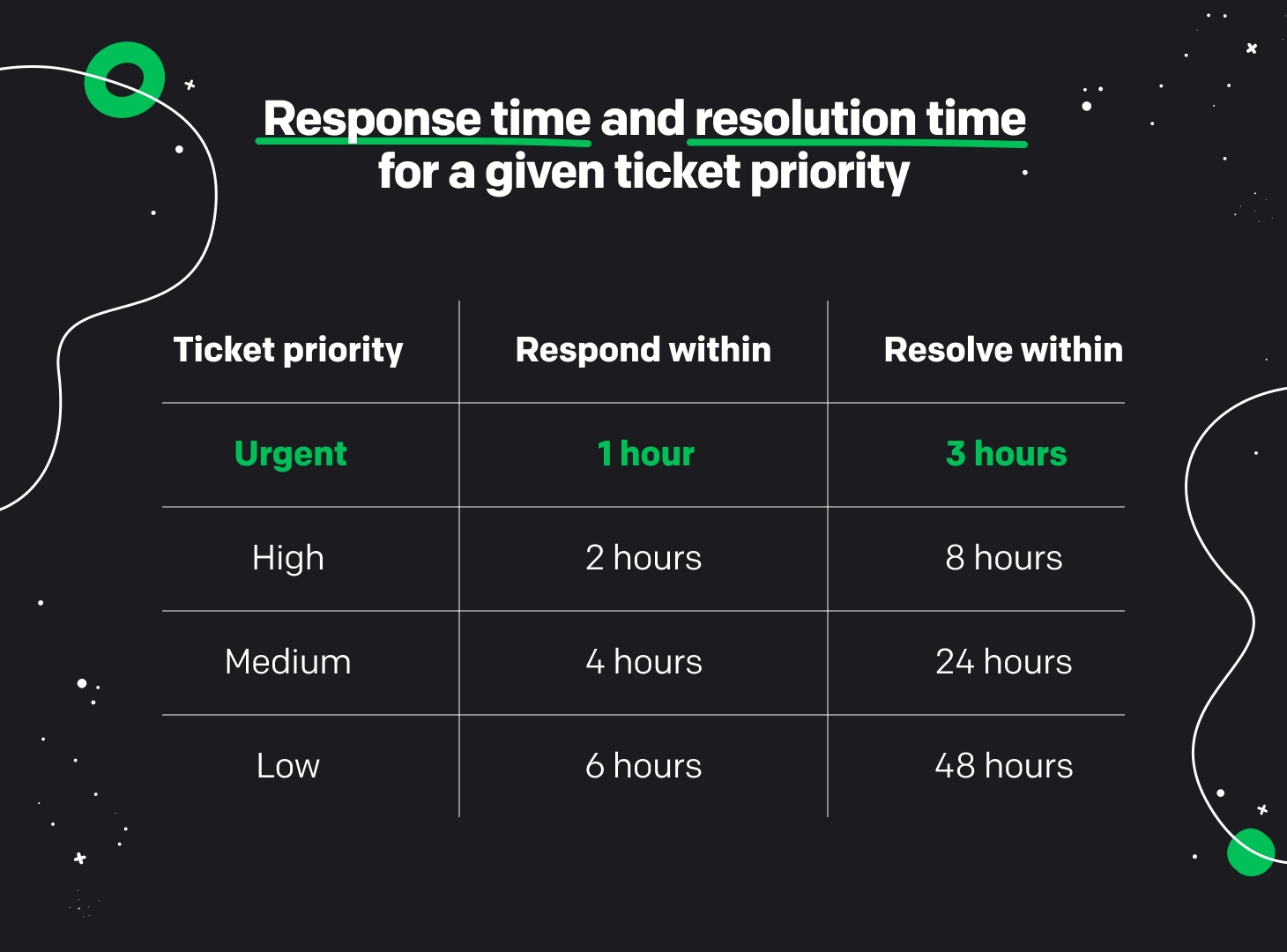 The ticket priority is also linked to the customer service SLA policy. You can combine the priority level with the response and resolution time of the ticket.
4. Tag the case
Tags are simple words that customer support teams use to add more context to a customer case. Support teams use tags to label similar tickets with keywords, categorize them, and group them. You can create different tags for quick customer support, such as:
Complaint

Refund

Billing

Feedback

Bug

Newsletter

Product request

Exchange

Support

IT

Sales

Marketing

HR
Tags are also an excellent basis for filtering tickets and implementing automated workflows to speed things up.
5. Add the responsible team
You know that the best strategy is to create a tiered customer service structure that establishes first and second customer service lines in your company. This way, you have first-line agents on your team who "pick up" tickets and then escalate them to the appropriate support hero or department. This person should know the responsibilities of each team as well as their strengths and weaknesses.
For example, a first-line agent can scan a ticket and then assign it to a department that deals with the warehouse and specializes in handling shipping and return policies. This agent can also assign a ticket to a team of technical experts to resolve any issues related to your ecommerce or the website.
Use tags to define ticket categories and segment your support queue. If you assign a ticket to the right team, it can be solved quickly because it gets into the right hands from the start. Be sure to review the customer service workflow chart to do it right.
6. Choose the right agent
Once the ticket goes to the team, the next thing you need to do is determine the responsibility for the request. Assign the ticket to an agent from the team you selected earlier to solve the customer case successfully.
If the customer case is sensitive, you can check which agent has the best ratings on the ticket satisfaction report. Assign the request to that particular agent to ensure that a highly rated agent serves a challenging customer.
7. Add other people involved in the case
If the customer case is complex and requires other agents' attention, you can mention them in the message and add them as ticket followers. They'll be notified when something happens in the ticket and will be aware of any changes. Teamwork can solve any case.
You can also add another recipient to the message by adding people to the loop. They'll be included in the message chain, and they can see all the information you've shared.
8. Respond to the ticket
First, learn the most important things about how to write a customer service email. This will help you avoid unfortunate email mistakes. Then, respond to the customer ticket and include all the necessary answers, tips, and email attachments.
What's more, if you find the same tickets and the same issues popping up again and again, don't repeat yourself. Next time, save your message as a canned response, and use it to respond to every similar message. You'll be able to save time and energy for more complex customer cases.
Strategies to assign tickets to agents
Finally, you're here! Now, let's jump into the ticket assignment strategies. Assigning tickets to teams and agents is key to the entire ticketing process. It's all about the right person in the right place at the right time. There are three top-recommended assignment strategies that you can implement to make your ticket handling process tip-top.
Manual assignment
This is the simplest and most widely known strategy for assigning tickets to agents. It's based on evaluating the ticket list case by case and then assigning each request to an agent. You can also consider the agent's skill set when doing so.
Pros of manual assignment
Great for low ticket volume. You only have a few tickets to browse through, and it takes a few minutes.

It's simple to assign tickets as you move down the list. A "pick ticket and choose agent" approach.

In some business cases, agent assignments can be random and don't require much attention.
Cons of manual assignment
Impossible with a high volume of tickets. The manual process, even with the bulk action feature, is resource intensive. Also, there can be mistakes caused by the human element or overlooking a ticket on the list.

The ticket can be assigned to the wrong agent. This can happen due to a lack of knowledge about the agent's abilities or poorly identifying the ticket's topic.

Letting agents choose which customer tickets to work on can result in cherry-picking the easiest ones.
Supervisor assignment
Another strategy for assigning tickets is to have them set by a supervisor or an admin. Tickets can be assigned by the most experienced support expert who knows the customer service team well and can allocate work and tasks fairly.
Pros of supervisor assisted assignment
Meeting stringent SLAs. The supervisor knows customer categories and, based on that, can dictate how tickets should be handled in the queue.

A visible leader on the team. The supervisor keeps their finger on the pulse of the team and is personally responsible for the customer support workflow. There's no chaos surrounding the information or the diffusion of responsibility.

Total team mobilization and the solid performance of duties. Agents trust the supervisor's decisions and believe in their growth plan. The morale of support agents is high because they know they have the right skills to meet challenges.
Cons of supervisor assisted assignment
The supervisor spends time assigning tickets instead of on the management of the customer service team.

The customer service team is dependent on the supervisor, and agents can't decide for themselves how to get down to business. They're always looking for their leader's move.

The ticket response time increases if agents wait for instructions from a supervisor.
Automated assignment
As a customer support agent, you can admit that there are parts of your job that are tedious and boring. However, there's a solution that allows you to automate the routine parts of your support work. Use automated workflows to boost your productivity and respond swiftly to every customer message while still preserving the human touch.
Automated workflows are simple, and now I'm going to convince you of that. All you need to do to start automating ticket assignments is set up some "if this, then that" rules in your ticketing system, and then you're done.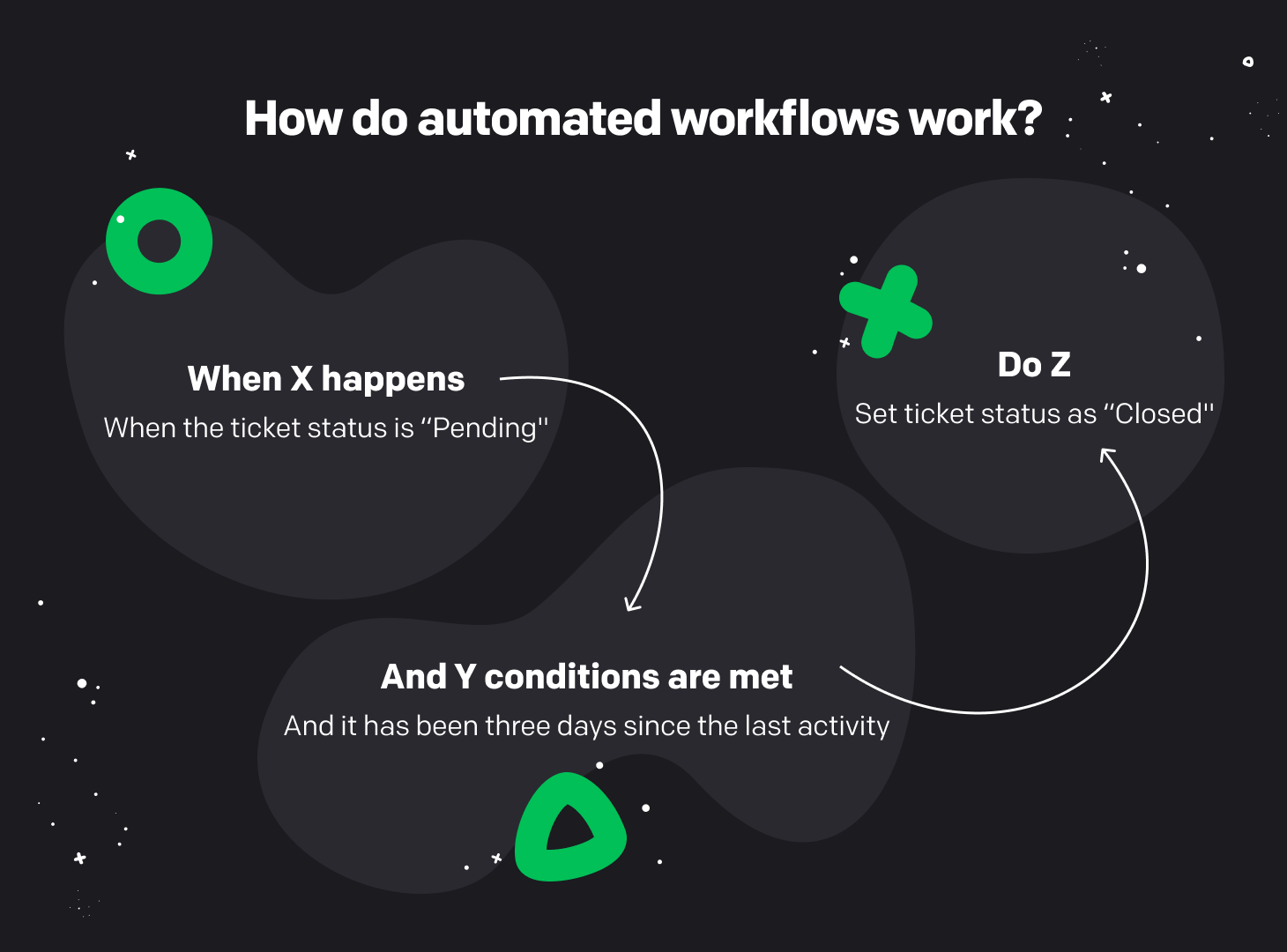 In HelpDesk, some automated workflows are created by default, and you can use them as soon as you join HelpDesk.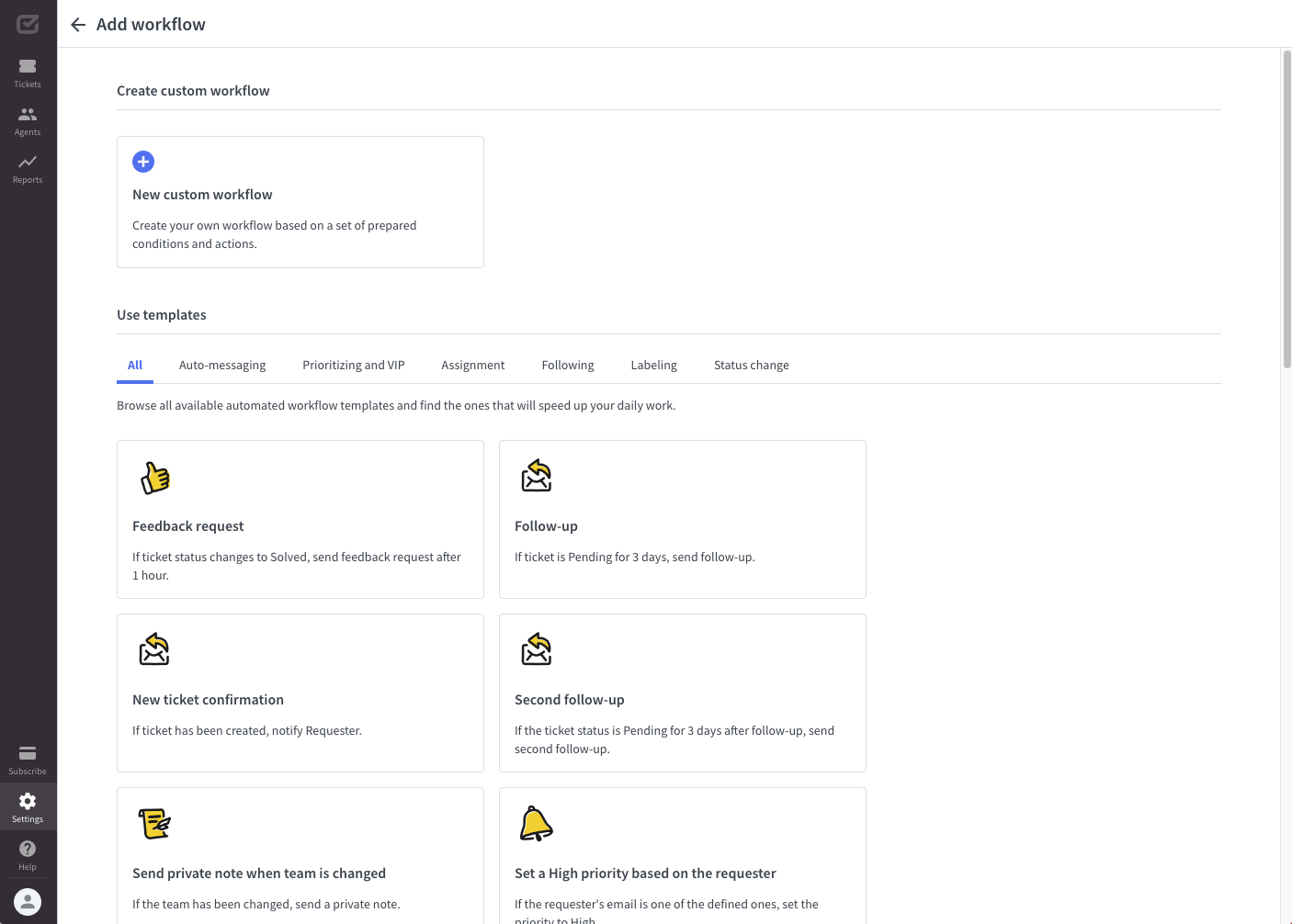 Pros of automated assignment
Elimination of the tedious and repetitive parts of a customer service agent's job.

Achieving superhuman speed and efficiency in customer service. Automation ensures that tickets can be assigned and answered in seconds.

Minimizing the occurrence of human mistakes and giving precision to every action.
Cons of automated assignment
Things happen behind your back, and you can't fully control them. You can experience a fear of missing out on something.

Advanced and multi-stage automation can sometimes be misconfigured.

Customers can realize that they're being served automatically and stop trusting the brand. This can happen through inadequate personalization and low quality messaging.
Summary
Now you know three strategies for assigning tickets to agents to improve ticket management in your business. Let's recap everything you learned in this lesson:
Always have a plan for serving your customer. There's no room for being spontaneous. Use our eight-step action plan to handle support tickets.

Keep things organized during customer service because it's easy to get lost. It's best to have one source of truth and one point of communication with a customer in the form of a ticketing system. You'll see the difference right away when you go from a shared email inbox as a team to simple ticketing software that's packed with features.

There are three main strategies for assigning customer service tickets: manual, with supervisor assistance, and automated. I can't say that one tops the others. It's always a good idea to use a combination of them to get the best results.
In the next lesson
Eight Amazing Tools to Speed Up Customer Support
So, it happened. You need to communicate bad news to your customers. You're stressed out, your sweaty palms are hovering over the keyboard, and only the worst-case scenarios pop into your mind. But it doesn't have to be like that. The next lesson will be about what makes customers mad and the best tactics about how to respond to their anger in a polite and reasonable way.
Go to lesson 4
Subscription with a gift!
Join the mailing list to get a special ebook on email communication.