What is the customer service management process (CSMP)?
Let's start with some basic definitions to ensure we're on the same page, as the topic is broad. First up, what customer service is. Customer service is the individual or team activity of providing proactive and prompt support to customers. You can offer such assistance through different communication channels, such as email, website form, chat, social media message, text message, or phone call.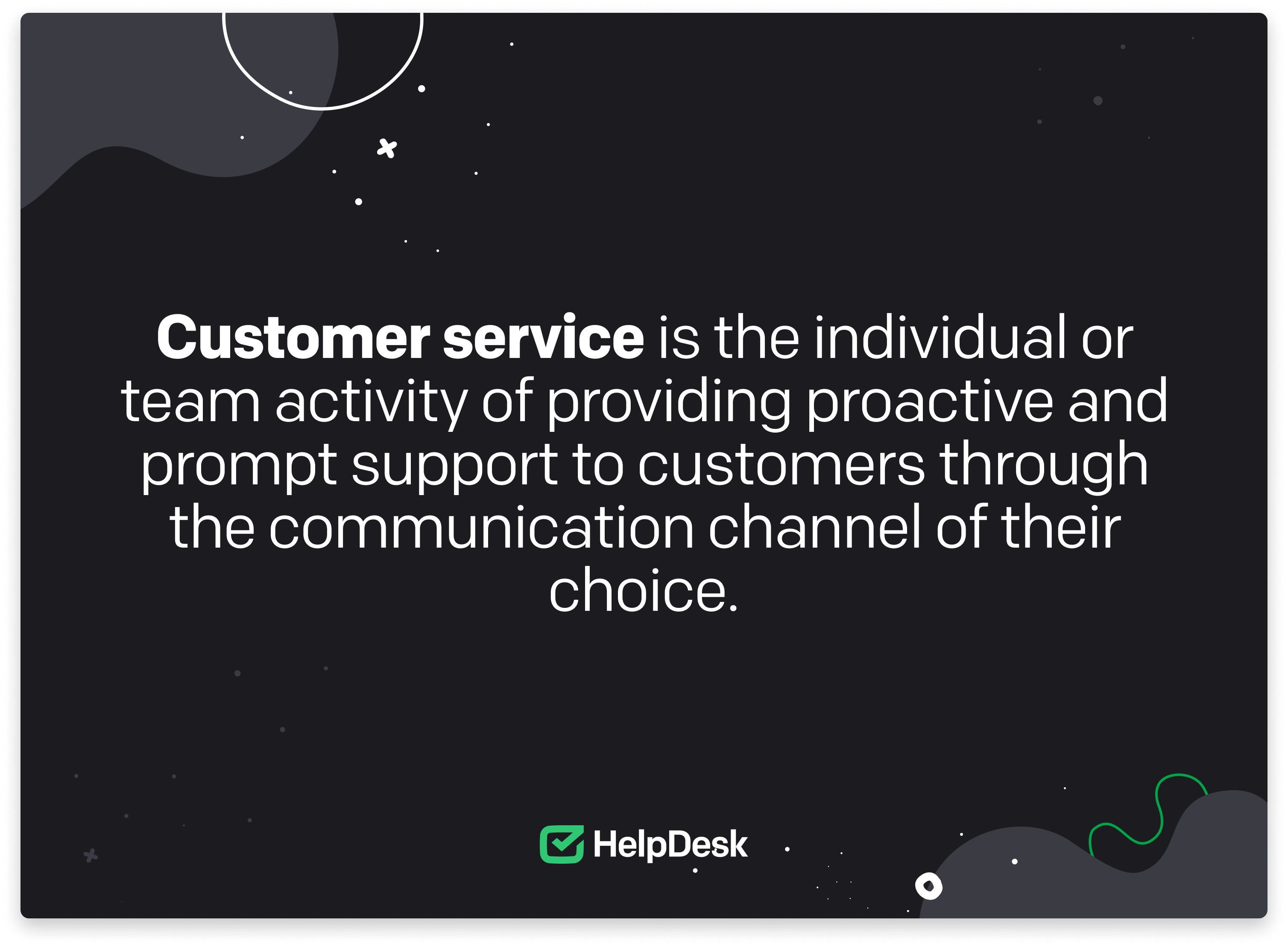 Customer service is a process that can take place before or after customers buy products or services from you. The goal of the customer service team is to make the buying process enjoyable and hassle-free.
Every customer interaction, such as the customer message or a completed contact form, can be recorded as a unique and manageable ticket that flows into the ticketing system. This is where the entire customer service cycle begins. Now, let's imagine having 100 unresolved tickets per day on your dashboard — this brings us to the customer service management process.
Customer service management (CSM or CSMP) is a set of strategies, tactics, and technologies that support teams can use to handle and analyze multiple customer interactions simultaneously. The high-quality customer service management process places a strong emphasis on long-term relationships and the entire customer lifecycle, with the ultimate goal of improving them.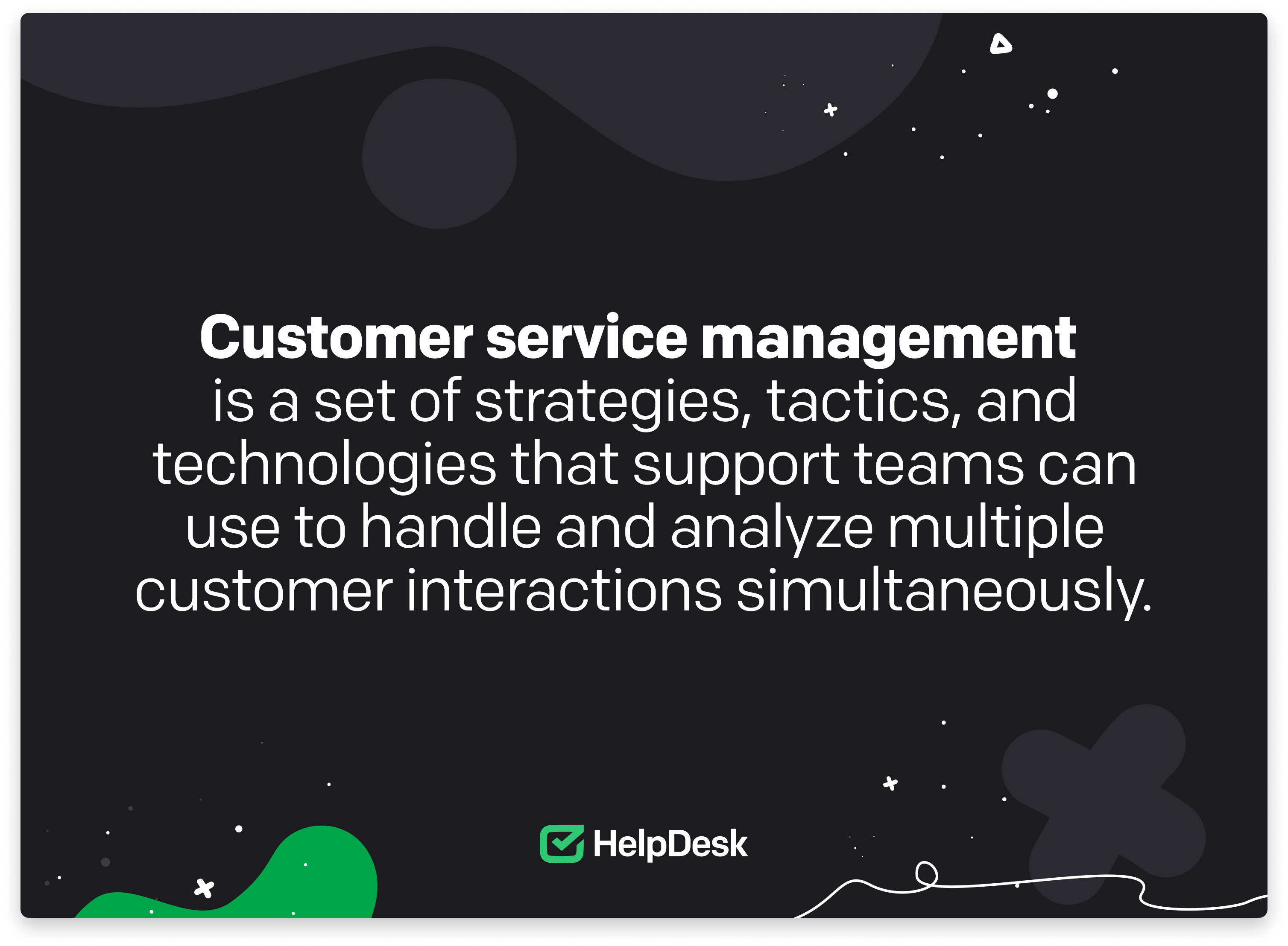 As you can see, you need to first organize and structure your customer service activities together with your team members, and then move on to customer service management to deal with tickets holistically.
Why is customer service management so important?
Customer service is crucial because it's a key part of the customer journey that impacts satisfaction, retention, and loyalty. How can you meet customer expectations with your customer service? There are four primary needs that customers have for customer support:
Quick response times

Reliable and comprehensive answers

Convenient, omnichannel accessibility

Friendly and personal interactions with a brand
It's no secret that customers expect these qualities. And you can easily meet these needs with a properly implemented customer service management strategy.
Customer service management is also important because it affects these business areas:
Company functioning. A correctly implemented and organized customer service management system can help you collect, structure, and analyze customer data. Once you understand your customers' needs and pain points, you can segment them into more targeted groups and create dedicated messaging or campaigns, such as marketing, sales, education, onboarding, you name it. Well, you can have all the information you need to make customer-related business decisions at your fingertips, and that's quite a treat.

Time and cost management. A smart customer service management tool can give you an edge. It can support your daily customer service operations and increase customer win rates. You can streamline the communication process, be more flexible and approachable with automations, and provide more detailed and quick responses with customer contextual knowledge. A well-thought-out support process translates into time and money savings and a reduced churn rate.

Cross-team effectiveness. With an automation-based customer service management system, your customer support team can focus on important tasks that require human assistance. They can delegate specific tasks to automated workflows and work quicker, more accurately, and on a larger scale. Also, when everyone on the team has access to the same toolset, they can more easily collaborate and exchange ideas to resolve customer questions or other support requests.
Manage customer service with greater awareness to exceed customer expectations, prevent churn, and maintain your company's reputation.
What does the customer service department do?
The customer service department focuses on a wide range of customer experience activities that occur before or after a buyer purchases a product or service. Customer service employees are the main point of contact for shoppers and represent the company as a whole. According to Salesforce's 2020 State of Service report, more than 75% of reps say their company views them as customer advocates or brand ambassadors. And it's no wonder, given that customers can change their opinion of your brand based on a single interaction with a support staff member. Agents are truly the "face of the organization" and sometimes determine the ultimate success of the customer relationship.
The tasks and responsibilities of the support department can be divided into two groups: the responsibilities of customer service employees to teammates and to customers.
| Responsibilities of customer service employees to teammates | Responsibilities of customer service employees to customers |
| --- | --- |
| Updating database and customer information with each interaction. | Taking ownership of cases and identifying customer needs or challenges. |
| Escalating unresolved cases to relevant internal teams. | Interacting with customers as needed using various communication channels such as chats, emails, web calls, phone calls, social media messaging, messenger apps, in-person meetings, or traditional posts. |
| Collecting customer feedback and reporting back to other support team members. | Troubleshooting issues on the spot or planning for a multistep resolution process. |
| Updating database with information about, for example, technical glitches, requests for new products/services, or useful improvements | Up-selling or cross-selling of the company's offerings. |
| Analyzing and testing products and services when obtaining feedback on them. | Documenting product or service knowledge in various forms to empower the customer, such as external help center articles, email onboarding, webinars, explainer videos, or live Q&A sessions. |
| Calibrating customer service solutions to simplify work for the entire team. | Monitoring customer complaints and responding to them promptly. |
| Measuring support team performance. | Measuring customer satisfaction. |
| Sharing modern customer retention tactics, psychological mechanisms, and techniques on persuasion, conflict resolution, and loyalty building. | Educating people about new products or services and their characteristics. |
| Assisting in the training of newbies. | Doing demos and onboarding sessions for customers. |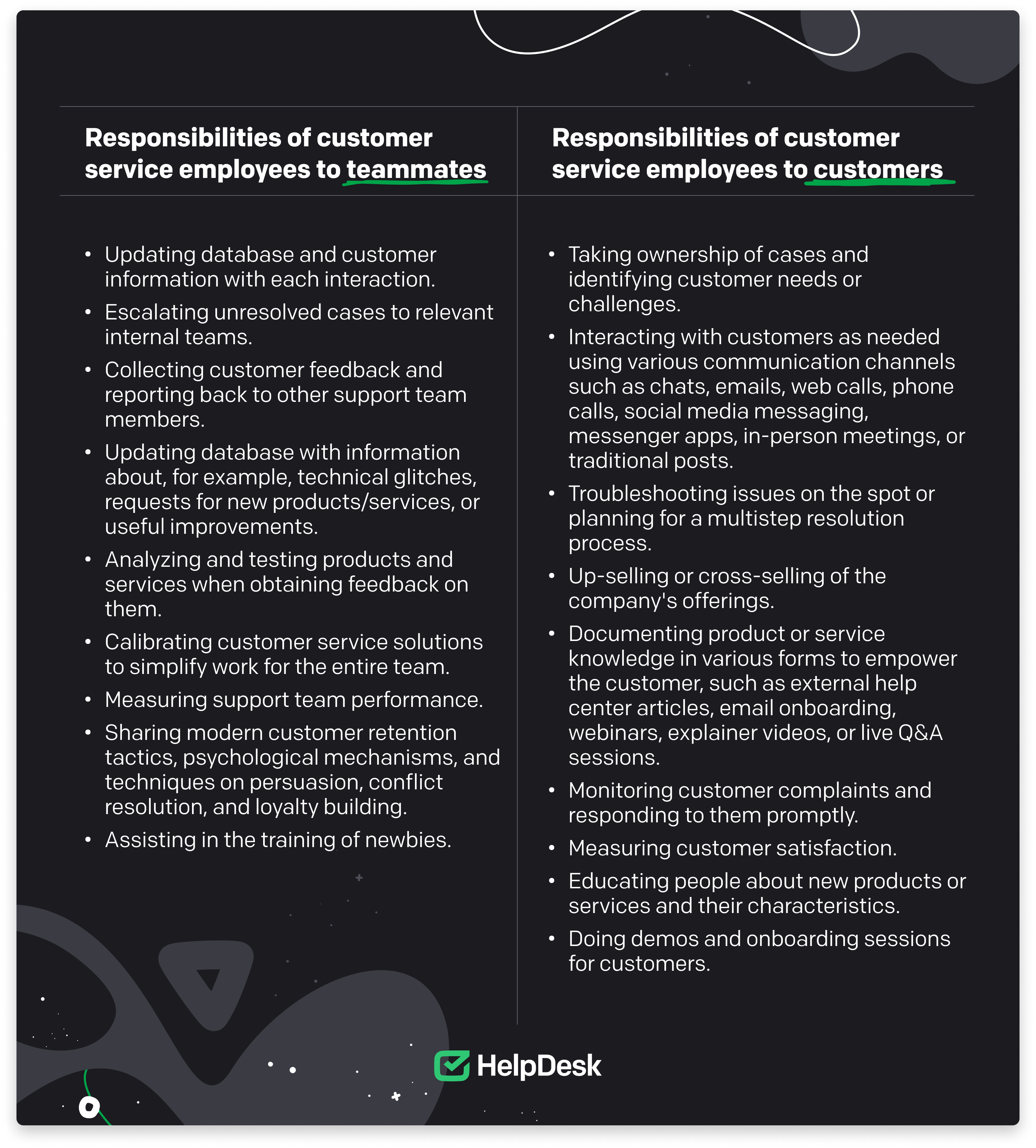 How do you structure a customer service team?
Now that you know the general outline of your customer service responsibilities, you can divide them fairly among your support team members. The optimized structure increases the efficiency of your daily work. 
Let's get to the part about structuring your customer service team. As you may know, I represent HelpDesk, a ticketing software, and we've come a long way ourselves to be happy with how we operate. There are three main steps that you need to follow to build a successful customer service team and improve performance: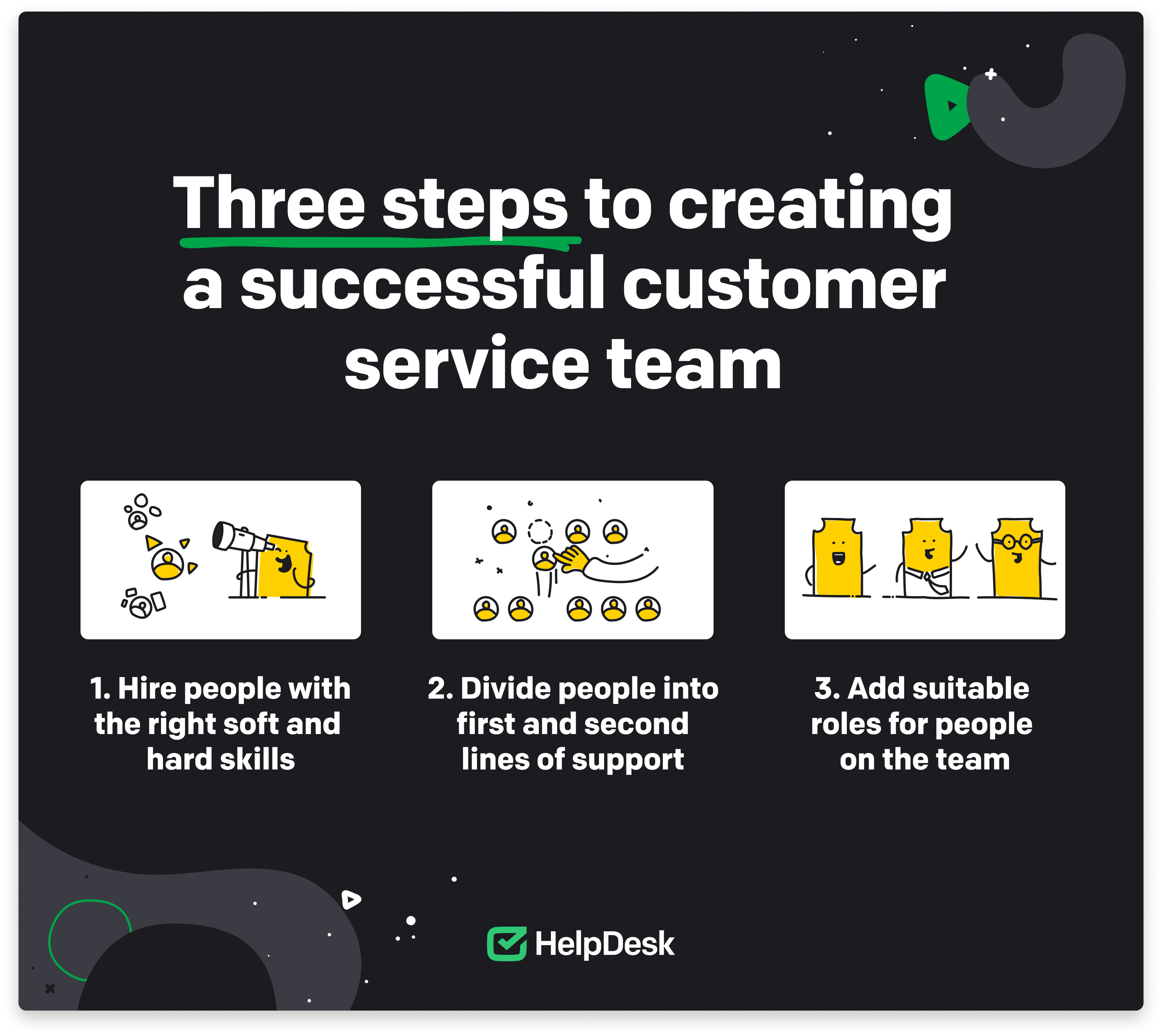 1. Hire people with the right soft and hard skills
You can't delight customers if you don't have the right people on board, and no, it certainly can't be just anyone. Customer service professionals must have the right mix of the soft and hard skills necessary to work with customers and represent your brand. Empathy, a positive attitude, proactivity, active listening, and patience are just the tip of the iceberg.
First, build your customer service agent persona relevant to your industry and use it in your talent acquisition process. Take care of the recruitment process and use different techniques to vet candidates. You can try the assessment center method or relevant role-playing scenarios that really reveal the true nature of people.
2. Divide people into first and second lines of support 
I've already defined customer service responsibilities, which should then be delegated to more specialized first and second line support staff. As a support manager, you need to be aware of the differences between the first and second support lines. You can create as many lines as you want in your organization, but each successive line should be more specialized and technically oriented. This way, you can escalate the customer case smoothly and establish constant communication with other departments. Also, remember to divide your work hours fairly. No one wants to work overtime, so be sure to schedule night or holiday shifts responsibly.
3. Add suitable roles for people on the team
There must be at least one manager on each support line — after all, someone has to be responsible for the overall performance and be the spokesperson for support representatives. You need to differentiate access to information and features in your customer service tools because the roles of agents and managers are distinct. Find out if your customer service solutions introduce different roles and options for taking care of data privacy.
What is the role of a support agent?
The support agent is an individual with perfect communication and problem-solving skills who takes ownership of customer cases and provides timely, quality customer service.
They present relevant and essential information to new and existing customers or escalate the case to other teams to find the right solution. Support agents are also customer advocates and represent their point of view within the organization. They proactively gather feedback and suggestions to improve the customer experience and drive customer loyalty. In addition, support agents document and develop a knowledge of products and services to be helpful and well prepared.
What is the role of a customer service manager?
The customer service manager is an individual with strong leadership skills who is most often responsible for supervising the day-to-day matters of customer service teams.
Their work is strictly administrative, executive, or both. A customer support manager hires, trains, and guides the support team. Also, they track the team's performance, motivate colleagues, and provide ideas for improvement to keep support activities on the cutting edge. Managers are responsible for setting effective work procedures, support policies, communication standards, and customer satisfaction goals. Customer service managers must be able to work in a high-pressure environment and be solution-oriented.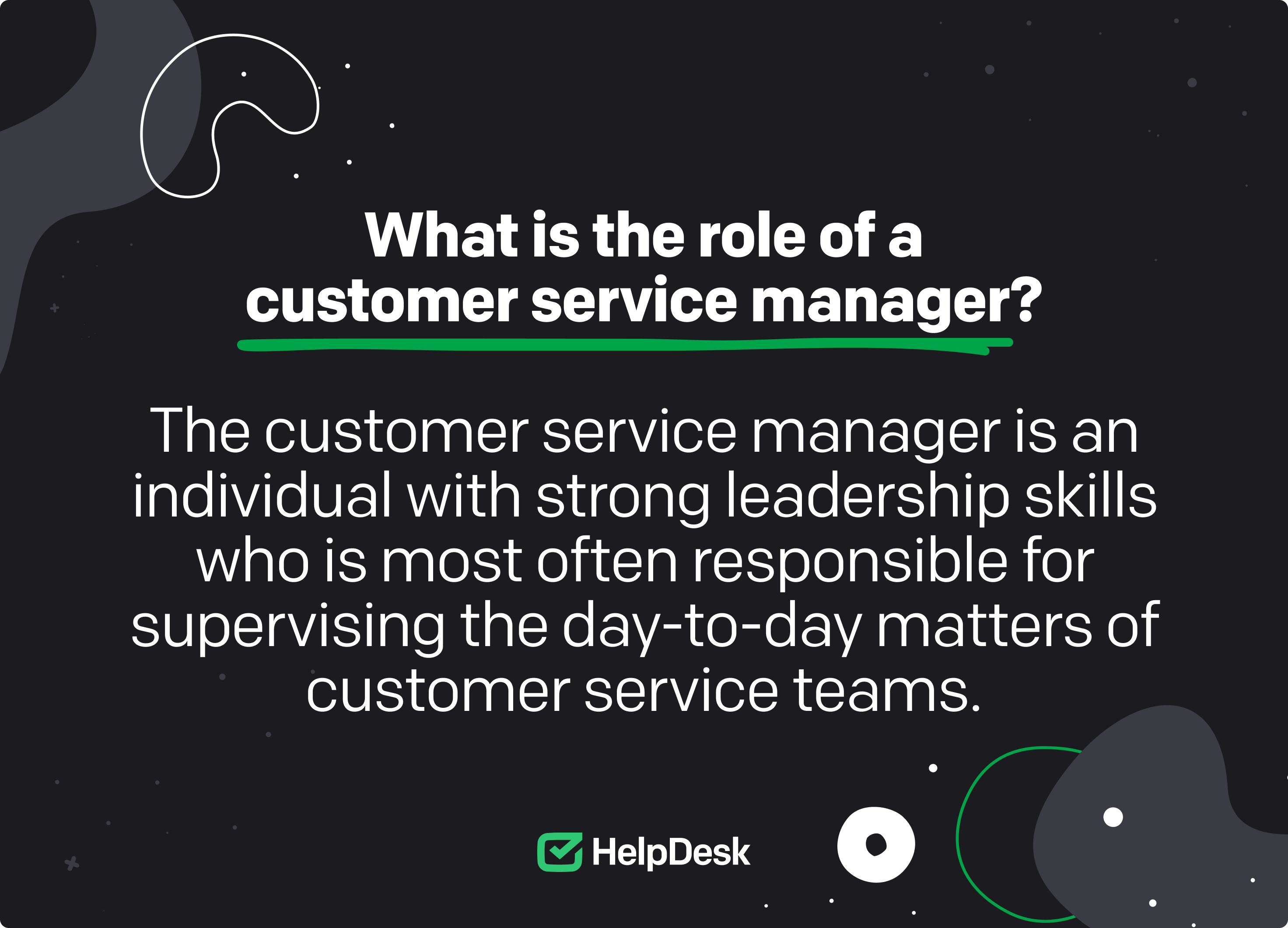 What is a successful customer service management strategy?
An effective CSM strategy is a double-edged sword. On the one hand, you need to ensure a positive customer experience, and on the other, you need to make sure your team is comfortable within the established support flow. How do you plan a customer service management strategy? I've outlined six general steps recommended by support managers worldwide that will keep both customers and support staff happy with your strategy.
1. Choose the right customer support technology stack
Let's face it, implementing a new customer service tool always takes some time. You'll definitely have to configure it for your needs, sync it with existing solutions or migrate existing data to it, but the payoff is worth it. When choosing customer service tools, consider the quality and duration of the onboarding process. After all, you don't want to endlessly learn how it works, do you?
Before deploying any CS tool or technical process, know your team's strengths, weaknesses, and capabilities. Customer service software should complement the everyday work apps and give the team a leg up. Consider whether your team is technical or non-technical, novice or advanced, and based on that, choose a customer support stack that will be accessible. They're ultimately the ones who will use these tools to build relationships with customers and take care of communication efficiency.  
Obviously, there are plenty of innovative solutions to speed up customer support, manage customer data, handle knowledge base articles, schedule teams, conduct omnichannel communications, and so on. Still, the solid foundation should be the right ticketing software where you can store and handle all customer messages from different channels.
For many support managers, ticketing software is the single source of truth for customer communication. Just imagine having a single dashboard where all customer requests are lined up and detailed with an appropriate status and priority. Your team can work with confidence, and your customers can receive timely responses.
There are many ticketing systems in the market, but you don't have to put yourself at risk. Enjoy a 14-day HelpDesk trial and experience the best collaboration and customer communication features.
2. Create ongoing communication with other departments
Map out your customer service workflow. Do you see people involved in customer service other than the first and second support staff? It could be an accountant, lawyer, salesperson, warehouse owner, or general manager. Think about customer handling scenarios and get everyone involved to avoid bottlenecks.  Next, share the support workflow with the company, so they have a sense of ownership. This approach will help you achieve team synergy and eventually provide stellar customer service. That's one of your goals, right?
3. Train your customer service team regularly
No one is born a specialist — people become one with time and experience. Don't forget to train your customer service staff. Your employees' attitude and the way they work say a lot about your investment in handling the customer support area. Provide your agents with a steady dose of fresh and up-to-date knowledge through training programs, conferences, or online courses. When your new product or service comes on the market, thoroughly introduce it to your representatives to equip them with the necessary know-how.
Also, set up regular meetings for support staff with sales, marketing, or community managers to better understand customers and how they speak or behave. Gather insights in one place, such as Excel or Confluence. Using the proper app to gather knowledge allows everyone to learn at their own pace. 
Next, collaboratively analyze customer feedback to make general improvements. You can do this fully asynchronously using tools like Miro, Microsoft Whiteboard, or Conceptboard. Proactively draw conclusions within customer cases, regardless of your work location.
4. Use data to understand your audience
Know your customers personally by carefully analyzing their messages and reading between the lines. Gather data in a dedicated Customer Relationship Management system (CRM) or ticketing software. Then, try to profile your customers and segment them into groups that will be helpful not only to support staff but also to other departments. 
By analyzing customer data, you can find out about previous interactions, purchases, or concerns, and you can also read complaints or praises to personalize customer communication. Creating rich audience profiles can help you tailor marketing, sales, success, support, and other customer-facing activities to ensure a superior brand experience.
5. Enable automation to speed up processes
Free up your support staff with smart solutions and custom automations. Using HelpDesk's automated workflows, you can quickly answer and resolve simple customer cases or direct them to the right person in a second. 24/7 automations perform selected tasks for your team and, as a result, minimize customer wait times.
You can also design ready-made canned responses to the most frequently asked questions. One click (literally!) and the selected message appears before your eyes, ready to be sent to the customer. Canned responses are a great way to achieve high-quality messages and fast response rates — they can save your team time and manual effort. Consequently, support staff can leverage their potential to perform more advanced tasks and gain room for personal growth.
Do you want to boost response times and keep your customers happy with speedy support? Get a 14-day free trial of HelpDesk to be available around the clock.
6. Measure your customer support team performance
Set realistic customer service Key Performance Indicators (KPIs) typical for your industry, business model, and team capabilities. KPIs and other customer support metrics should be created in a SMART way and should motivate rather than intimidate employees. Once goals are set, track performance in your customer support tools to know if you provide quality support.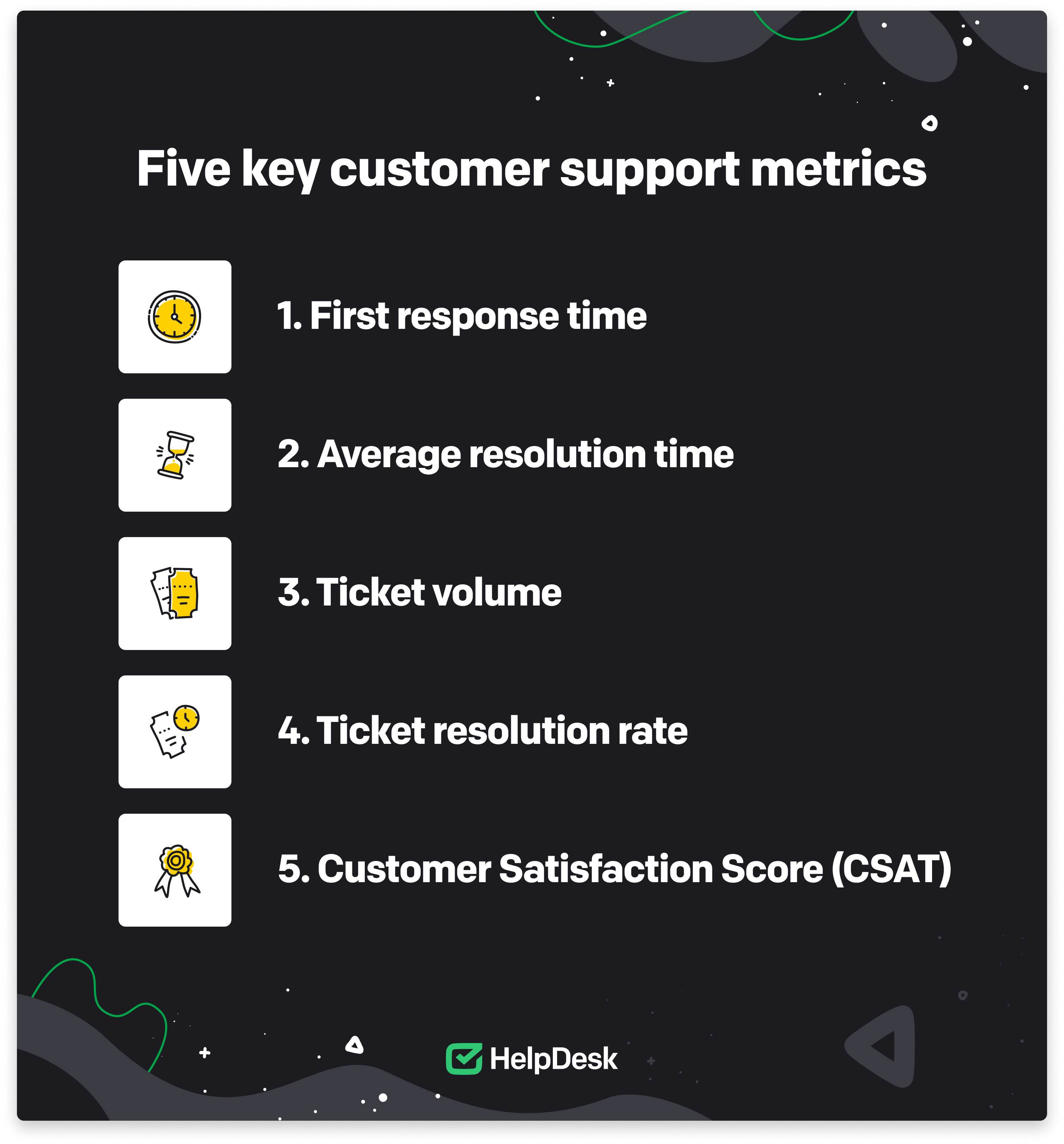 If your team exceeds expectations and steps up performance, you should reward your best customer service agent. Appreciate their work and start your own employee recognition program. Give your agents regular feedback on their work based on detailed reports and motivate them to grow professionally.
An excellent customer service management strategy involves aligning a skilled support staff with available internal or external tools and processes. With a shared team mission and goals, you're sure to feel more confident, and this way, you'll be able to make a huge difference in customer service. Of course, this is a long-term investment, but it will pay off in the future in the form of loyal customers and delighted employees.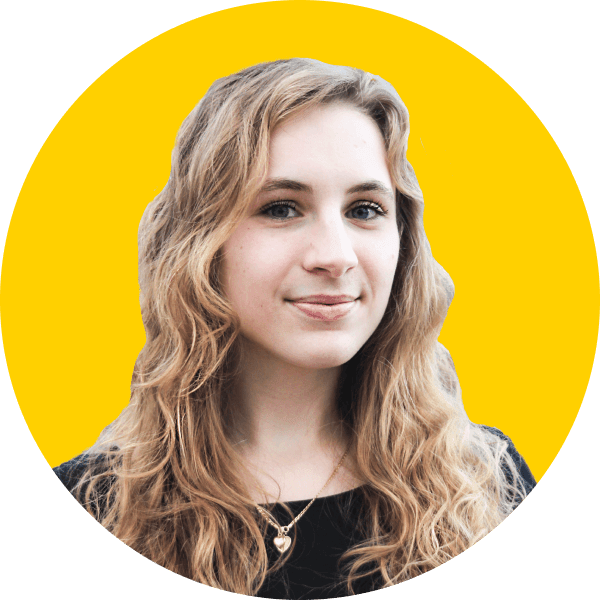 Author
Weronika Masternak
Weronika is a product content designer at HelpDesk. She has a deep passion for telling stories to educate and engage her audience. In her free time, she goes mountain hiking, practices yoga, and reads books related to guerrilla marketing, branding, and sociology.