Customer service is about exchanging information. The customer asks you something and you have to give them a detailed and timely answer. Timeliness is key. Data shows that 71% of consumers believe that the response speed from customer service representatives improves their experience. But how can you be swift and precise if you're working alone or with a small customer support team? The easiest way is by automating customer service.
What is customer service automation?
Before I get into the details, I need to be sure that we're on the same page and that you're well aware of the idea of automated customer service.
Customer service automation is the process of supporting customers by maintaining the right balance between machine and human intelligence.
Now, let me explain what this approach to support could mean for you and your customers.
First, if you choose to enhance your support strategy with customer service automation, your primary goal is to reduce or eliminate manual effort in resolving customer queries. You're literally putting most of your tasks in the digital hands of automation.
If you do so, automation can help your customer service team handle simple or repetitive questions, update tickets, and provide assistance in finding the right resource.
Automation can route customer requests to qualified individuals or relevant departments that are trained to address them. Needless to say, this speeds up ticket resolution time.
On top of that, automation frees up your support staff time so they can pay more attention to customers who really need human assistance.
However, some believe this approach degrades the customer experience due to the lack of human touch at every stage of the customer journey. Well, with finely configured support automation, this isn't entirely true.
The Human Connection Survey conducted by Verizon Business and Longitude found that for 78% of respondents, hybrid interactions — where AI and human support meet — are equally or more satisfying to them than human-only interactions. Of course, people want human agents to stay on hand to help, but the fact is that they're getting more and more comfortable with automated communication.
If you're in the customer support business, you know that there's a whole range of smart solutions out there to make your job easier. That's why I've compiled a list of the finest tools that rely on automation and can save you a bunch of time and effort. Now, let's go through these automated customer service softwares and evaluate which one will be a good fit for your business.
AI chatbots
A chatbot is a self-service solution that relies on the proper use of artificial intelligence (AI), machine learning (ML), and natural language processing (NLP). Its main aim is to understand what people say and then mimic human speech or behavior to give answers based on gathered insights. Chatbots can get smarter and smarter with each interaction with a human, so over time, they even become "all-knowing," and you can get almost any information from them.
You can place your chatbot anywhere your customers are, starting from your brand website to your help center, knowledge base, or messaging app. Chatbots are fully customizable, so you can tailor their tone and voice to your needs and have them perform a variety of customer service tasks, such as:
Collecting leads

Taking orders

Reviewing your offerings

Making appointments

Giving discounts

Answering frequently asked questions

Sending customer satisfaction surveys

Making specific holiday wishes
The best part is that they can work around the clock for you and be a part of your customer support team.
Pre-made responses in conversations
A pre-made response or a canned response is a pre-written message that can be used with a single click in the message area. You can find them in customer support tools such as help desk software or a live chat solution. Whether email or chat, the mechanism is the same — it's about using the best communication practices saved as a ready-made response and keeping the customer conversation going. No more figuring out what to write in the next step. You can use the knowledge gathered by your customer service team as ready-made answers to act swiftly, answer every question quickly, and build customer relationships.
Interactive Voice Response
Interactive Voice Response (IVR) is an automated phone system that uses the pre-recorded voices of customer support reps to provide excellent customer service. The best IVR tools rely on natural language processing and speech recognition mechanisms to "understand" human word choice and respond to customer queries. Customers can avoid wait times and take their case a little further without having to talk to a live consultant. IVR is very useful, especially during peak season or when there's a high volume of inquiries at one time. In a nutshell, the customer service processes for this solution involve:
Asking customers basic and follow-up questions

Getting customer data or other necessary information

Providing accurate solutions or answers over the phone call
Based on the customer's answers, the IVR can route the complex issues to the appropriate team to speed up the resolution process — this is known as ticket routing.
Email automation
Email automation tools are popular not only for marketing or sales efforts, but also for automated customer service. You can send automated emails to guide customers, create an onboarding flow, or inform them of significant changes to your product or service. Automated emails are a great first-level response for customers and can take the burden off you.
If you're getting started with support email automation, you need to focus on providing personalized support in every outgoing message. Try to understand the customer's history and past issues to make them eagerly await your next email. Be consistent in your automated message flow and update each response when there are changes in your price, offer, features, and so on.
You can use automated emails to gather customer feedback and capture both satisfied and frustrated customers. Remember to schedule emails according to the recipient's time zone so they don't miss your message. Integrate your email automation tool with other automated customer service software you use daily to enhance its capabilities. Only by staying in constant contact with your audience can you build customer loyalty and improve the customer experience.
Contextual FAQs
A frequently asked questions (FAQ) page is also a self-service solution, usually placed somewhere in the knowledge base. The FAQ page is a database of information organized as a set of questions from customers and answers from experts. Customers can simply browse through the clearly defined categories of questions and then select the items from the list that best fit their case. You can also leverage your customers' search phrases to provide more contextual educational material and address customer concerns. Use your frequently asked questions page to automate customer service, explain advanced business or customer issues, provide information in an accessible way, and guide customers.
These automated customer support solutions are becoming more responsive and intuitive than ever. They can even take on more human-like qualities and autonomously pick up your tasks that they recognize as doable.
But there's another solution that offers significant support for agents and that will certainly play a big part in the market — automated workflows.
Automated workflows mean limited involvement of human effort and maximum involvement of smart sets of conditions and actions. And with this guide, you'll be ready to supercharge your customer service strategy using them.
Before you go any further, make sure you have a HelpDesk account so you can set up automation as you go through the guide. Enjoy a 14-day HelpDesk trial and see for yourself how you can improve your work.
The benefits of customer service automation
Let's quickly go over the benefits of automating customer service, as this can really encourage you to become an advocate of this concept. 
Customer service automation greatly impacts three areas:
The customer support reps' job

The customer experience

The business environment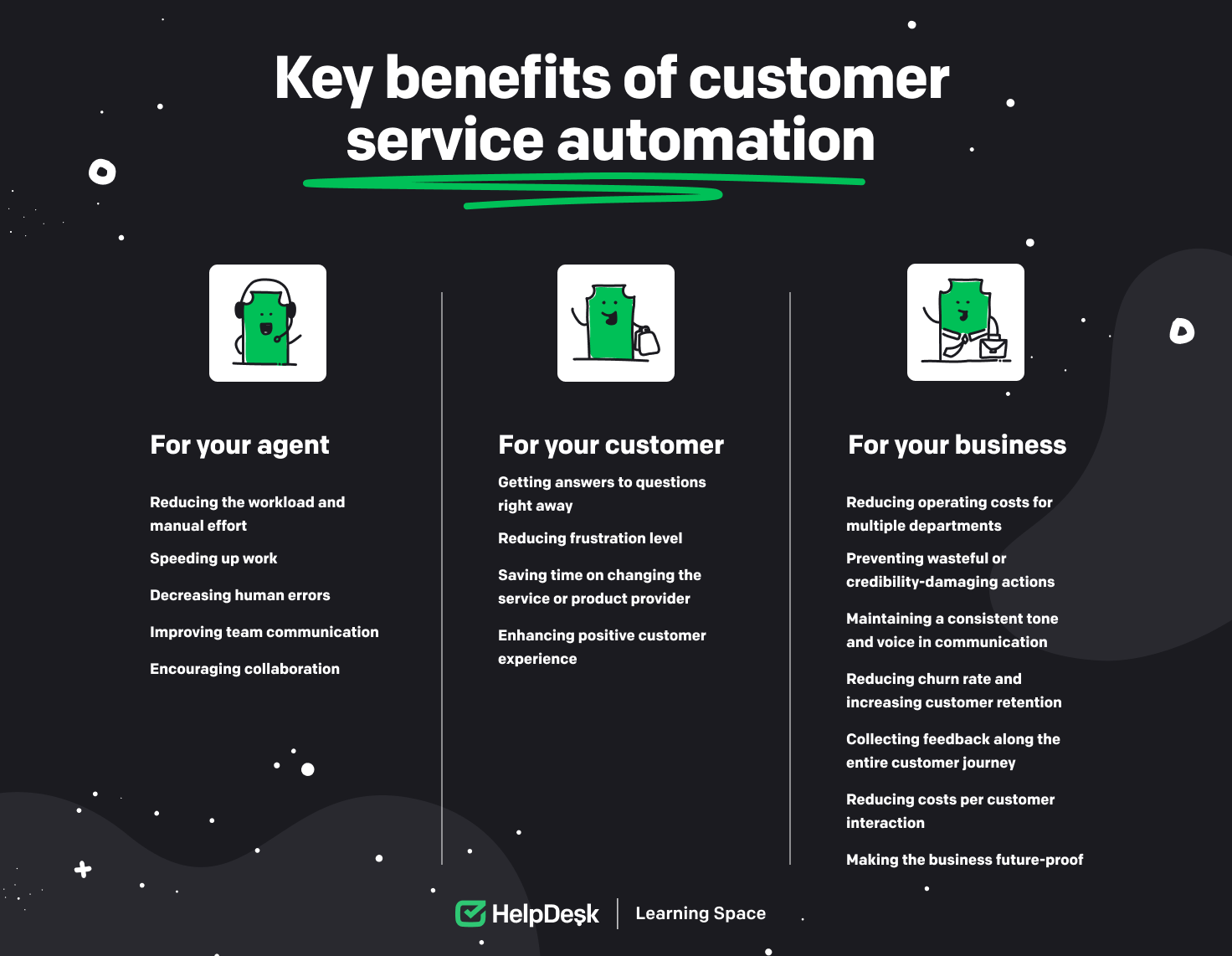 1. Automation benefits for agents
Think of support automation as a driving force that can change the employee landscape. It reduces labor costs and frees support agents from repetitive or time-consuming tasks. With these out of the way, agents' productivity and engagement increase. They can finally apply their unique human talents to more complex and challenging cases. By the way, for this reason, it's a myth that automation causes people to lose their jobs.
Automation technology can speed up your support agents' work. They can spend more time engaging with people, focusing on personal development, or trying new projects. Finally, agents can approach work more calmly, having a chance to plan it with care. So, not only does automation result in saving time and money, but it also lowers agents' anxiety, increases their confidence, and makes them more satisfied with their jobs.
There's also the thing about decreasing human error. Anyone can make a mistake. Even I, while writing this article, had to change some strange-sounding words before the final publication. This is normal. Going back to the customer service aspect, automation works steadily and reliably for you and gives you an edge — it doesn't get tired, doesn't need a coffee break, and doesn't get distracted. Automation is precise and gives you 100% accuracy and speed. It can equip a ticket with contextual data in a split second, or crawl through thousands of help center articles to find the right one. Could you do it? Maybe, but not so remarkably quickly.
The last amazing benefit for agents is that automated customer service improves support team communication and encourages collaboration. When there are dozens of customer inquiries in the queue, automation is there to scan those tickets and then distribute them fairly to the agents. So, once you know all tickets have been assigned, you can go straight into action and start helping customers. Then, suppose you encounter difficulties while resolving a ticket. In that case, you can easily mention your supervisor in a private note. This will reactivate the automation system, and the automation will verify what it can do for you.
2. Automation benefits for customers
When you implement support automation in your business, you have a 24-hour communication channel. So, for example, when your automation system spots a new message from a customer, it can immediately send a confirmation of your choice. Customers will definitely be more satisfied if they don't have to wait so long for the first response from your side. Also, at the end of the day, you can avoid a possible nag message or customer complaint. To be honest, a customer complaint is a sensitive situation, and I don't recommend automation in this case at all.
If you provide real-time answers and react proactively, your customer may eventually conclude that they've found a brand worthy of trust — your brand, that is. Loyalty works both ways. On the one hand, customers will be happy to have found a brand that meets their needs and that they no longer have to spend time searching and verifying existing offers. On the other hand, your brand becomes more stable, and you can plan further development thanks to loyal customers. I'd say it's a win-win situation.
Also, automation influences the process of building long-term relationships and positively impacts the customer experience. People love to get personal support and value a proactive approach, and automated interactions get the job done. To sum up, if the entire journey is seamless, appealing, and personalized, your customers are more likely to engage in the future and use the goods your brand offers.
3. Automation benefits for business
Automation can certainly be your go-to strategy for growing your company's bottom line. For one thing, it lowers the operational costs of many departments. It can provide excellent support for IT folks, accountants, sales representatives, customer service, success staff, and so on. Businesses around the world that embrace modern technology, such as automation, can transform the way they work. There are rock-solid data proving you can save up to 50% on service costs.
Including automation in service can prevent you from taking wasteful steps or actions that can ruin credibility, such as forgetting about a customer case. Let's imagine a situation where a customer ticket pops up out of the blue, and you currently have other things prioritized on your to-do list. Such a ticket may be swamped by subsequent tickets and end up in the abyss of the ticketing system. You can't let that happen. Automation can flag that ticket for you and push it in front of your eyes when the time is right.
With multiple teams in your company, automation can help you maintain a consistent tone and voice in your communications. When your team speaks in the same, consistent way, they can be fully aligned with your brand in any situation.
Happy customers mean a lower churn rate. Research shows that 67% of customer churn can be prevented if customer cases are resolved upon first engagement. Automation in service can positively impact churn rate and prevent customers from leaving.
Now that I've mentioned the churn rate, it's time for the part about gathering information about your overall performance. When a customer becomes your brand advocate, they're more likely to share feedback. Honestly, I don't know of a better indicator to show you if you're doing your job right. Customer service automation can improve feedback campaigns and collect opinions along the entire customer journey. For example, it can send a satisfaction survey as soon as a customer case is resolved and add an appropriate tag such as "survey sent" to the ticket. This way, you can get fresh data with customer satisfaction metrics, such as NPS, CSAT, or CES.
Support automation makes you more approachable. You can extend your work hours and serve customers around the clock. In addition, thoughtful and properly implemented automated customer service can reduce the cost per interaction and streamline service processes. For example, if your primary communication channel is email, and you switch to automation, it can respond on your behalf to incoming customer messages at negligible cost. Compared to the projected average cost of $5-12 when a support agent handles the same email manually — that's what I call results!
The last thing is that with automation, you can put your business on a path for the future. Becoming future-proof is essential, especially since companies that fail to keep up with social, economic, or cultural changes simply go out of business.
Start your journey with customer service automation. Take HelpDesk for a 14-day free trial and automate your processes. 
How to get started with customer service automation
The benefits that I've listed above are pretty appealing, aren't they? So now, let's move on to the practical aspects and implement customer service automation in your business.
Support automation can take many forms that vary in degree of sophistication. But no worries if you're not tech-savvy. There are accessible and user-friendly solutions to help you achieve your goals, such as HelpDesk's ticketing system. Its automated workflows are so easy to set up that you can get started in seconds.
Setting up an automated workflow
Automated workflows are a set of conditions and actions of your choice. Follow these steps to configure a new automated workflow:
First, identify situations that require a quick response from you. This could be a situation where a customer wants a refund or tries to contact your sales team. This step is essential. Be patient and think carefully about the situations that can be automated before you move on to the next step.

Next, specify your condition statements using the drop-down lists. The lists include multi-level logical operators and custom values.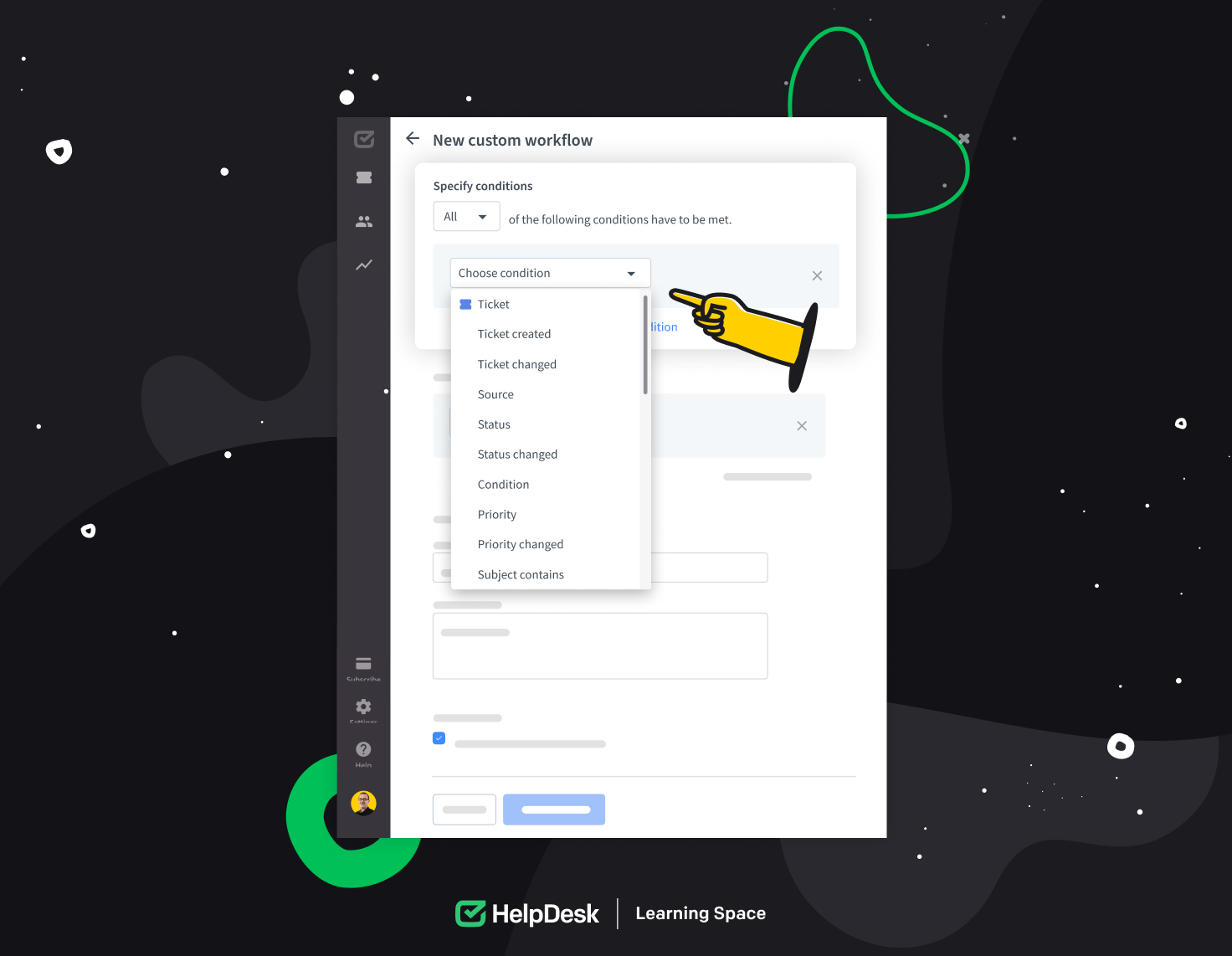 3) Then, select the relevant actions from the drop-down list that will best address the situations framed in the previous step. They'll be performed automatically when all conditions are met.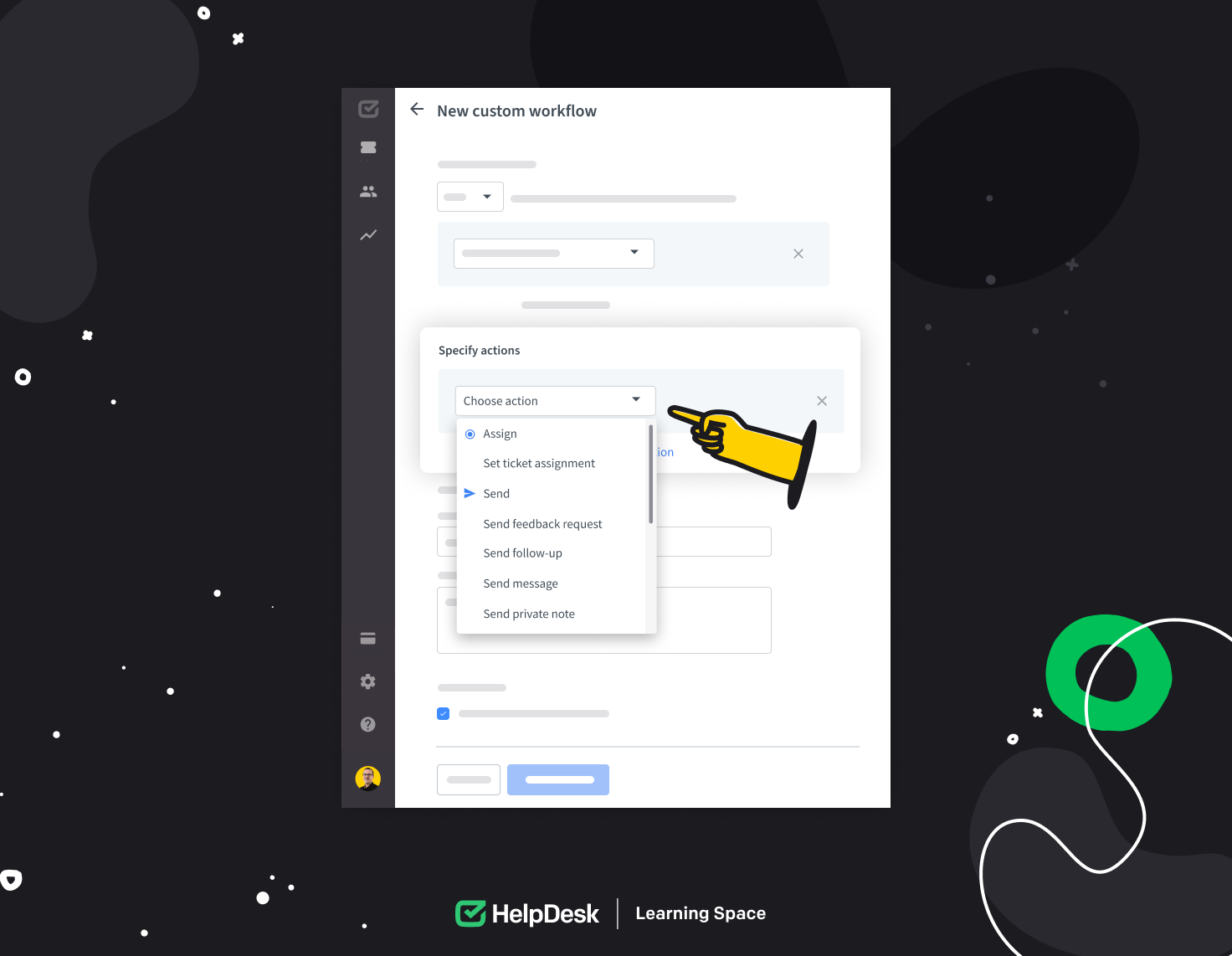 4) Name your workflow, include a short description, and add it to your list. After that, you can track the automated workflow counter and enjoy the time saved.
Take a look at the graphic below to make sure you understand the idea of automated workflows as part of a customer service automation process.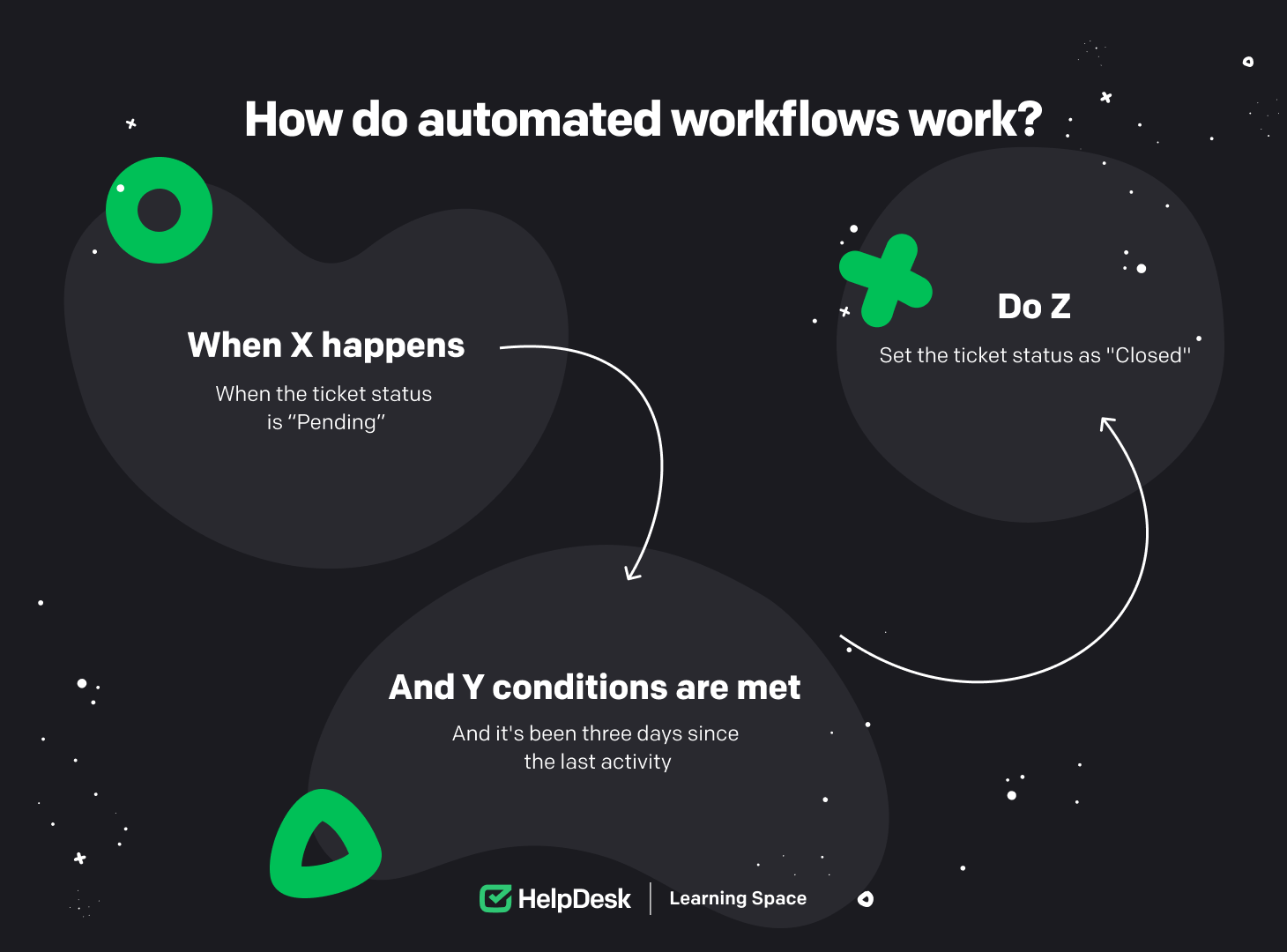 I've put together six tips that can make your start with automated workflows even easier.
Have preloaded messages on standby. Create a set of canned responses in HelpDesk for the most common situations, such as:
Greeting the customer (#hello)

Thanking for the message (#thanks)

Asking for more time (#Need more time)

Marking the customer ticket as solved (#solved)

Asking for customer feedback (#feedback)
I also recommend analyzing historical customer messages to find some patterns or insights. Focus on the type of customer, company, wording, emotions, and then prepare appropriate canned responses. 

Prepare descriptive tags for your customer cases. HelpDesk users are very creative regarding tags, and I've recorded nearly 6,000 custom tags in our database. I'll list some tags here to help inspire you:
Make sure your teams are aware that they'll be included in the support automation process. Let them know about automated workflows that, when triggered, can result in a new ticket on their HelpDesk dashboard. For example, when a customer message contains words like "privacy policy," the ticket could be directed to the legal department. On this point, be especially mindful of the support team that deals with customers on a daily basis — if they're aware of automation in service, they can create a solid customer support plan.

If you get stuck, use simple "if this, then that" logic. Say it out loud or write it down, and you'll get back on track quicker. 

Your automation needs to evolve as your business grows. Remember to audit your automated workflows and keep them fresh. Add an event to your calendar with a reminder to check in regularly. Auditing includes reviewing canned responses, tags, help center articles, email addresses, and phone numbers used in communication.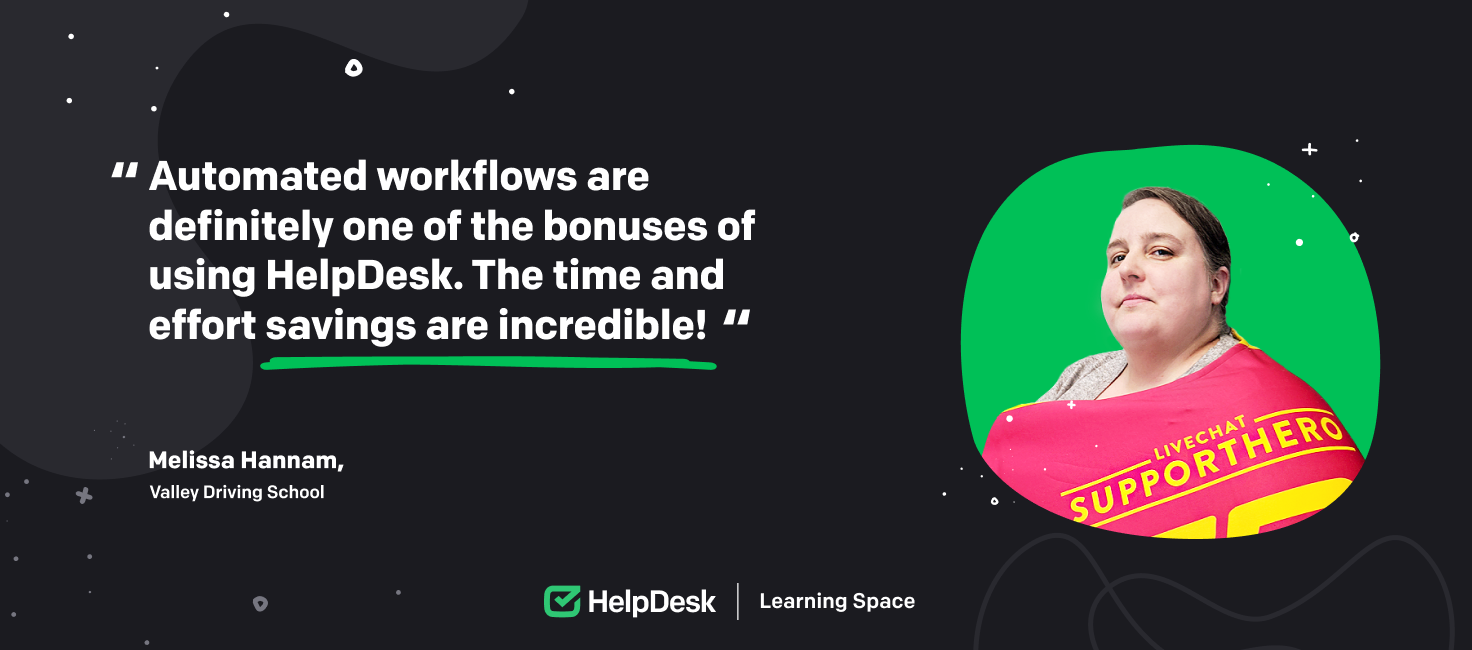 Ten mind-blowing benefits of automated workflows
Automated workflows were designed with automated customer service in mind. The HelpDesk team knew the pain points in providing support, and all we needed was the ultimate solution. So let's get straight to the benefits of the automated workflows available in HelpDesk's ticketing system.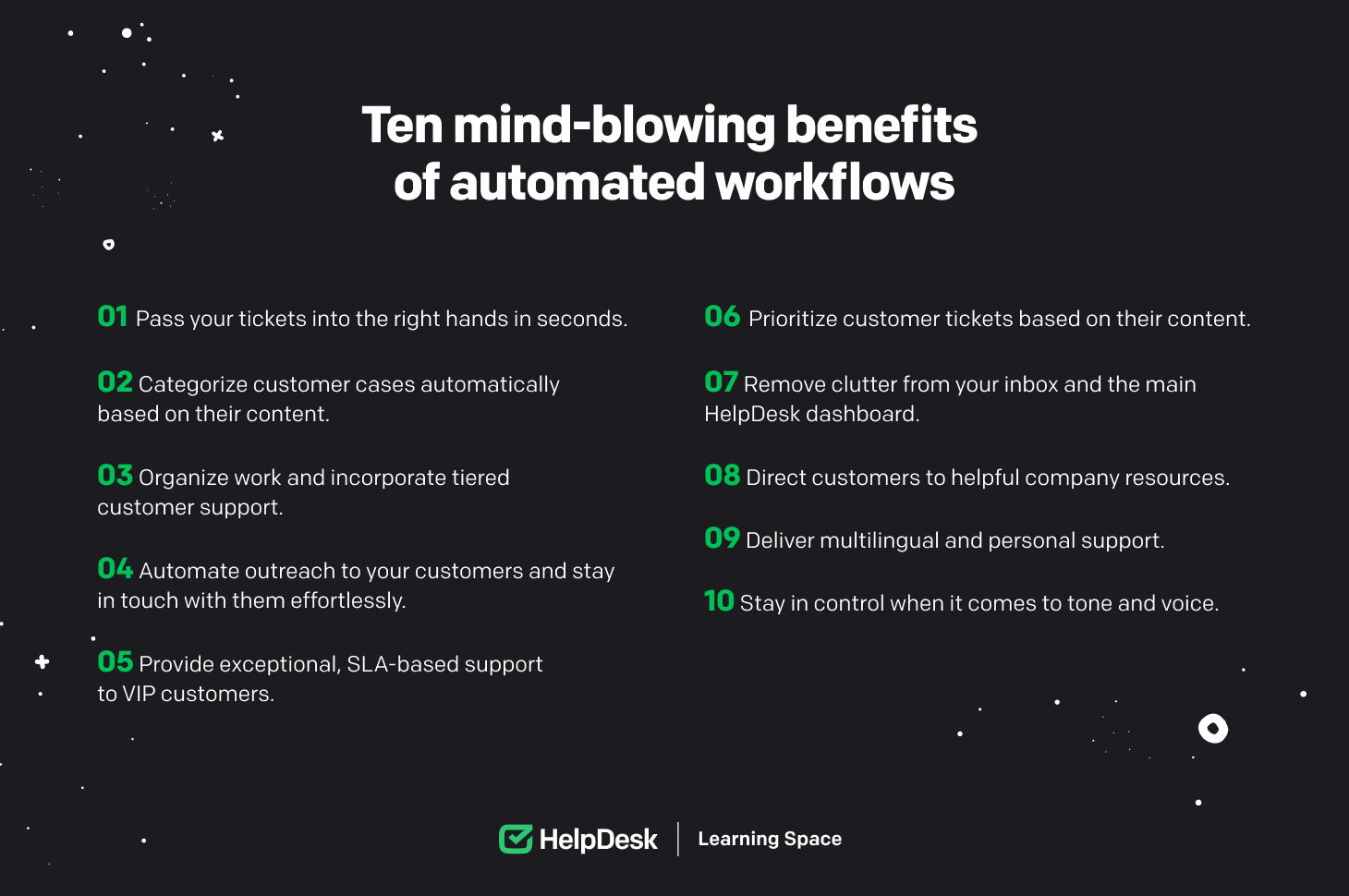 Automated workflows allow you to:
Get tickets into the right hands in seconds. With automated assignments, fewer time-consuming human interactions are needed before you can help your customer.

Categorize customer cases automatically by customer type, message subject, message content, priority, status, tags, ticket source, you name it.

Organize work and incorporate tiered customer support. You can use automated workflows to send specific customer tickets to first or second line support or escalate them to different departments.

Stay in touch with your customers effortlessly. An automated workflow can send an automated follow-up message to your customer at a specific time. This is especially helpful when your customer is inactive for a long time, or there's no response. You can show that you care without lifting a finger.

Provide exceptional service to VIP customers, such as those who bring the highest value to your business or are covered by a customer service SLA. You can set up automated workflows designed to handle special customers so that their tickets are always sent to the front of the queue.

Prioritize customer tickets based on their content. If your customer uses the wording "your product is broken," you know it's an urgent case, and the automated workflow will bring it to your attention.

Remove clutter from your inbox and the main HelpDesk dashboard. The automated workflow will make your work neat and enjoyable from the moment you enter the app.  

Direct customers to help center articles, knowledge base resources, and other forms of self-service. If they can act on their own, automated workflows will make that happen.

Deliver multilingual support and make all customer service very personal. Research has shown that 64% of customers would pay a higher price for a product or service if a brand offered customer service in their native language. 

Stay in control when it comes to tone and voice when communicating with your customers. Your messages will always be on-brand and still have a personal touch.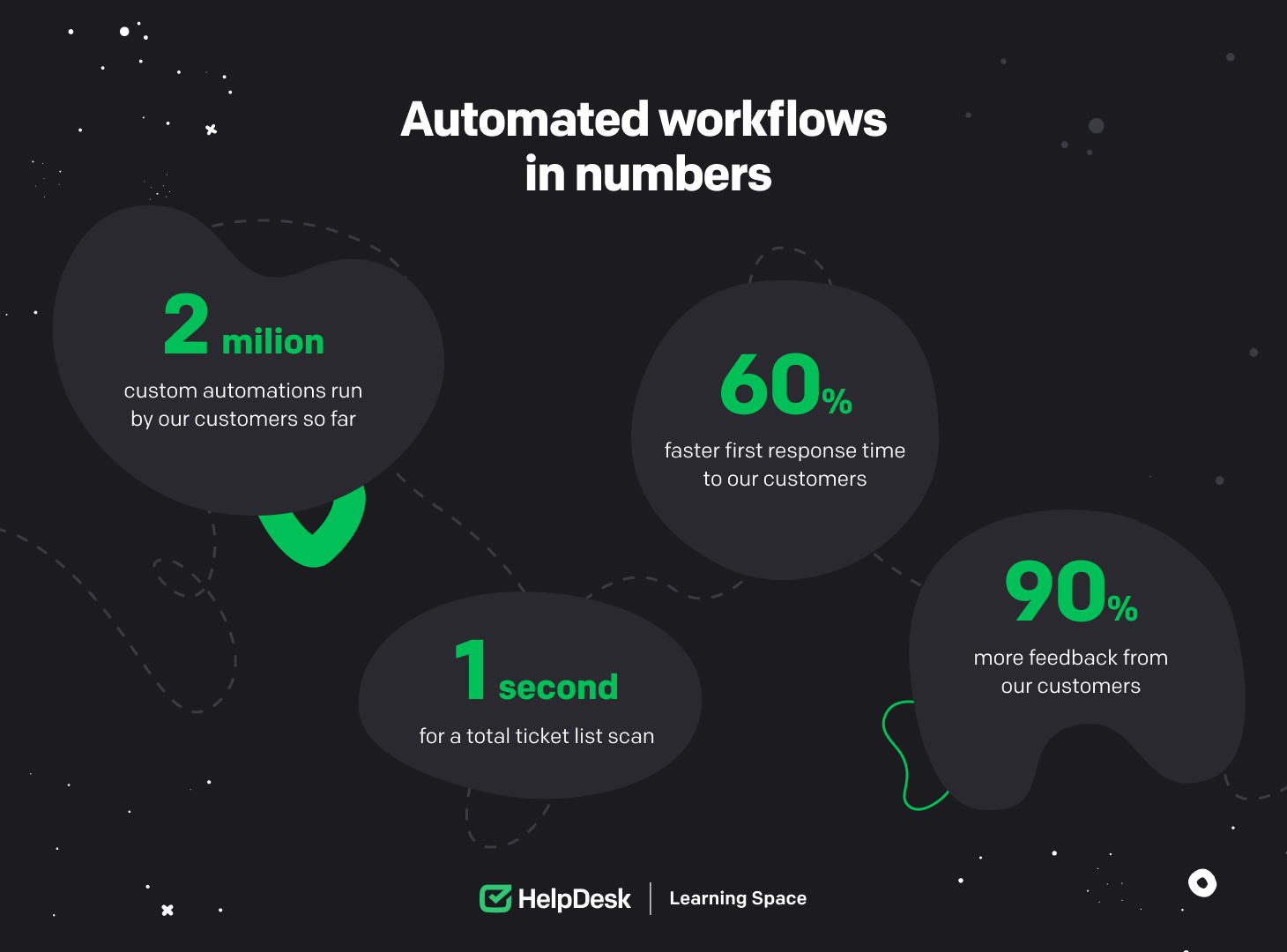 Below, you can find the most popular automated customer service cases using automated workflows. Browse through them, then use the ready-made automation templates to streamline your work.
Automated messaging
The automated messaging template is the best option for:
Asking for customer feedback and sending a link to a survey

Sending a follow-up sequence of messages 

Receiving confirmation of a new ticket

Sending a private note to agents when there's an update in a ticket 
When a customer reaches out to you, the most personal thing you can do is respond as quickly as possible to respect their time. So, with an automated messaging template, you can communicate proactively and exchange messages with the customer without direct input. You can also ask the customer for more details and then populate the ticket with them.
Automated ticket prioritizing 
The automated ticket prioritizing template is the best option for:
Setting the proper priority based on customer type or email address

Setting the proper priority when the message contains words indicating a time-sensitive case

Meeting your SLA requirements flawlessly

Setting the proper priority if there's no activity from the customer for a specified period of time

Setting the proper priority when there's an urgent need to troubleshoot products or services that aren't performing as expected

Escalating a ticket, for example, adding a ticket follower and sending a private note if the ticket priority has changed
With this amazing template, you'll be able to work in an organized manner — your tickets will be automatically evaluated and prioritized in the background. This way, you'll start your day with the most urgent customer cases and smoothly move on to the less demanding ones.
Automated ticket assignment
The automated ticket assignment template is the best option for:
Setting the assignment based on customer type or email address

Setting the assignment based on the subject of the message or its general content

Setting the assignment to a random team and agent when a new ticket is created
Ticket triaging can become easier with automation. You can route customer cases to qualified individuals on your team, speeding up the process of resolving tickets.
Automated ticket following
The automated ticket following template is the best option for:
Adding a ticket follower based on a descriptive tag attached to a customer ticket

Adding an agent assigned in the first place as a ticket follower so that they can stay up to date, even if the assignment has changed

Adding a manager as a ticket follower of a VIP ticket to keep an eye on things
You can automatically become a ticket follower to track the resolution process and be notified of any updates.
Automated ticket labeling
The automated ticket labeling template is the best option for:
Adding a tag if the ticket is created from a LiveChat integration

Adding a tag if there has been a change in the responsible team or agent

Adding a tag if a ticket is created from a given email forwarding address

Adding a tag if the new message contains predefined wording

Adding a tag if the customer email address contains a predefined company name or other elements
A support agent can use descriptive tags to supplement a ticket with key information, address customer needs, and provide relevant information. You can refine your tickets and equip them with helpful and descriptive tags to speed up response delivery time. 
Automated ticket status change
The automated ticket status change template is the best option for:
Changing ticket status to "Closed" after a defined number of days of customer inactivity

Changing ticket status to "Solved" if the customer message contains wording such as "problem solved," "fixed," "works for me"
Be transparent and automatically set the ticket status to match the actual situation. This will help you avoid duplicate work or unnecessarily going into ticket details while others are waiting for your attention.
Summary
You can help your customers on a large scale with automation that works around the clock. It's like a second pair of hands, but better. Incorporate customer service automation now so that you can eliminate time-consuming, labor-intensive, and redundant support tasks. Now, a few things to remember after reading this guide:
Automation allows you to resolve routine customer tickets quicker. One day you'll reach "perfection," where there's very little human intervention needed. This will be an incredible success and an opportunity for personal growth for your support team.

Make your customers feel comfortable with the way you use automation to support relationship building. Find the right balance between automation technology and the human elements in customer interactions.

Control your automated workflows so that they can play their part in the support process. Back them up with the necessary resources, keep them fresh and personalized, and add new ones when you spot a gap.

Try ready-made templates for automated workflows to speed up the setup process. Browse the catalog of available templates and get started right away.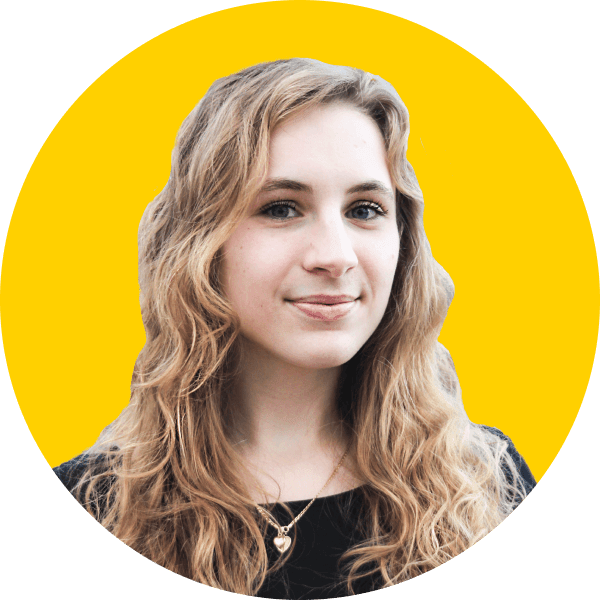 Author
Weronika Masternak
Weronika is a product content designer at HelpDesk. She has a deep passion for telling stories to educate and engage her audience. In her free time, she goes mountain hiking, practices yoga, and reads books related to guerrilla marketing, branding, and sociology.