What online communication is
Online communication is how people, organizations, as well as computers, communicate with each other through the internet or a computer network. Online communication primarily uses images, sounds, and text so it can be as creative, exciting, and diverse as offline communication.
This form of communication helps to overcome all kinds of barriers, starting with the physical ones and ending with those related to language or semantics. Even when you're online, you can discover the verbal and non-verbal elements of communication. You can spot a smile thanks to the camera and hear laughter thanks to the microphone. What's more, online communication ensures great flexibility. You choose a suitable time, place, device, or channel to make contact.
Something epic is happening in the online communication field, and I mean it. Very soon, there will be no difference between online and offline communication. You can already say that you're going to "meet someone face-to-face" by having a video call. The separation between the online and offline worlds is disappearing, especially now, when people cannot meet in reality, and they're trying to achieve the same experience.
Types of online communication
Depending on the situation, you can select the channel that fits your needs. Besides email, you can communicate online with:
So, you can choose an online phone call if you plan on having a long conversation with your overseas friend. You can also start a chat on a website when you want to ask about a particular product, or you can create a group with an instant messaging tool to share information with your team. As you can see, there are many ways of communicating online as email alternatives, and that makes it easier to achieve your goals.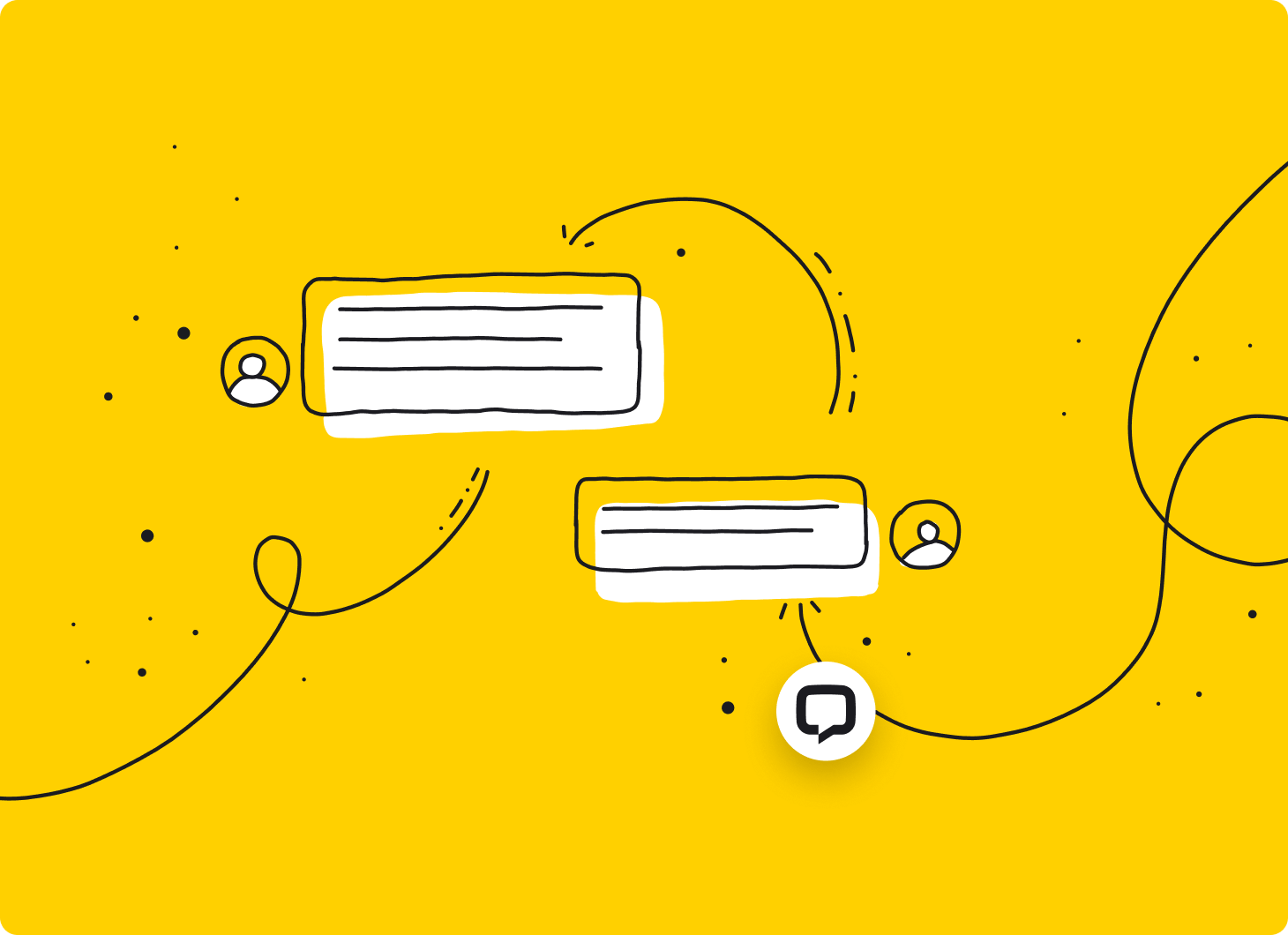 Chats
Chats are short messages that are sent and read in real-time. They're focused on a specific topic, and you can access them through a dedicated space, such as a chat room or chat widget. Here, the response time must be quick in order for the conversation to run smoothly. Many people appreciate that they can exchange messages spontaneously, as opposed to email, where they have to spend more time on their content.
What's more, chats are very often used by customer service teams to solve cases and increase customer engagement. If you want to check out the chat mechanism, try LiveChat, a powerful chat tool. It'll certainly be helpful if you sell products or services and want to stay in touch with your customers.
Instant messaging
Instant messaging is readily used for communication between individuals by using a contact list. Sending direct messages is always quick and documented. There are many different instant messaging apps, and some of them may be familiar to you, such as Facebook Messenger, LinkedIn, Google Hangouts, or Slack. I'm sure you already have your favorite.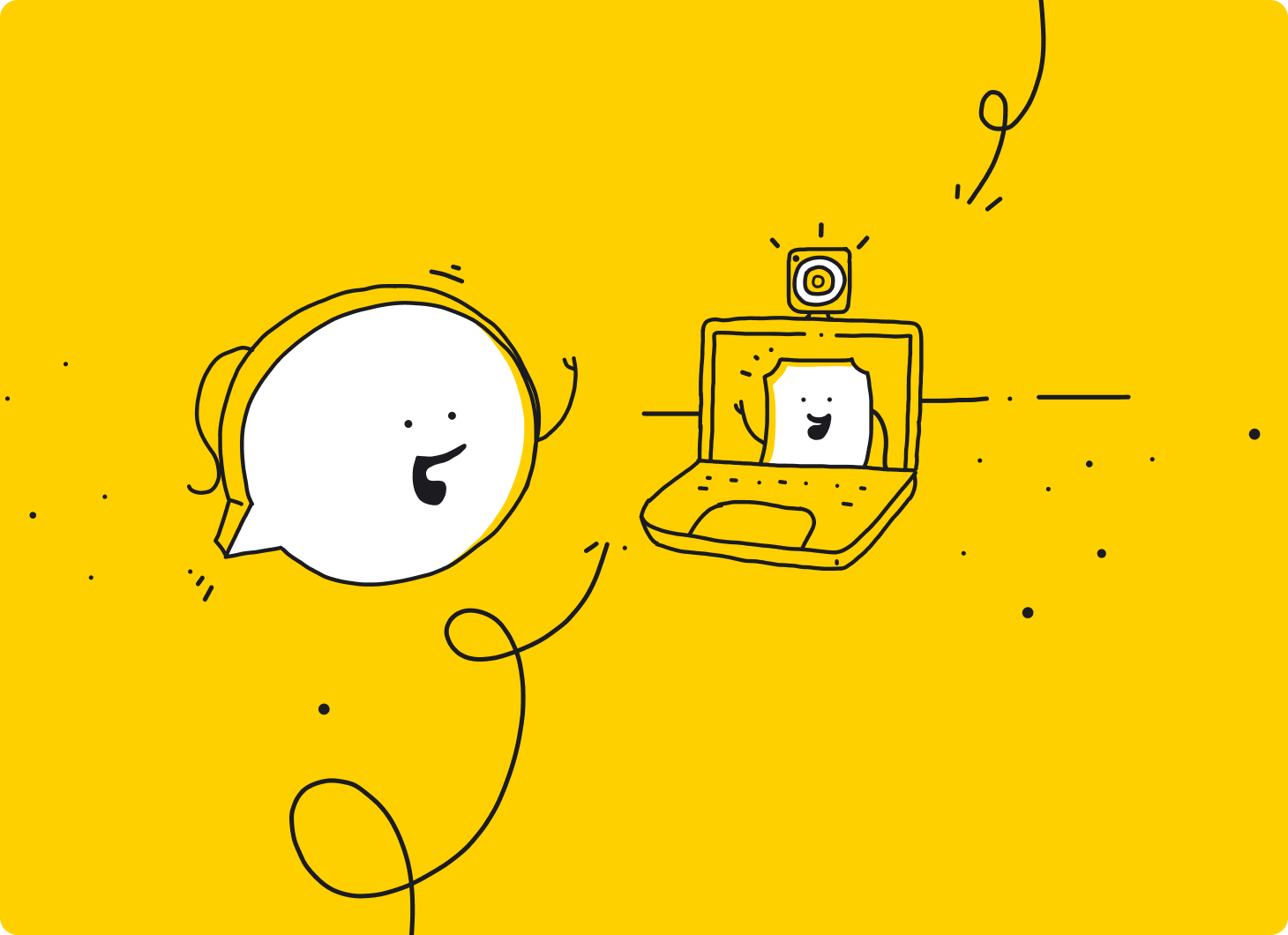 Video calls and conferencing
It's much easier to get people together for an online meeting than it is offline. According to a report by Lifesize, 45% of teams use video calling tools daily or weekly. Companies and individuals regularly use video calls to contact people in real-time, no matter where they are at the moment. All you need is a microphone, speakers, and webcam for a good experience and personal touch. Check out tools like Facebook Video Calling, Zoom, or Google Meet, and make a superb video call.
You can also attend online events, such as conferences or webinars. The audience sits in front of a computer or phone screen while the speakers share their screens, exchange digital resources, and try to increase engagement by taking questions in the app. The best digital solutions can make everything simple and comfortable.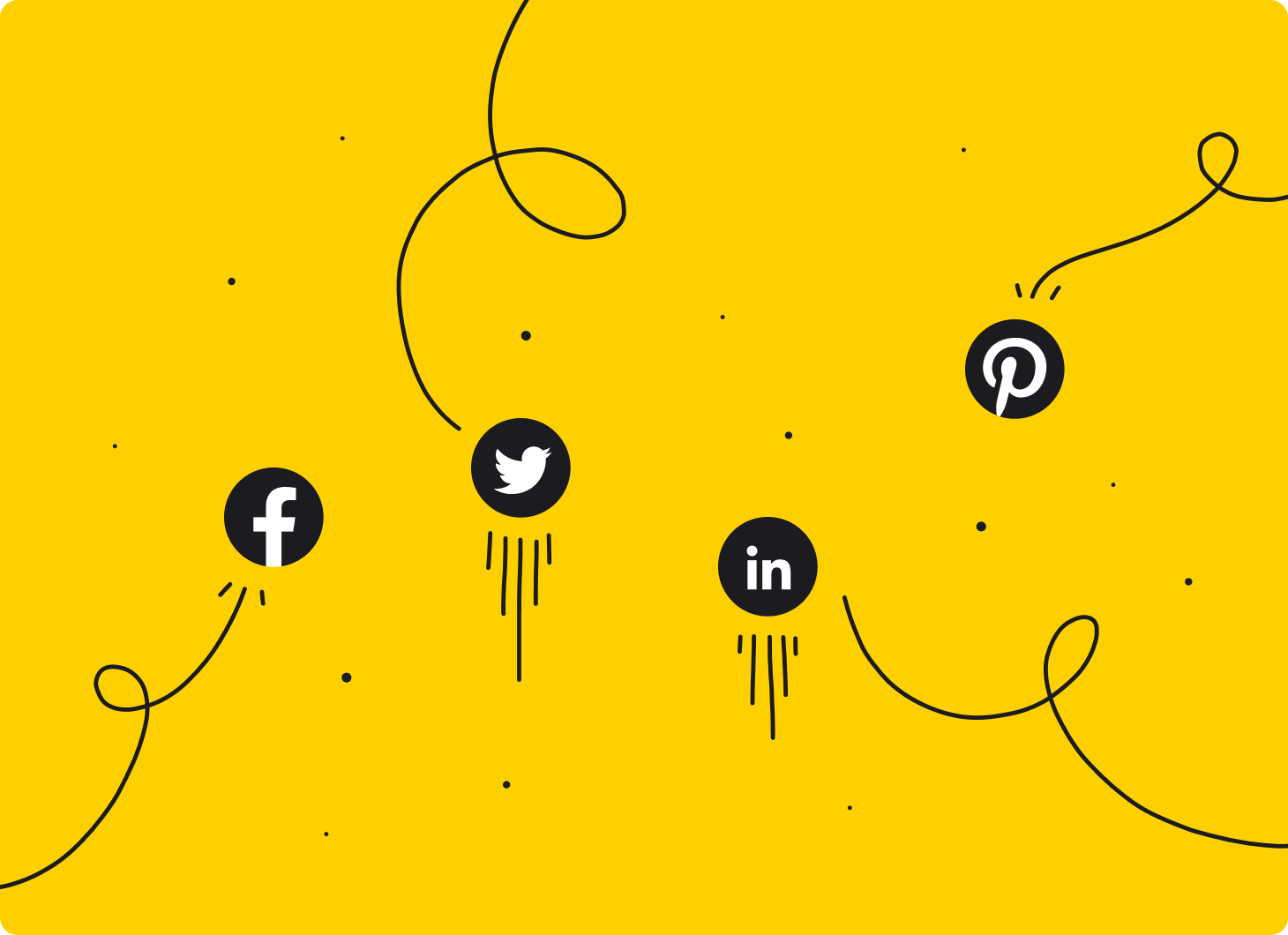 When you have a profile on popular social media platforms, people expect you to be active. They can ask questions under the posts, share your content, and write private messages. You can't leave them without any answers, so make sure that you take care of their requests regularly.
If you have a company, Facebook, Pinterest, Twitter, and LinkedIn will certainly be valuable platforms. You can engage your audience and share great things to build a community. Social media platforms allow you to post your links, videos, graphics, photos, thoughts, questions, answers, etc. There are a lot of things to share, right?
You can show your tone of voice in status updates or in direct messages with your users. Remember that each of your online activities is going to be evaluated. Your followers are always eager to show their satisfaction or dissatisfaction. Observe their behavior, take care of their well-being, and react if something bad happens.
Many people use social networking because it gives them a unique experience, and they can get to know brands better. Create a wide-scale communication strategy, optimized for your business goals, and make the most of social media.
Learning Space newsletter
Subscribe to follow the latest online communication insights. Free welcome guide on business communication included!
Ticketing systems
In previous lessons, I mentioned email as a frequently chosen form of communication. Many organizations use email to communicate with customers, and sometimes, there are so many messages at once, that the situation gets out of control. If that sounds familiar to you, you can tackle inbox overload with a ticketing system.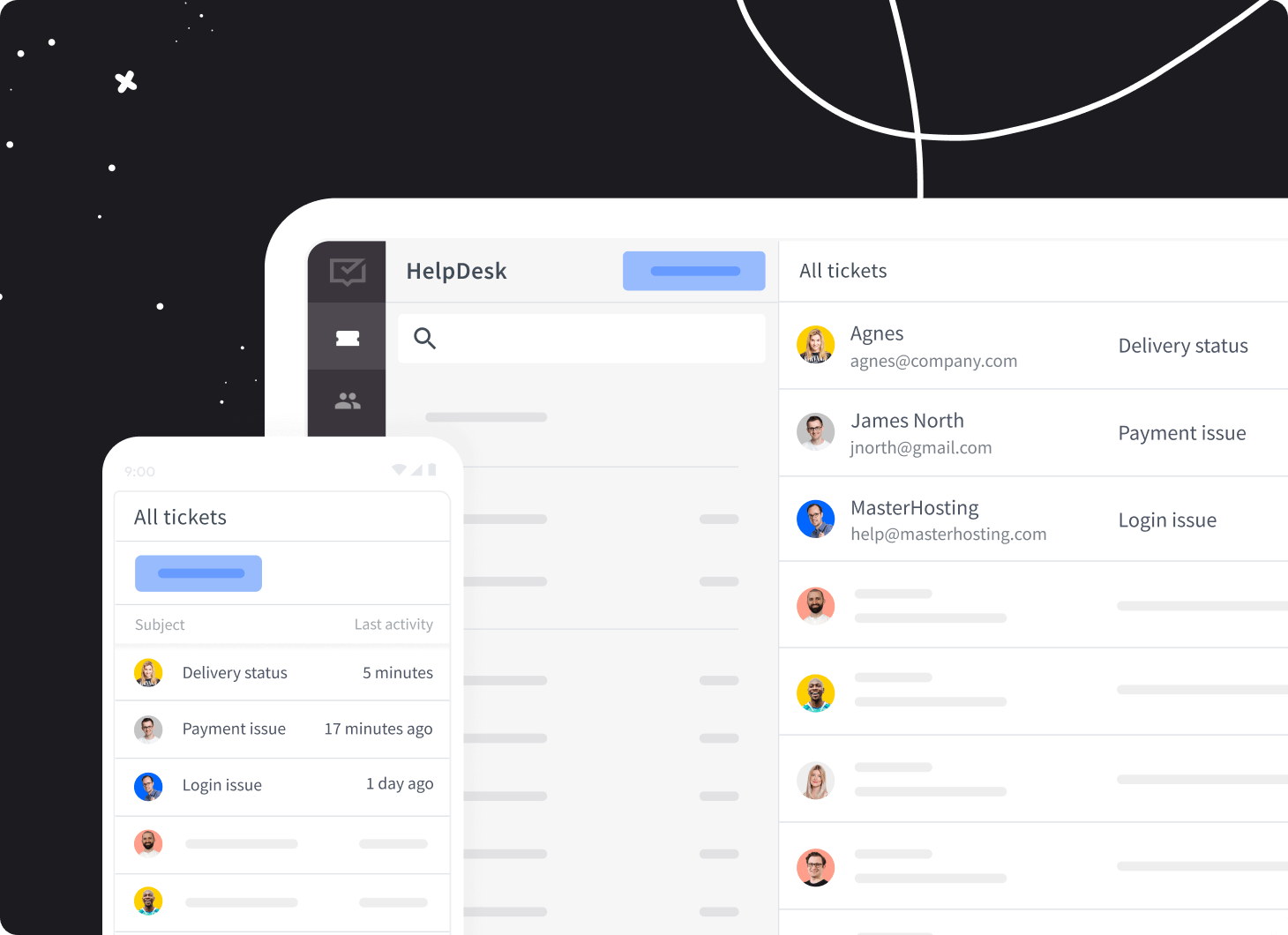 Help desk software, such as HelpDesk, are recommended to manage all your messages in one place. You can set priorities, add tags, create teams, and automate repetitive tasks. Also, you can go to the ticket details to keep track of your progress. Ticketing systems can be integrated with other real-time online communication tools and become an essential source of customer data. Working with email becomes more enjoyable when you equip yourself with the right system.
Pros and cons of real-time communication
All of the email alternatives are based on real-time communication. At a time when many companies have switched to remote work, people have started to perceive time differently. The instant response time with these other communication channels is a huge benefit for a business.
People expect quick responses. Email doesn't give us that power, but it does give us the confidence that everyone is on the same page and that no information will be lost. So, what are the pros and cons of real-time communication?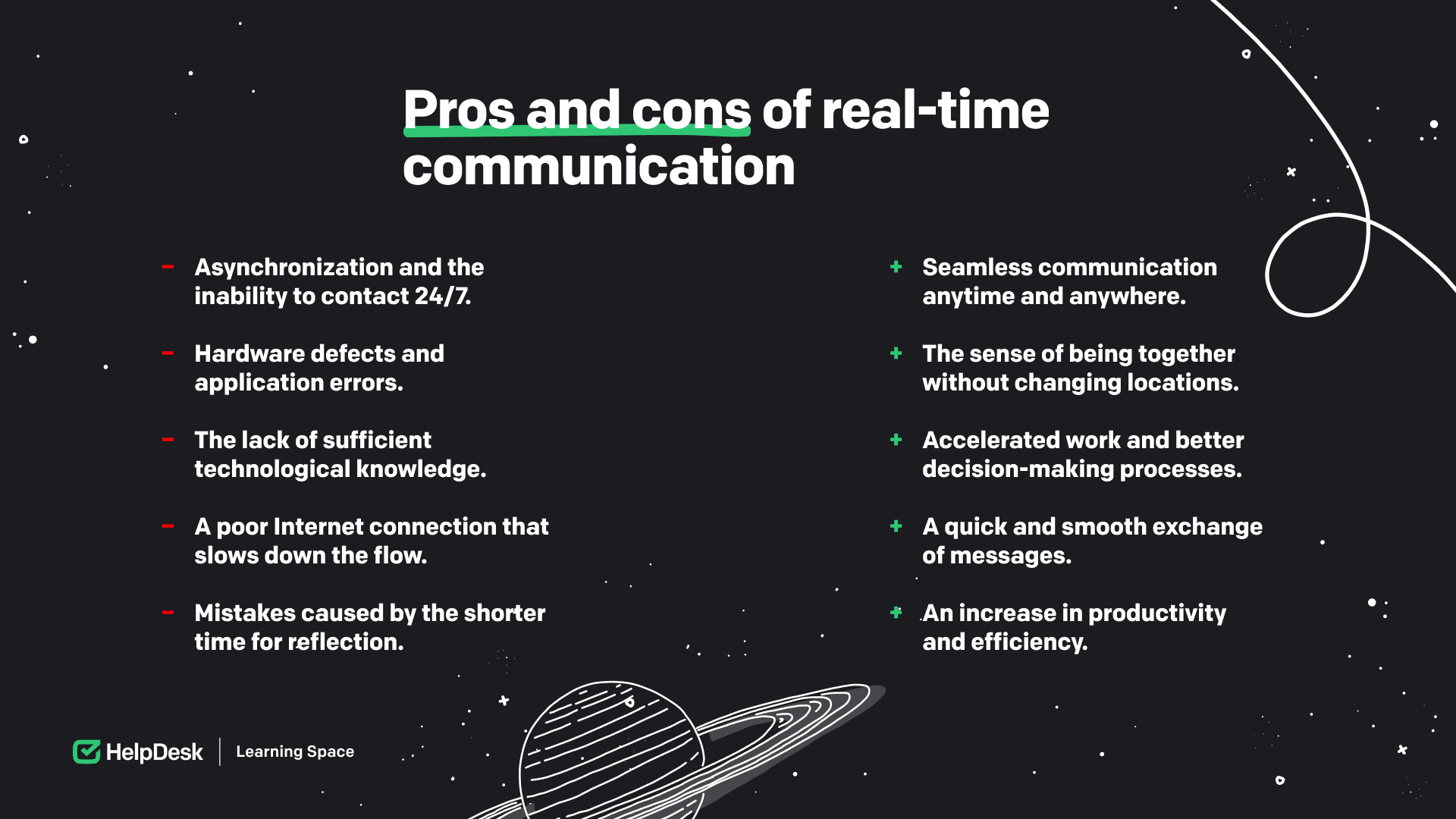 PROS OF REAL-TIME COMMUNICATION
You can talk at any time, from any place in the world. A quick reaction makes you feel like you're next to each other.

Meetings in physical conference rooms are vanishing. You don't have to meet in person to solve a problem or exchange ideas, but you can use video conferencing tools to accomplish the same thing.

It's possible to have remote discussions and to brainstorm when you're not together physically. On top of that, by adding a tool for online collaboration, such as Miro or Stormboard, you can achieve satisfying results.

You can use real-time communication to contact your customers or partners. They'll appreciate this opportunity, especially when all phone lines are busy or when they've waited too long for an email response.

You can increase productivity and efficiency through the smooth exchange of information. You can contact employees with different skill sets and who are at different levels in the company without leaving your desk. Avoid commuting to work and getting stuck in traffic. Save your time, money, and energy.
CONS OF REAL-TIME COMMUNICATION
Asynchronization and being in different time zones make 24/7 contact impossible. You need to ensure comfortable conditions to talk in, both for yourself and for the other participants.

Your device may not respond or freeze, or the application can go down due to excess data. Solutions that enable real-time communication can interrupt the flow and don't provide the desired experience.

Learning a new tool for real-time communication can be difficult for people who aren't tech-savvy. Channels, rooms, mentions, notifications, and other advanced elements can be distracting and cause frustration.

A poor Internet connection slows down the response time. You can't communicate effectively in real-time when there is a delay in receiving messages.

During a real-time conversation, especially during a chat, you can experience sloppiness, misspellings, and the use of abbreviations. It's because you have less time to reflect on the message you're sending. Such mistakes can cause confusion and misunderstandings.
Summary
Online communication is developing and the trends are clear to me. You can see a strong focus on evoking and reading emotions in the online world. Professionals who improve online communication want to ensure proper understanding of messages. The most important takeaways about online communication are:
Online communication has become an integral part of our lives. People are aware of the great possibilities in the digital space.

Email is a universal solution, but other email alternatives for online communication can complement it.

Remember to choose a tool for online communication that is tailored to your needs and the specifics of your work.

Real-time communication isn't perfect. It has many advantages and disadvantages that you need to know about.
Subscription with a gift!
Join the mailing list to get a special ebook on email communication.